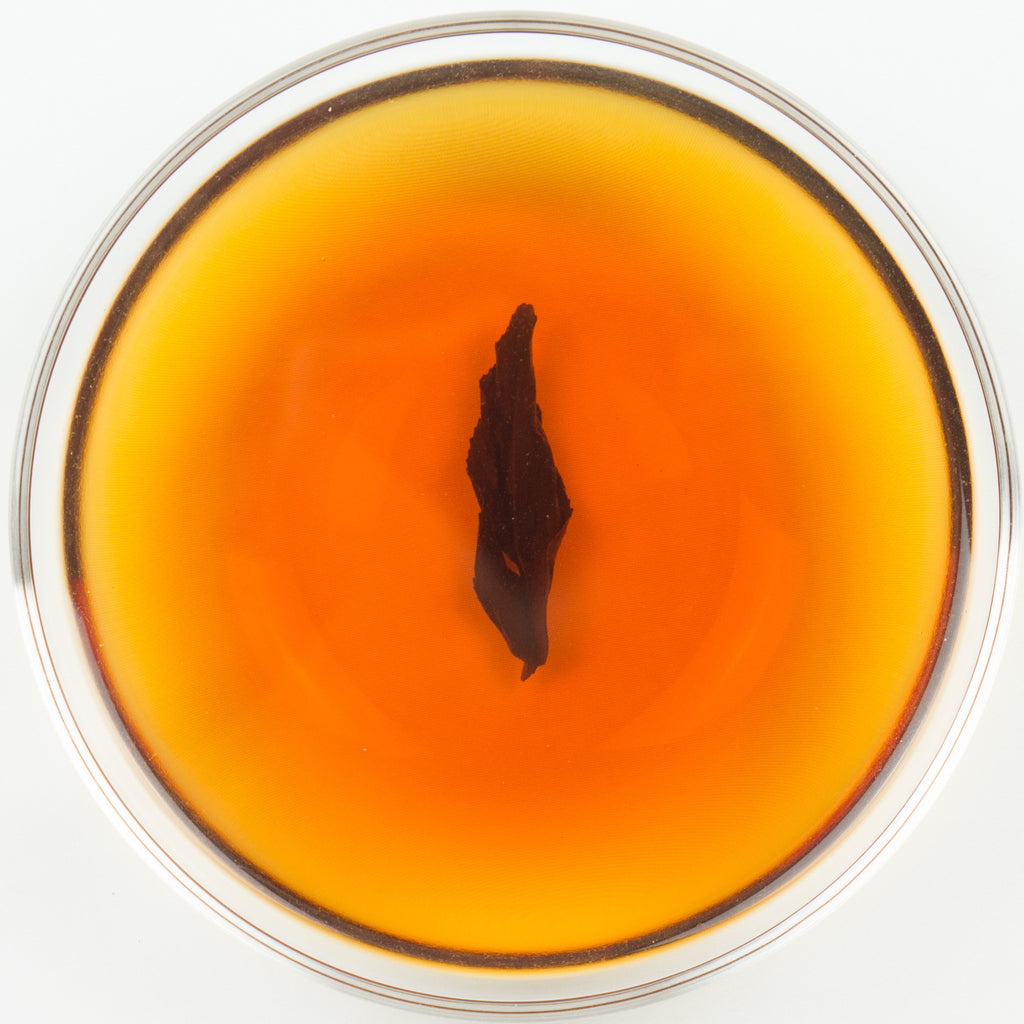 Jin Xuan was originally developed as a specimen for making black (red) tea due to its unique character in taste.  In more recent years, most Jin Xuan we encountered were made into "Jade Oolong" to celebrate its milky scent, even though it was developed for crafting small-leaf varietal black tea.  
This easily enjoyable Jin Xuan black is the result of that original intention.  It is no longer "milky" due to the heavy oxidation required of black tea, but instead was replaced by the scent of lemon and a classical small-leaf varietal taste. A perfect Jin Xuan cannot be more classical than this one.
Harvest:  Summer 2015 / 夏 貳零壹伍
Varietal:  Jin Xuan / 金萱
Elevation:  1000 M / 壹仟 公尺
Region:  Alishan / 阿里山
Oxidation Level:  85% / 分之 捌拾伍
Roast Level: 0 / 無
 This reminded me a bit of Yunnan Sourcing's Mu Shu Old Arbor black tea.  The processing is very light and the leaf is still a little green.  Taste is thick and sweet with a little vegetable astringency in there to bring balance and depth to the tea.  Later infusions are mostly sweet.  Through all the infusions there is a lovely honey orchid aroma that is very thick and pleasant.
 Six grams was enough for me. I loved its chewy fruity body and rich wet leaf aroma. It had an overall clean, soothing, and yet wakeful effect. Great morning tea. After steeping 5 or so times I noticed a fun sweet pastry-like aftertaste.
 As an old dog who loves making ice milk tea during summer time, this lovely little tea is like a song of cicada. The body is soft, and feels sort of like yam, but the after taste is very much like the sweetness of sugar cane. It also offers a lovely note of fruit acid in the nostril. Make it strong then blend it with milk and honey you will discover a world you never known of.