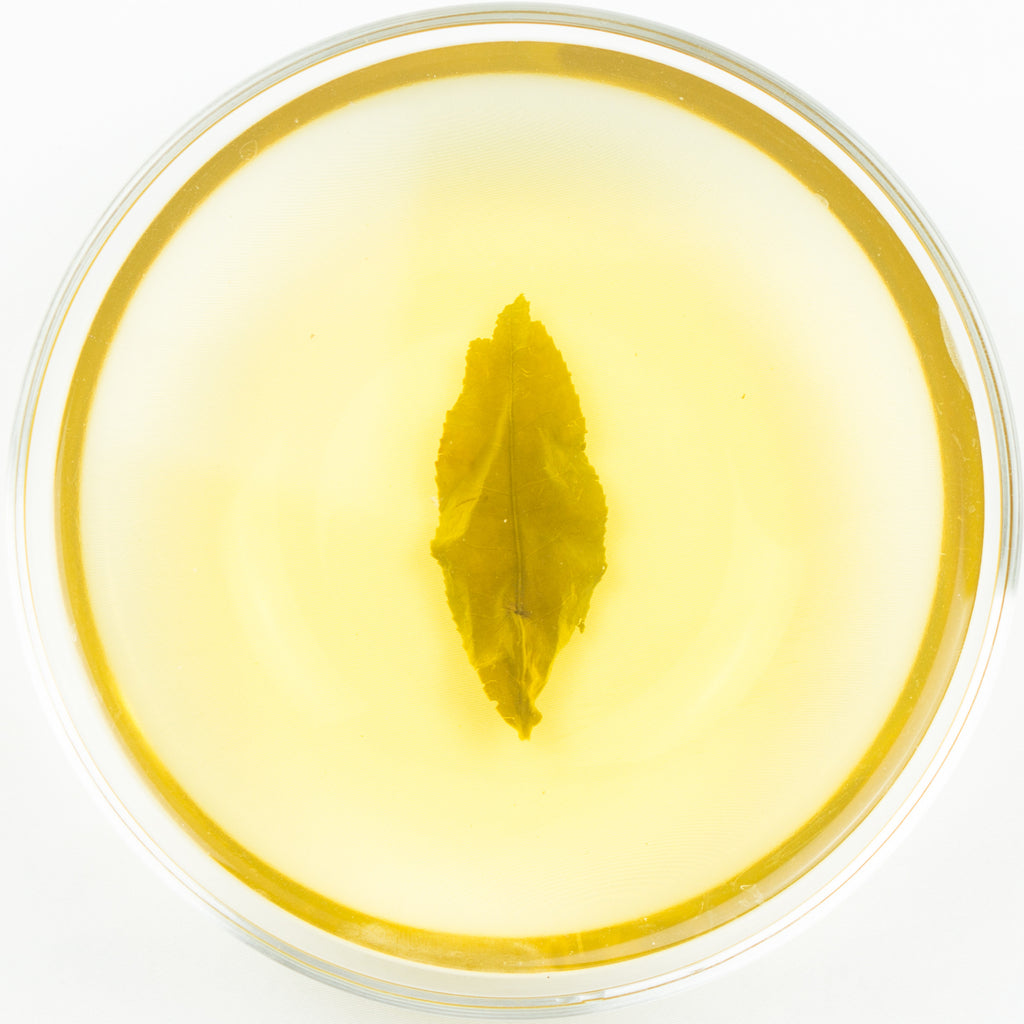 Jin Xuan is sometimes overlooked because most oolong tea drinkers are partial to Qing Xin varietal Alishan teas.  Perhaps this is because Jin Xuan varietal teas are more rarely grown at high altitude environments (like Alishan). Thanks to our diligent searching for perfect Jin Xuan, this Jin Xuan does not only came from a higher altitude part of Alishan, but also has a sense of "refinement" in its fruit bomb like aroma. 
As you might notice, this is the second Alishan Jin Xuan Jade Oolong we are offering in the collection. This is also the "new" Jin Xuan we were waiting for. It is like a fruit bomb when boiled water is being infused with it, and has an extremely smooth texture which only Jin Xuan offers!
If you are not already a fan of Jin Xuan, this Jin Xuan will certainly erase the doubt and raise the love. If you are already a lover of Jin Xuan, do not miss this opportunity for the purest Jin Xuan experience!
Harvest:  Spring 2015 / 春 貳零壹伍
Varietal:  Jin Xuan / 金萱
Elevation:  1200 M / 壹仟 貳佰公尺
Region:  Alishan / 阿里山
Oxidation Level:  20% / 分之 廿
Roast Level:  0 / 無
 Amazingly thick and soupy sweetness with a strong floral cream aroma and taste.  It because of teas like this that Jin Xuan is so renowned for having a cream aroma and taste.   Goes many rounds and will capture tour attention and earn your admiration!
 This tea emerged slowly.  The aroma was rich yet subtle and had its own satisfaction.  The first few rounds were tasty but still only a hint compared to how it came full bloom.  Definitely a fun jin xuan to try out.  Potent and full bodied with enduring flavor. 
 As an old dog that has loads of experience with Jin Xuan already, this could probably be one of the Jin Xuan that impressed the most. From its aroma it was very difficult to tell what varietal it was, or even its growing elevation. An old dog was fooled by its complex and vibrant aroma to think that it was a Qing Xin from elevation around 1500M, it was a true surprise when being told that it was a Jin Xuan from Alishan. The pungent scent and thick body subvert the traditional impression of Jin Xuan as a light and more feminine character. If there would be one sentence to describe the tea, I would call this a "masculine version" of Jin Xuan with unprecedented depth.