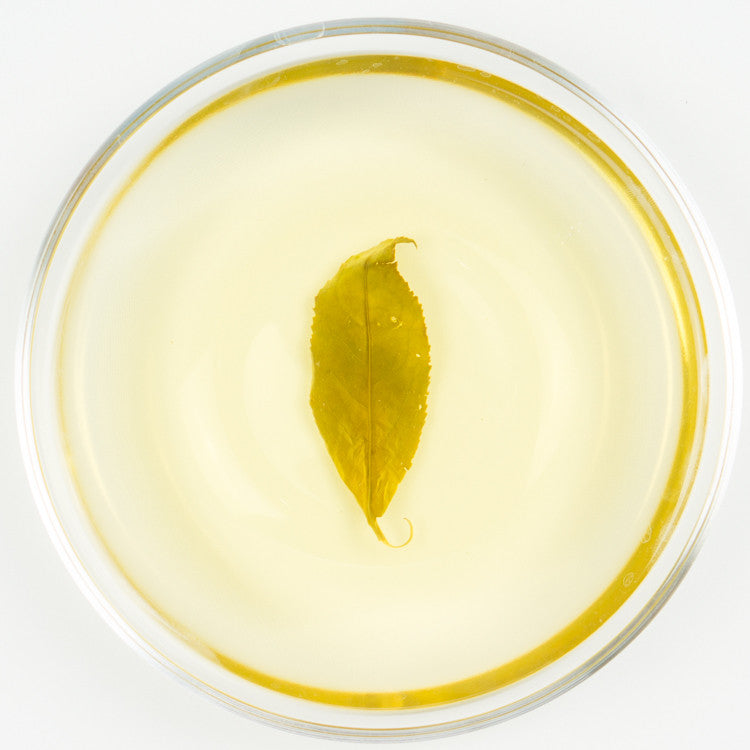 Dayuling used to be called "the Saddle of Hehuan" which is located in the area of Lishan.  Dayuling (being the highest elevation tea growing area in Taiwan) has earned its fame from tea lovers who are looking to quench their thirst with the ultimate tonic of "High Mountain Qi" (高山氣).  It got the name "Dayuling" (大禹嶺) from the former president of Republic of China - Ching-Kuo Chiang to describe its fragile geological character which made infrastructural development extremely difficult. 
Most High Mountain Oolong (especially Dayuling) tea experiences a lack of "withering" due to it's extremely high elevation growing condition, giving it a uniquely grassy and bean flavor.  With the perfect dryish weather this year and master processing, our Dayuling delivers a potent flavor of fruit that transforms into a more obvious "lychee" like after-taste in the mouth and throat.  Grown from the "Qing Xin Oolong" varietal gives this tea a very thick body and aroma that makes it singular among High Mountain Jade Oolongs.  For Dayuling lovers, this is your opportunity to meet the perfect Dayuling again.  For Jade Oolong lovers, or those (as yet) un-initiated into the cult of Dayuling, here's your chance to become a willing devotee.
Harvest:  Spring 2015 / 春 貳零壹伍
Varietal:  Qing Xin Oolong / 青心烏龍
Elevation:  2550 M / 貳伍伍零 公尺
Region:  Dayuling / 大禹嶺
Oxidation Level:  25% / 分之 廿伍
Roast Level:  0 / 無
 It's hard to pin down this tea and say it's this or that, and doing so would be to diminish it's greatness.  It's really smooth and sweet, with a vibrancy that enlivens the state of the drinker.  It's neither astringent or bitter.  It is fruity and slightly floral.  It can be infused 10+ times and doesn't suddenly drop off.  The brewed leaves are large and lovely to behold.  Most are whole stem and leaf structures still connected and delivering the high mountain "qi" right into the drinker.  Again it's the overall feeling both during and after the session that defines this tea.  Perhaps I am now just another "Dayuling Vessel"!
 Over the years, Dayuling tea has been served at a lot of my old tea haunts along the west coast...and whether or not it was always authentic I remember some occasions to be outstanding.  When I brewed this years selection after our old tea hunting dog fetched it for us I was in such pure joy.  I allowed time for this simple pleasure without much internal or external chatter and paid this tea some close attention.  Try for yourself and know its legacy.    
 As an old dog who was impressed by Dayuling six years ago and later got disappointed by its inconsistent quality in the market, this is finally what an old dog has been waiting for, and this is also what got the old dog enchanted by high mountain oolongs years ago. It has a smooth yet thick body that will linger in your mouth like a mini orchestra. Moreover, besides those regular fruit scent like "mango" and "guava" which a good Qing Xing Oolong Varietal will have, this Dayuling gave an old dog a surprising "lychee" after taste. This is beyond what "wonderful" means.