Wushe Gaofeng High Mountain Light Roast Oolong Tea - Winter 2015
Taiwan Sourcing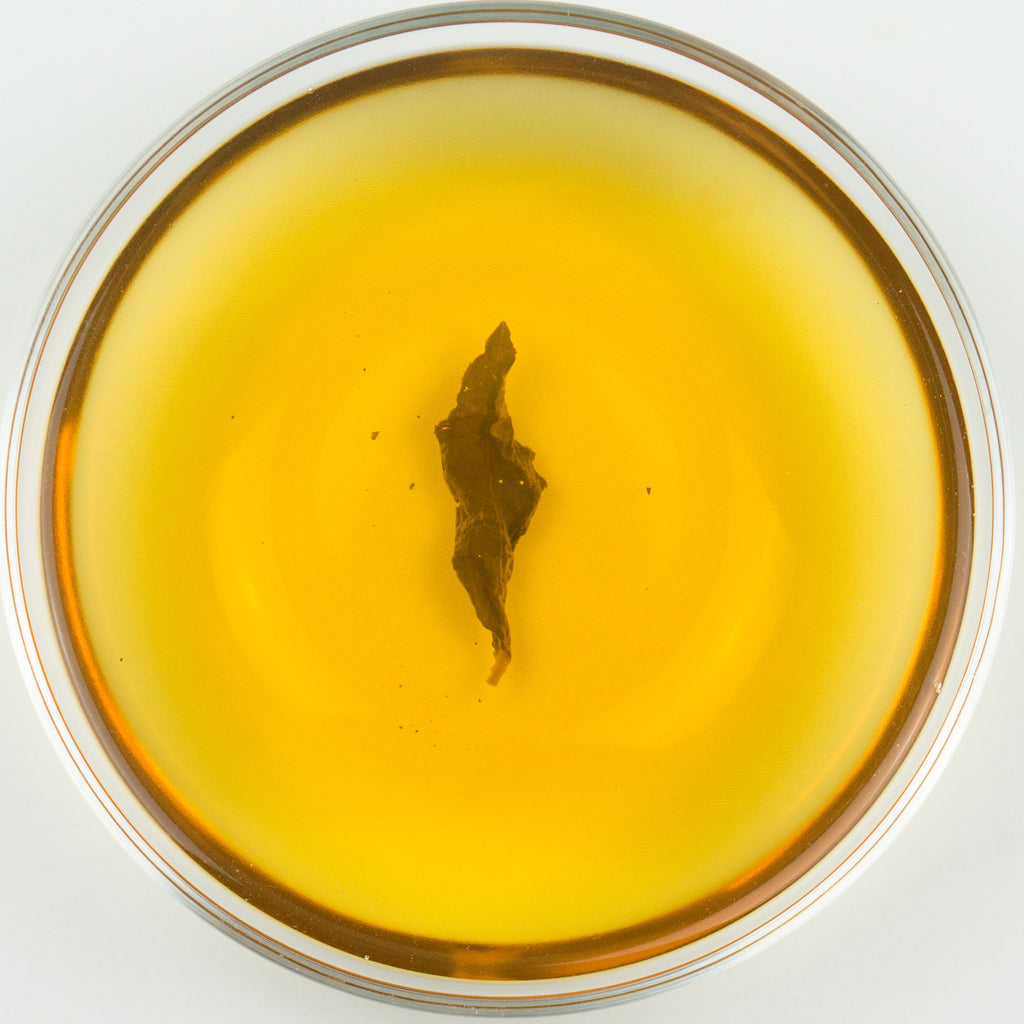 Our Winter 2015 Wu She is from the same tea garden as the exceptional Spring 2015 Wushe we offer.  This high mountain oolong is from the highest part of Wushe area which is located at 1700 meters above sea level, and was picked and processed during the most perfect weather conditions, which proved tricky due to the Jeckyll and Hyde weather conditions that prevail in Wushe's high mountain environment.  The combination of human skills and nature's fleeting benevolence makes this a beautiful and solid representation for winter high mountain oolong. 
Roasted tea provides a special nuance and is especially enjoyable in the cold winter months.  As such, we decided to have our Wushe roasted under the hand of a master.  The masterful roasting transformed this tea, giving it a an almost "Dong Ding" like character, but with a more delicate body.  It's surprisingly similar to a Competition Grade Dong Ding both in aroma and body.  If you are looking for a tea to warm you up in the winter, but prefer a delicate and respectful roast to a heavy roasting, this Wushe Light Roast will certainly please you.
Harvest:  Winter 2015 / 冬 貳零壹伍
Varietal:  Qin Xing Oolong  /  青心烏龍
Elevation:  1700 M / 壹仟柒佰 公尺
Region:  Wushe Gaofeng / 霧社 高峰
Oxidation Level:  25% / 分之 貳拾伍
Roast Level:  2.5 / 貳伍分
 Perfect balance between roasted and green.  The light roasting has brought out fruit and grass notes.  Potent cha qi and very infusable.  I love the tranquil effect on my mind and body with this one.  Sometimes a light roasted high mountain oolong is just what you need to balance and recharge!
 This tea had a very inviting cookie-like aroma after a quick first steep.  Super tasty rich nuttiness with sharp floral and roasted aromas.  I was very much satisfied by the overall potency and lingering flavors.  It also felt rather perfect on a brisk autumn afternoon...warm and revitalizing.     
 As an old dog who keeps calling itself an old dog, this tea had an old dog doubting himself when he "brewed" it in the teapot. An old dog thought it brought the wrong tea to the teapot, because this tea has an aroma that is too similar to the Dong Ding Competition Tea which an old dog owns. But it was soon cleared that this is the Wushe Gaofeng due to the distinctive character. It carries fructose aroma and a very mild sweet corn after taste. An old dog knows everyone loves roasted Oolong, so this tea deserves the same amount of love like the Competition Dong Ding, just with a better price.