Imperial Osmanthus Bi Luo Chun Organic Green Tea - Winter 2015
Taiwan Sourcing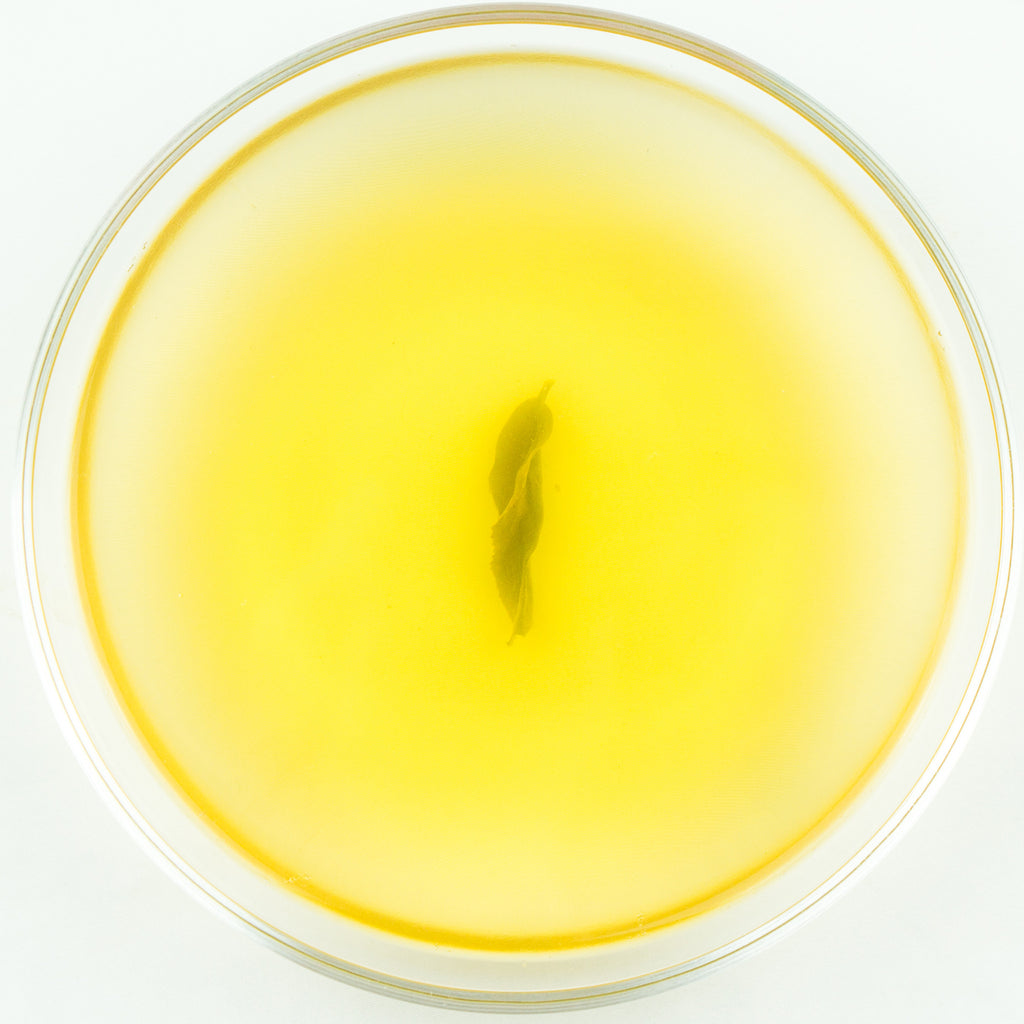 Taiwan didn't have a history of making green teas, but thanks to the Chinese that came to Taiwan in 1949, Taiwanese started to process a varietal named "Qing Xin Gan Zai" into green tea.  Thus fulfilling the nostalgia for Chinese Green Tea on the island.
Today the most famous tea from Sanxia is undoubtedly Bi Luo Chun.  Unlike Long Jing from Sanxia, Bi Luo Chun is a fairly new variety to the region.  Since 1990s, Bi Luo Chun has replaced the fame of Long Jing and became the most popular tea of the region thanks to the special body brought by Qing Xin Gan Zai.  Unlike Long Jing, Bi Luo Chun requires more tender ingredients (one bud / one leaf ratio) to process correctly.  Until today, this kind of green tea is one of the most interesting green teas in the world thanks to the unique tradition of oolong making, which synthesizes green tea taste and oolong in a totally original manner.  This feature is especially evident in the body of the tea that isn't present in most green teas.
Such a delicate and refined Bi Luo Chun as this is just the perfect tea to combine with Osmanthus flowers.  The combination gives the tea a fruity and floral dimension and gives the tea an overflowing viscous body.   During the final drying stage the tender Bi Luo Chun leaf/bud sets are commingled with fresh Osmanthus flowers and allowed to dry together which imbues the tea with their perfumed and fruity essence!  After the drying stage is completed the flowers are separated from the green tea before packaging.  Osmanthus flowers are so strong in their aroma and taste that if they were mixed with the Bi Luo Chun tea leaves they would overpower them easily!
Harvest: Spring 2015 / 春 貳零壹伍
Varietal: Ching Shin Gan Varietal / 青心柑種
Elevation: 300 M / 參佰 公尺
Region: Sanxia / 三峽
Oxidation Level: 0 % / 無
Roast Level: 0 / 無
 Still Savouring......
 I very much enjoyed this tea more than I was expecting to. I don't find myself often called to brew blended teas like this, but when I do, this is a very solid example of what I want. The flavors mix sweetly. The refreshing qualities of the green tea are enhanced with the osmanthus. Not too floral and not overly strong, this tea provides a simple pleasure that is worth the time. I steeped 4 grams 3 times with water at about 180 degrees.
 As an old dog that had loads of green teas in hot summer, this green gem is his new favourite for cold brewing method. Since everyone knows, dogs have delicate tongue unlike human, drinking "iced" tea (no, not the sugar added one) is an old dog's regular practice. This osmanthus green tea has that floral aroma, but not tacky unlike most of the "floralized tea" on the market. An old dog will drink it in cold again in the upcoming summer of 2016 with a happy tongue.