Rhythm 21 Transitional Organic Bug Bitten "Champion" Black Tea - Winter 2016
Taiwan Sourcing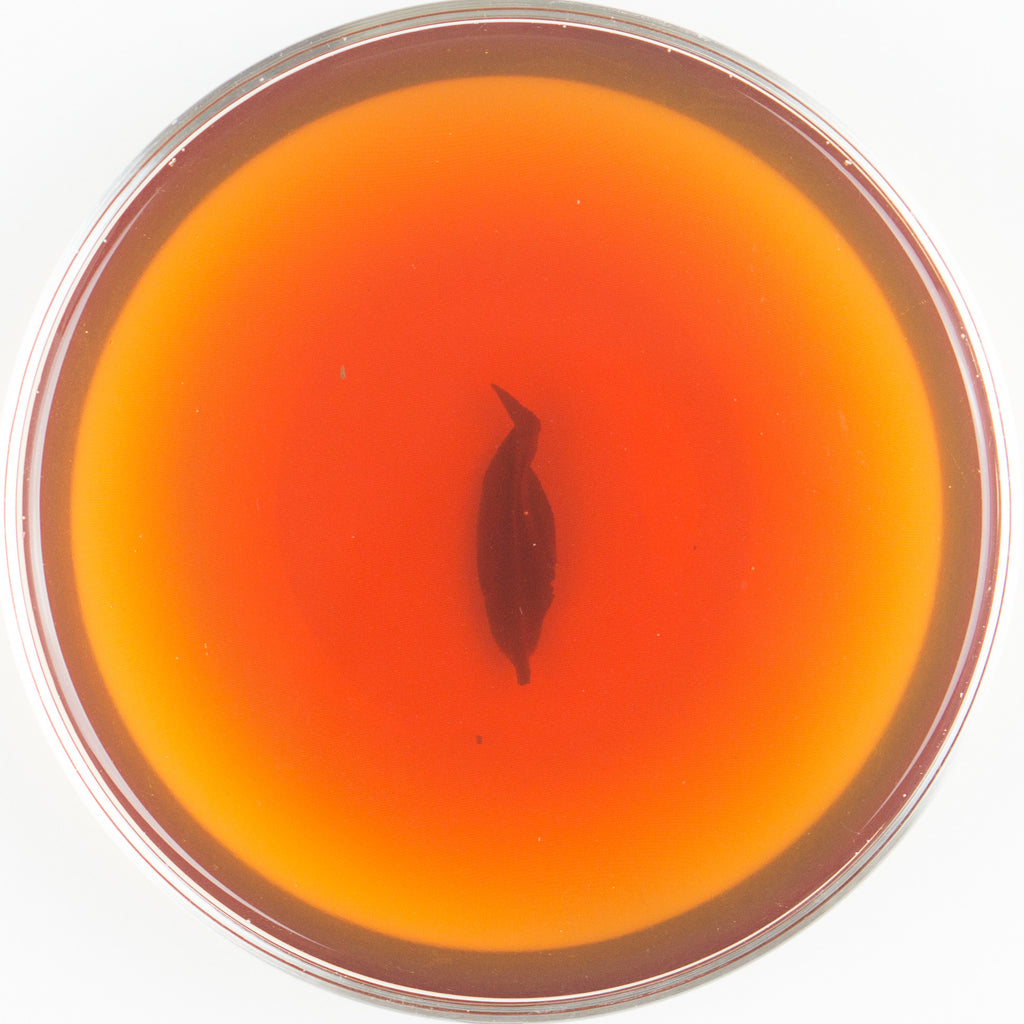 A relatively new varietal in Taiwanese black tea history, Rhythm 21 is the latest innovation from the Tea Research and Extention Station. The purpose of this new varietal is to create a highly aromatic tea for processing into black tea.  We think it's a great success and an overall excellent black tea.
Although this varietal produces excellent tea, it's not without some drawbacks.  The sprouting cycle is typically about 8 days, which is longer than normal.  This means that the labor involved in picking and processing is more intensive, adding to time and cost.  As such, the tea is not very popular among tea growers who prefer tea bushes that sprout in shorter cycles so that the labor of picking and processing can be done in shorter time frame.
The first impression of this Rhythm 21 is definitely different from the one we are already offering. Our producer decided to add an additional process to the making of this tea - waving, to bestow it with  more complexity and depth than the normal black tea. This is unusual when processing big-leaf varietal such as Shan or Ruby 18, but being a mid-leaf varietal, Rhythm 21 was able to bear the waving process, creating such a special tea under the blessed bite of Jacobiasca Formosana. Again, we are not sure whether this tea could be produced next season or not, so fetch it while you can!
Harvest: Winter 2016 / 冬 貳零壹陸
Varietal: Rhythm 21 /  紅韻 廿壹號
Elevation: 600 M / 陸佰 公尺
Region: Puli / 埔里
Oxidation Level: 85 % / 分之 捌拾伍
Roast Level: 0 / 無
 This is both and elegant tea and a powerful tea.  It depends on how you steep it.  I steeped 5 grams in a 60ml gaiwan and this was a powerhouse of strong robust taste, but with a cooling almost medicinal camphor like feeling in the mouth.  Sweet and spicy with grape-like tartness as well.  It went 9 steeps gong fu style.  Second time I steeped it with less leaf and it was very balanced and easy-going with less medicinal cooling taste and more fruit and sweetness.  A versatile tea with many sides... all of them good.
 I put our Champion Rhythm 21 to the test and found that 7 grams in my 130ml Gaiwan was a nice ratio. I also experimented with water temp and found that 185-190 revealed a lot of character in the tea that I loved. The initial dry leaf aroma has an enticing grape jam aroma. The wet leaf is aroma is a treat too but more a mix of chocolate and citrus. Quick steeps in the beginning are perfect for bringing out the sweet scrumptious flavors that I love. It is really very scrumptious. But the fourth round I start pushing a little and get more bitter and astringent notes that add to the complexity on the palate. This is a very flavorful and complex Taiwanese black tea. If you are already a fan of this style and tea variety, don't miss this champion.
 After King of Ruby 18, this is also a black tea that made an old dog absolutely surprised and fascinated. An old dog had some very good and interesting black tea before, no matter it is from big leaf varietal or small leaf varietal. Rhythm 21, being a middle leaf varietal tea, has the strong character of big leaf varietal tea, but meanwhile has more flexibility to be processed into a more interesting tea like some of the small leaf varietal black tea. All an old dog wants to say is that, this tea was not only processed beautifully which bestow it a very unique kind of fruity aroma, the fact that it was heavily bug bitten makes this tea an invaluable piece in the tea market. This tea is simply a beautiful creator to drink with, and an old dog is going to savour it again!