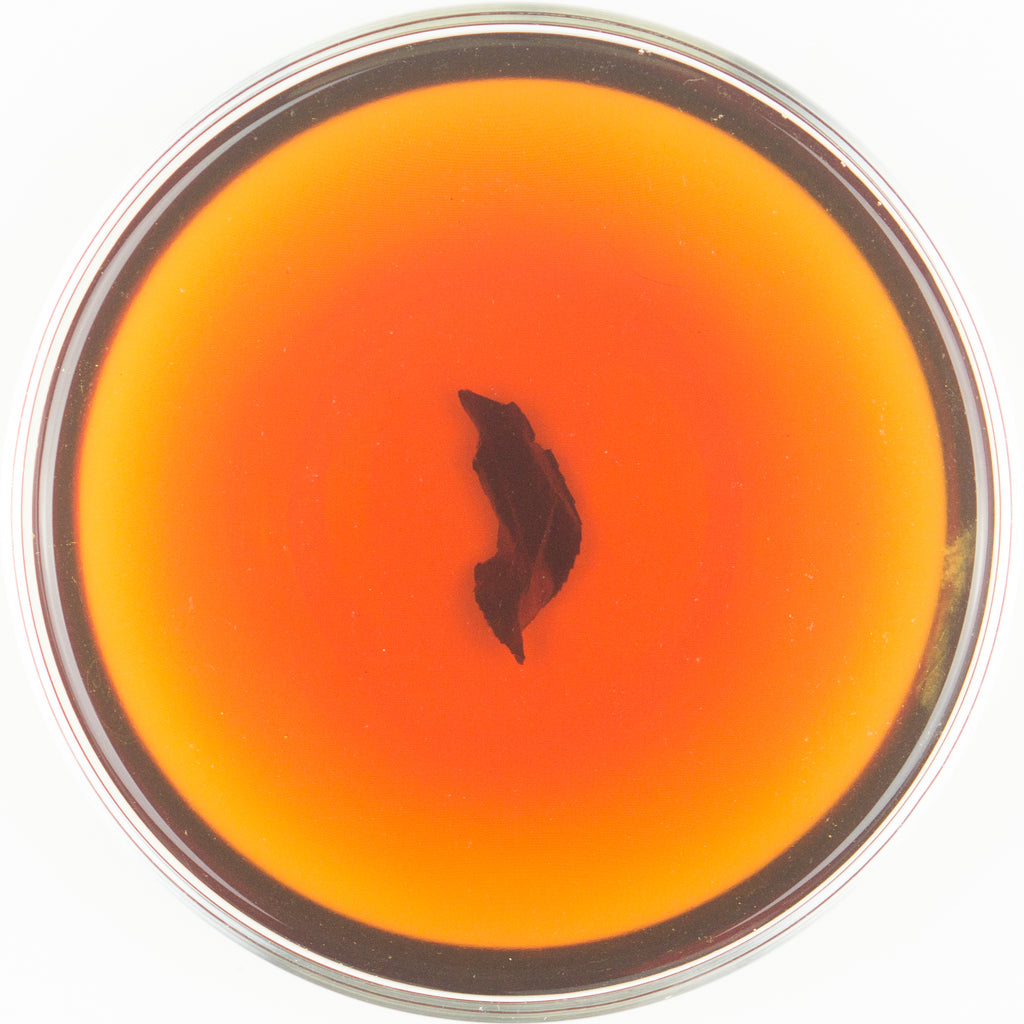 Our regular offering Lalashan Jade Oolong disappeared this spring, because we learnt that it was undergoing a final stage of its organic transition, so we guess it might be great to take a break for one harvest to see what the surprise might be. The wait absolutely will be absolutely worth it. This is a small leaf varietal high mountain black tea we have been waiting for, and it's organic!  
Processing high mountain tea material into black tea has been a ubiquitous phenomena in Taiwan. The reason is easy, summer tea is better for producing black tea, and this will leave no economic gap for the high mountain tea lover. However, and it is exactly this "however," that we did not offer any black teas from super high mountain area (such as Li Shan) since our launch. We feel it is necessary to only share this tea when it tastes right. Normally, all the small leaf varietal high mountain black teas will carry a "yum" like character, but we instinctively know that is not what we are looking for. Something is not convincing in this type of tea, so we decided to leave it (We tried black teas from Lala Shan before).
Because the synergy of this summer's processing technique and weather is finally perfect, we decided it was time to offer a high elevation black tea. This Lalashan Black is what we have been waiting for, a full body, full fruity aroma black tea from Lala Shan was created, and we are totally convinced of its potential to surprise your palate and make your body relaxed. 
Harvest:  Summer 2017 / 夏 貳零壹柒
Varietal: Qing Xin Oolong / 青心烏龍
Elevation:  1500 M / 壹仟伍佰 公尺 
Region:  Lalashan / 拉拉山 
Fermentation Level:  70% / 分之 柒拾
Roast Level:  0 / 無
 To take a high mountain tea of this quality and lovingly process it into a fine black tea is pure genius.  That high mountain 韵 essence is present in this tea, and is complemented by a dried fruit aroma and taste.  This is and the Dah Pan Black are my two favorites for summer 2017 blacks.
Incredibly full aroma on the dry leaf and freshly wet leaf. Floral fruity and spicy all in beautiful layers that unfold with oomph.

The flavor has quote a bit of depth as well. Coming on light and sweet and then developing into a rich fruity thickness that is definitely unique to this tea. The strength of the tea is related to the elevated kind of openness of high mtn oolongs but has more of a focus on effect comparatively.

I love this tea. Its interesting from start to finish and stands out among black teas.
 An old dog has to be honest, an old dog tried Lalashan black tea every summer. Every single summer an old dog was waiting for this tea to be"matured" enough for the world. And this summer, this plantation is finally a tea an old dog is confidence enough to introduce to everyone. This is how a high mountain black tea should be, and how an old dog imagined it could be. The aroma is like fresh lime, but it tastes like "peach," or something similar to that. The smoothness of this tea is unlike any other black tea, and that it probably thanks to it being organically cultivated. If you are a person who is looking for the most refined black tea in the world, this shall be a tea to drink with.