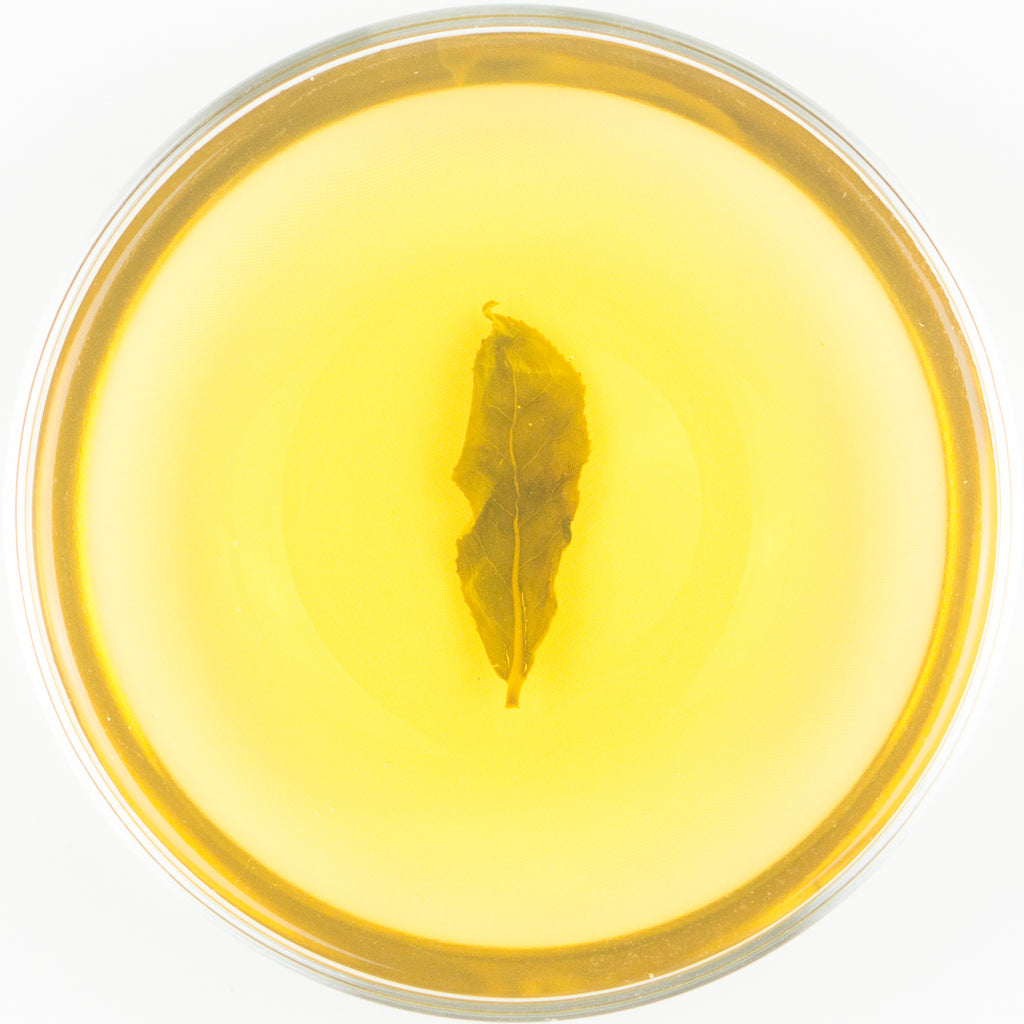 After the success of "Alluvial Devil" and "Alluvial Autumn," we realized to fully understand the difference caused by the season, it will be a mistake not to process the winter version to complete the full picture. As a result, we drove to the alluvial fan again to collaborate with Family Chang again to produce the winter tea. The following paragraph will be the introduction of this plantation, which was already featured in our "Alluvial Devil" page already, so feel free to skip it if you are already familiar with this wonderful place.
This Qing Xin oolong is grown at the location of an alluvial fan in the Jiayang  area. The name of that alluvial fan is called "Devil Isle". This tea plantation was established on this alluvial fan more than 20 years ago! The tree trunks have grown very thick, very quickly (indicating the the root system is incredibly healthy especially compared to conventional growing method where fertilizers must be added to the soil often). In fact, most of the heavily fertilized Lishan don't show such healthy condition! As a result, we think such growing trait was also contributed by the special soil condition it is. After all, this is the only tea we know so far that was planted at an alluvial fan, which carries with it a very unique terroir that you can immediately sense. 
You might also notice the elevation of this tea was quite "low" compared to the regular Lishan tea, that's because the alluvial fan is located "beneath" the regular road which has a steep drop for around 200 meters. The alluvial fan is also surrounded by the water of Deji Reservoir, so making the environment extremely humid and difficult to do tea processing correctly. Such conditions have made accessing this area extremely difficult, but has been well protected from the pesticide and fertilizer runoff from the higher up Lishan areas where much of the cabbage and tea is grown conventionally.
Surprisingly speaking, we did not expect winter tea will be this different than the spring tea. It almost tastes like a different tea from another region when you smell it, only to discover that they share the similar terroir in the aftertaste. The winter version resembles the stronger version of "Alluvial Autumn," which is not a surprise at all since that is how most of the autumn tea in Taiwan was sold as. We also discovered that the winter tea carries a more elegant overall character to the palate compared to spring version, making its overall character more subtle rather than robust.
In conclusion, the "devil" will transform into the "angel" thanks to the seasonal difference, and this difference will show on most of our teas we have been carrying since 2018 spring. We are glad to share this result with you while making each cup of your tea beyond deliciousness. 
Harvest: Winter Varied / 冬 不定
Varietal: Qing Xin Oolong /  青心烏龍
Elevation: 1560 M / 壹伍陸零 公尺
Region: Jiayang / 佳陽
Fermentation Level: 30% / 分之 參拾
Roast Level: 1~3  / 壹 至 參 分 
 Savouring......
Wet leaf aroma is thick, soothing, and gently floral. The flavors are beautiful as it blooms on the palate with lightly sweet fruit and creamy florals. Not too thick not too thin. It has a lot going on in the time after the sip. Longer steeps show lovely changes in flavor and body. Really quite the joy. I quite liked the light roast. Even a little more than the 'dry' version. It's sweetness was more up front and the flavors were really congealed by this roasting. Excellent job.
 "Alluvial Angel" did not really surprise an old dog, because it already knew that it is going to be good - a superb tea indeed. It was more like a pure and innocent pleasure when the result was shown in the boiled water. Unlike "Alluvial Devil," "Alluvial Angel" delivers a very obvious aroma like sweet condensed milk you will often found as the dressing of Taiwanese ice dessert (such as shaved ice). It is very sweet in that sense but not overpowering its clean characteristics. And without emphasizing, it has the same stomach warming effect as its spring and autumn cousin, so if you are worrying oolong tea is a stomach uncomforting option, these teas can change that impression forever!