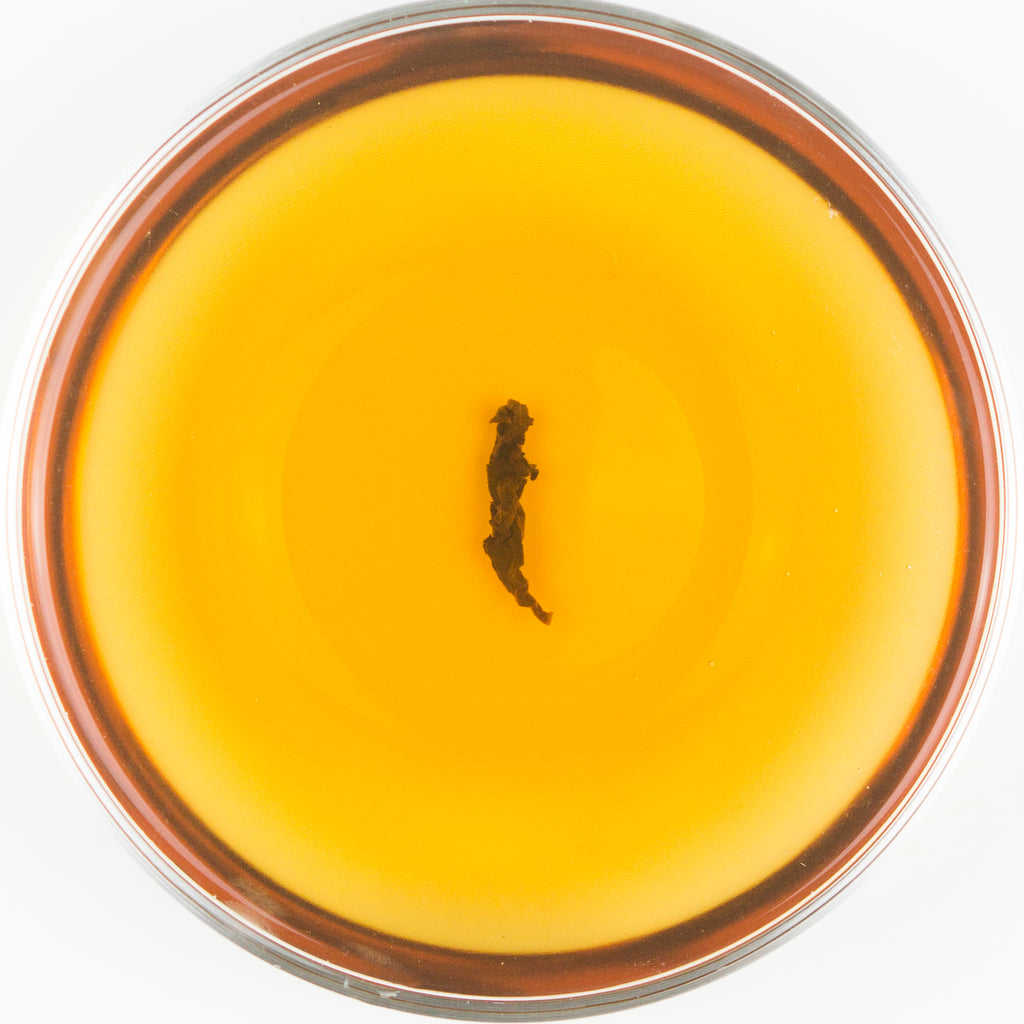 The history of Dong Ding Competition Tea began in 1976, when the oolong tea legend Zhen-Duo Wu was still at his peak. Under his supervision, the Dong Ding Competition held by Lugu Farmers' Association was able to have a solid foundation and reputation. One of the best stories people know about Zhen-Duo Wu and this Competition, was that Mr. Wu was able to distinguish two totally identical teas from the crowd and insisted on naming them the 1st place. It turned out the teas were sent to competition by a pair of brothers using a different name to submit the same tea, to see whether this competition was legitimate or not. After this incident, the foundation of this competition held by the Farmers' Association turned rock solid, and the legacy still continues today.
This winter is very special to the tea world, or just to us, because we can now offer the commonly known competition grade Dong Ding at a very affordable price. Moreover, the material is from the deep mountain in Dong Ding. The altitude is at 900 meters after measured with iphone's compass function. The plantation is quite remote compared to most Dong Ding plantations, making this a very clean tea even though not organically certified.
What's even better, the process of this tea is very close to what Dong Ding tea was like 35 years ago thanks to an improved processing method discovered by Taiwan Sourcing. Making this tea very rich and sweet after the delicate roasting by Master Zhou.
This tea is not only a simple competition Dong Ding to us, but like all other teas we are offering this winter, a even better gift to the world who loves Taiwanese teas. Since we named all our previous Competition Dong Ding the "King," we decided to simply give it a name "Emperor." And this Emperor of Dong Ding, will be our "Taiwan Sourcing Special Tea" from this season.
Harvest: Varied / 不定
Varietal: Qing Xin Oolong / 青心烏龍
Elevation: 900 M / 玖佰 公尺
Region:  Lugu / 鹿谷
Fermentation Level: 40 % / 分之 肆拾
Roast Level: 5 / 伍 分
  Incredible balance in a young Dong Ding.  At once rock sugar, orchid, and vegetable garden.  If we consider what this tea will be after a few years, we will understand why it should be aged!
  This tea made me say wow. The first sip was so vital and full. It impressed me with smooth roasted flavor that reminded me of crisp fresh sprouts, only roasted.

By the second round it became strong and full. The roast more noticeable. Yet the unique sprouted veggie flavor persisted in the aftertaste. It felt paradoxically refreshing and warming in the body.

After a few steeps the sprout quality transforms into more of a nutty and sweet lingering  flavor.

Overall I'm very happy with this tea as an experience. It has a character to it that you can feel and get to know. What a treat!
  This is the best Dong Ding since an old dog's born. Ever. This is not because an old dog visited the plantation or anything, but this is what made an old dog fell in love with the name "Dong Ding" years ago. What made this Dong Ding truly unique is because the process we implement into it. We combine traditional concept with modern idea and technique, making this Dong Ding a tea that is extremely fruity and comfortable to your stomach even it's not an organic tea yet! If you want to know why Dong Ding is Dong Ding, an old dog promise you this is the tea that demonstrate the power of it!