Zhushan Organic Jin Xuan "Lily Maiden" Oolong Tea - Spring 2019
Taiwan Sourcing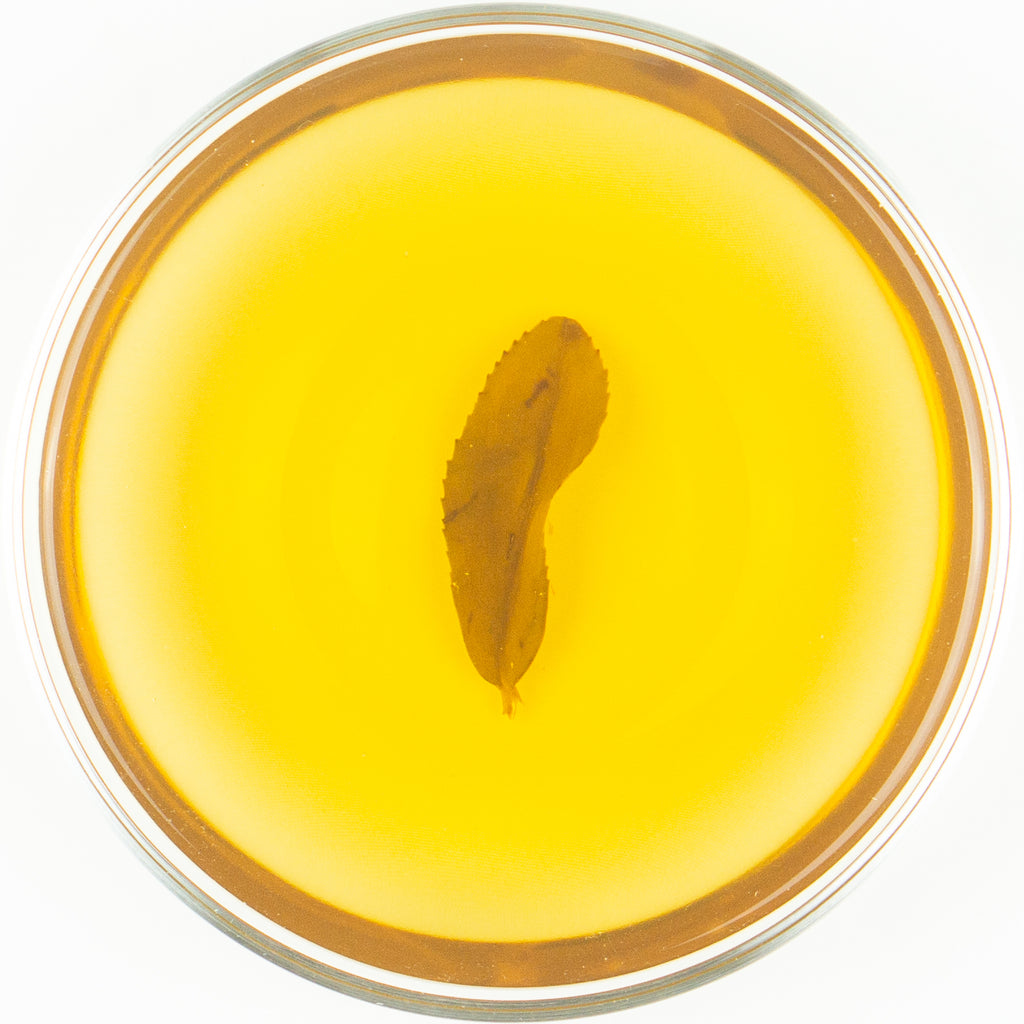 We have been working really hard to find a plantation that can cleanly and completely demonstrate this elegant varietal's unique characteristic and therefore we still feel extremely lucky and super grateful to have collaborated with Mr. Chen from the winter of 2018. This spring we created a even better version of "Lily Fairy," and we decide to name it "Lily Maiden." 
The next paragraph will be the basic background of this plantation. If you are already familiar with this particular plantation, it is OK to skip to the paragraph after this.  
Mr. Chen's small plantation has been free from chemical since the beginning, so the tea trees were not neatly distributed on the land. Instead the tea trees were more like growing sporadically among the wild and tall weeds. Most of the Jin Xuan tea trees were dead because they could not bear Mr. Chen's semi-wild management, and therefore leaving lots of blank spots in the plantation. However, the still surviving trees are the strongest under this "natural selection," so in theory the tea trees can deliver the purest Jin Xuan characteristics under the right processing method.  
One of the main reasons this "Lily Maiden" is totally different from "Lily Fairy" is not only because of the seasonal difference, but also the because this season we successfully negotiated with kind Mr. Chen to allow us process a batch totally of our own. We decided to sacrifice the quantity but to improve the quality greatly for this unique material, resulting one fourth of the production compared to "Lily Fairy" from winter. 
What you can find in this "Lily Maiden" is not just the wonderfully purity of Jin Xuan varietal, we hope you can also feel this plantation's clean and unique environment since what's next to it is an unpolluted swamp. There is also a very old tree growing next to it, not to mention our effort put into creating this tea. We highly encourage you to compare it with "Lily Fairy" side by side to observe the improvement, and realize the endless potential of tea processing with us together.  
Harvest:  Spring 2019 / 春 貳零壹玖
Varietal:  Jin Xuan / 金萱
Elevation:  200 M / 貳佰 公尺
Region:  Zhushan / 竹山
Fermentation Level:  25% / 分之 廿伍
Roast Level:  1~3 / 壹 至 參  分
 Ready to brew!
Magical creamy florals in the preheated vessel. Reminds me of lilac. The wet leaf has the same aroma. Thick and saturating floral creaminess. I am an enchanted fan of the recent winter "Lily Fairy." I found myself captivated by jinxuan differently than I have before. This spring's 'Maiden' elongates the enchantment. Delicate and floral creaminess, slight nuttiness, with such a clean body feel. Lingering on the palate with sweetness.
 This plantation is so far the most subtle one. Its terroir is very distinctive from any other plantation you would ever encounter, however its character is too subtle for one to really pay attention to sometimes. However, this terroir will always remind an old dog of that quiet and mini plantation right next to the huge swamp. This spring one is really different from our first attempt "Lily Fairy" due to the season, making this tea another wonderful experience for a Jin Xuan varietal.