Paguashan Wu Yi Natural Farming "Overlord" Charcoal Roasted Oolong Tea
Taiwan Sourcing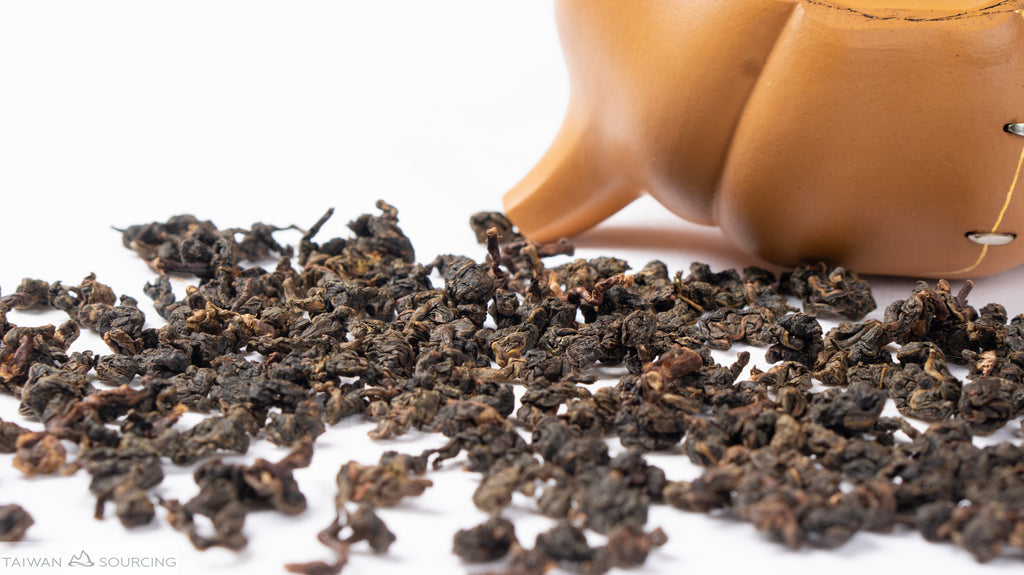 Finally, the long-awaited Wu Yi tea (the one we did a Live video series of, showing the arduous all night processing) has finally arrived after a month of careful charcoal roasting by Master Zhuang! The result, is remarkably groundbreaking.
Like our Wu Yi Organic Black Tea, this tea inherited the impeccable raw material quality from the same plantation, and with our diligent supervision, the oolong version of this tea plantation could only be described as "powerful," that is why the name of this tea is "Overlord."  There is no other word we could find to describe this unique tea, a tea that Taiwan Sourcing has been aiming to find and make available since our launch in 2015. Without the support of people who love Taiwan Sourcing, it would not have been possible for us to reach this step. That being said, this is also a tea made with gratitude and persistence, for all lovers of Taiwanese tea.
We encourage everyone who is a fan of Taiwan Sourcing (again, thank you all) to give this tea a try. This tea, like our previous Wu Yi roasted tea (which is running out of stock very soon), as well as all the teas in our Winter 2017 collection, are what make Taiwanese teas such a treasure, and we could not be prouder to offer them to the world. 
Update at the end of 2022: This tea has improved to a new level as our processing ideology goes on in the past couple years. The 2022 winter version brought a whole new level of completion and serenity to this popular tea on our website. We are glad to give this ancient vearietal in Taiwan a whole new life to the international audience. Please compare them by vintage and witness the progress together :)
Harvest: Varied / 不定
Varietal: Wu Yi / 武夷
Elevation: 450 M / 肆佰伍拾 公尺
Region: Paguashan / 八卦山
Fermentation Level: 35 % / 分之 參拾 伍
Roast Level: 4 / 肆 分
 Wow!  This is truly a dominating tea.  Not by it's strength, but because it has no peers.  Incredibly textured and lively in the mouth.  Each steeping shows a bit of variety and my first and second session revealed new sides to the tea while both being equally enjoyable!  Aroma is out of this world, and fills your entire tea drinking space with an intoxicating essence!
  I was settled down quite a bit by the rich smooth thick aroma rising out from my preheated purple clay pot. The roasting dances a lovely line between light and medium. The body is smooth and slick with a nice echo in the throat. This interesting roast and varietal makes the tea hard to describe really. It definitely has some flower nectar sweetness but with a spice finish. All the while that echo of the roast is the backdrop on the palate. This is a tea that even though it has an intense name...It is actually quite comforting and warm. It doesn't feel like an overlord at all!
 As an old dog that has been exploring the grand world of Taiwanese tea, this tea is a milestone to an old dog's tea journey. With the help from people who love tea, Taiwan Sourcing finally is able to create tea which is absolutely unique to the tea world. This is "Overlord," a tea that did not come from the usual "high mountain" area, but rather a much humbler place - Paguashan. Taiwan Sourcing offered a black tea version of this tea plantation back in the summer, and it was because of that tea plantation inspired us to make our own tea for its purely clean and powerful raw material. The result is this tea that made Taiwan Sourcing (not only an old dog) this happy. This is a tea that is powerful yet smooth which won't cause your stomach to suffer if you have such concern in mind thanks to our traditional processing method. An old dog is in so much love with this tea not only because he was supervising the whole process, but the lovely result this tea could achieve to the aspects of taste and effect. Savor on, and welcome to the new chapter of Taiwanese teas!