Tanliao Natural Farming "Azure Jade" Bug Bitten Oolong Tea - Winter 2020
Taiwan Sourcing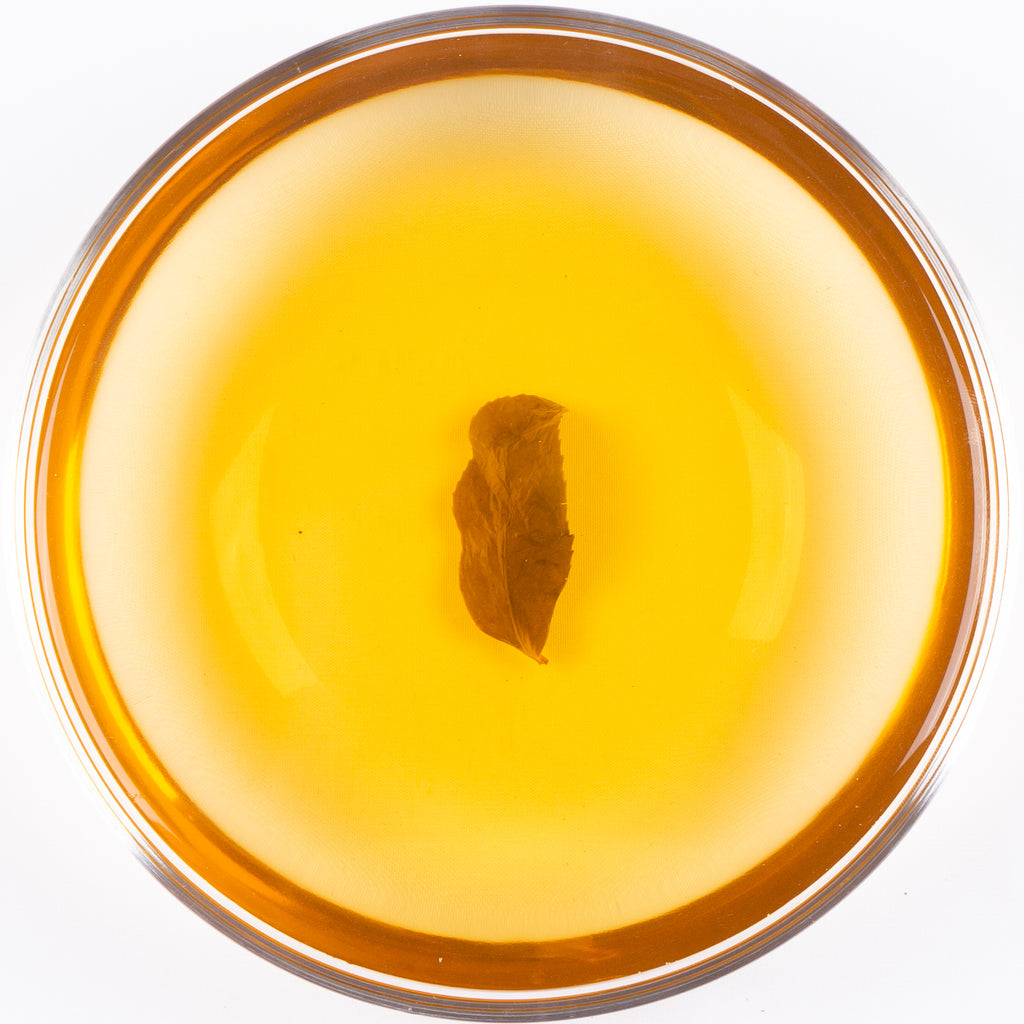 The tea we processed "Amber Samber" brought this tea to us. Mrs. Tsai showed up at the night of our Wu Yi processing after we talked on the phone briefly and was convinced by our method. After a month of waiting for the tea to sprout we finally met the plantation, the trees, and the material.
If you imagine Mingjian township as a circle, you will find Tanliao village southeast corner of that circle. Mingjian is quite a big and diverse place for tea growing. At every slope and hill there is a micro-climate and terroir of its own. This is our first time having material from Tanliao area, and this particular plantation we found was one of the top three lands in Mingjian so far. 
Besides the land, the varietal is very distinctive as well. Unlike super popular Jin Xuan, which has a original codename "2027," this "2028" was a forgotten varietal that used the exactly same paternal inheritance like "2029," which commonly known as "Cui Yu" in the market. As a result, this "2028" is like the older brother of Cui Yu, but shown completely different characteristics from Cui Yu. Sadly, the official institute did not find the characteristics of 2028 "particularly interesting," so at the start of 1990s they only chose 2027 and 2029 to promote with by giving them the now famous names. As for the 2028, it was abandoned and forgotten in the history.
Fortunately, some farmers saw the virtues in this unique varietal, and decided to keep it in their own plantation. Mrs. Tsai and family have been guarding this varietal since the birth of it, and had it managed wonderfully. Compared to Cui Yu's heavier profile, 2028 carries a much more elegant note like Ying Xiang #20 varietal, and therefore created this elegant style as a tea. Since this varietal does not have a proper name like its siblings, we asked around our friends about their grandmothers' name to find inspiration. At the end we discovered this beautiful name "Yuli" (玉瓈), which literally means "jade and coloured glass." We wish this "Yuli" varietal "Azure Jade" oolong tea will tell a story of innovation and preservation. Enjoy!
Harvest:  2020 Winter / 貳零貳零 冬
Varietal:  2028 Yuli / 貳零貳捌 玉瓈
Elevation:  350 M / 參佰伍拾 公尺
Region: Tanliao Village / 炭寮村
Fermentation Level:  35% / 分之 參拾伍
Roast Level:  2 / 貳 分 
 Waiting water for boiling......
 Another unique and otherwise unheard of and non-cultivated variety of tea plant from our Old Dog. This tea is a success story of preserving and innovating, and delighting our palates. There is some beauty to the aftertaste that is unique - like a plump and soft candy of the forest. After a few brews I'm left quiet and present with my self thinking - this tea has some gentle surprise for aficionados.
 A bless for sure again from the nature and man. "Azure Jade" was a help from fate if no exaggeration. We never thought we may encounter this varietal in our life, not to mention an naturally farmed one!