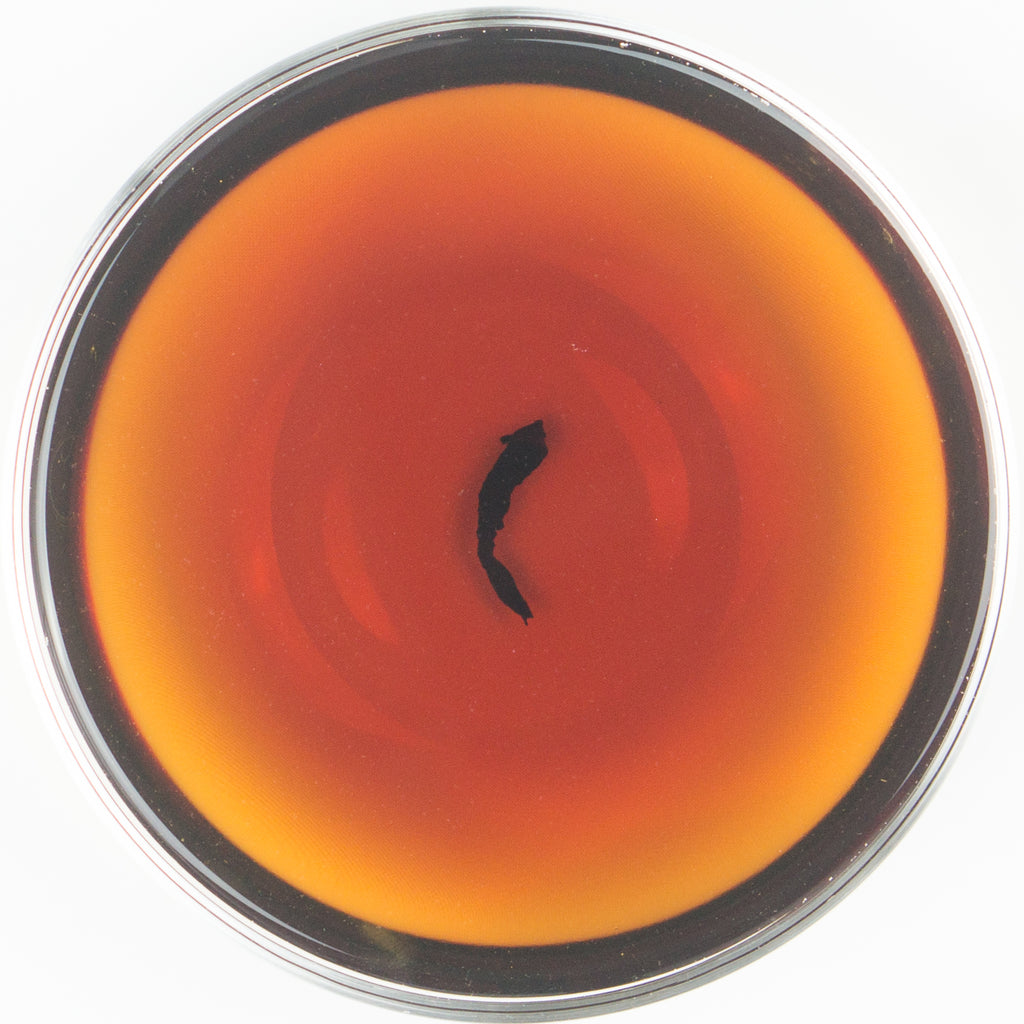 This tea is like a insignificant but rare art piece from the long forgotten past. This tea marks the very crucial transitional point in Taiwanese tea's colourful history. To be specific, the moment after Taiwanese tea exportation glory met its fatal fall at the end of 1970s, coincided with rise in popularity of high mountain jade oolongs in Taiwan.
As we already observed, basically all the high mountain oolongs in the market are heavily rolled into a "ball" shape. This tight rolling practice was very uncommon previous to the popularity of high mountain oolong. To catch up with the popular market trend, traditional oolong tea producing areas such as Emei, began to apply a type of huge oolong rolling machine into their tea processing in order to make perfectly a "rolled ball" oolong tea to make it more modern and appealing. This heavily rolled process was applied after the tea mass had done "killing" and "piling". Besides the purpose of having the tea heavily rolled, this huge rolling machine also serve a purpose of "rough drying" for it also has a heating system within. This process, according to Emei locals, was named "Hitting the Barrel" at the time, and therefore it got a cute name "Barrel Ball." (桶球)
Such practice was eventually faded out from the market and memory of tea drinker, because of its price not being competitive enough compared to mass produced area mainly from Mingjian. As a result, this practice only lasted for around ten years in the Emei area, and finally forced Emei tea farmers and producers to think of a new way to sell tea. The new way, as we see now today, is the extremely high priced "Competition Grade Oriental Beauty" from Emei area.
This tea has a very thick and unique taste that is very different from any other teas we have ever tried before. Moreover,this "Barrel Ball" could only be found in Emei, and probably only Emei people can tell us its full story. It represents a very rare piece of Taiwanese tea history that should not be forgotten in the dark corner. Taiwan Sourcing is very proud to fully document the story of such tea thanks to the help of young Master Hsu, and offering it to the world. 
Harvest Season:  1980s / 壹玖捌零 年代
Varietal:  Qing Xin Dah Pan / 青心大冇
Elevation:  400 M / 肆佰 公尺
Region:  Emei / 峨嵋
Fermentation Level:  80% / 分之 捌拾
Roast Level: 0 / 無
 Early steeps are like drinking a 21 year Balvenie but without the alcohol burn and lots of smooth sweetness.  Fruit, molasses, smoke, peaty and rich.  There is no other tea like this in the world.  It's completely unique and incredibly rich and vibrant.  
 Chicory and caramel roasted aroma of the dry leaf in my preheated green zhuni pot. The first round is light roasted sweet coffee like goodness. Crisp second round. Potent yet smooth. Reminiscent of good aged wuyi rock oolong. Third round had more deep amber color and fuller expression of flavor, and that basically kept happening for the next 5 rounds. It had more and more to give. Especially in terms of a mature roasted smooth caramel sweetness. I really enjoyed this tea a lot, and think it is quite a special treat.
 An old dog is very proud of Taiwan Sourcing for a very profound reason - we don't just want to introduce good or worth collecting tea to the world, but also want to preserve some of the long forgotten tea history of Taiwan for this land. The existence of this tea, and the fact we are presenting this tea here on this very place you are probably reading, is a humble demonstration of such purpose. Quite ironically, very few Taiwanese tea drinkers know the existence of this type of tea, and an old dog feels quite sad about that, because it plays part of the very important role during the grand falling of the exporting market. It is a symbol of that struggling era of farmer's  transitioning and adapting the new market, but this part of the history was mostly forgotten by the people of 21st century. We are very privileged to carry this type of tea here, and it has a delicious profile unlike some of the "Barrel Ball" tea might lack of.