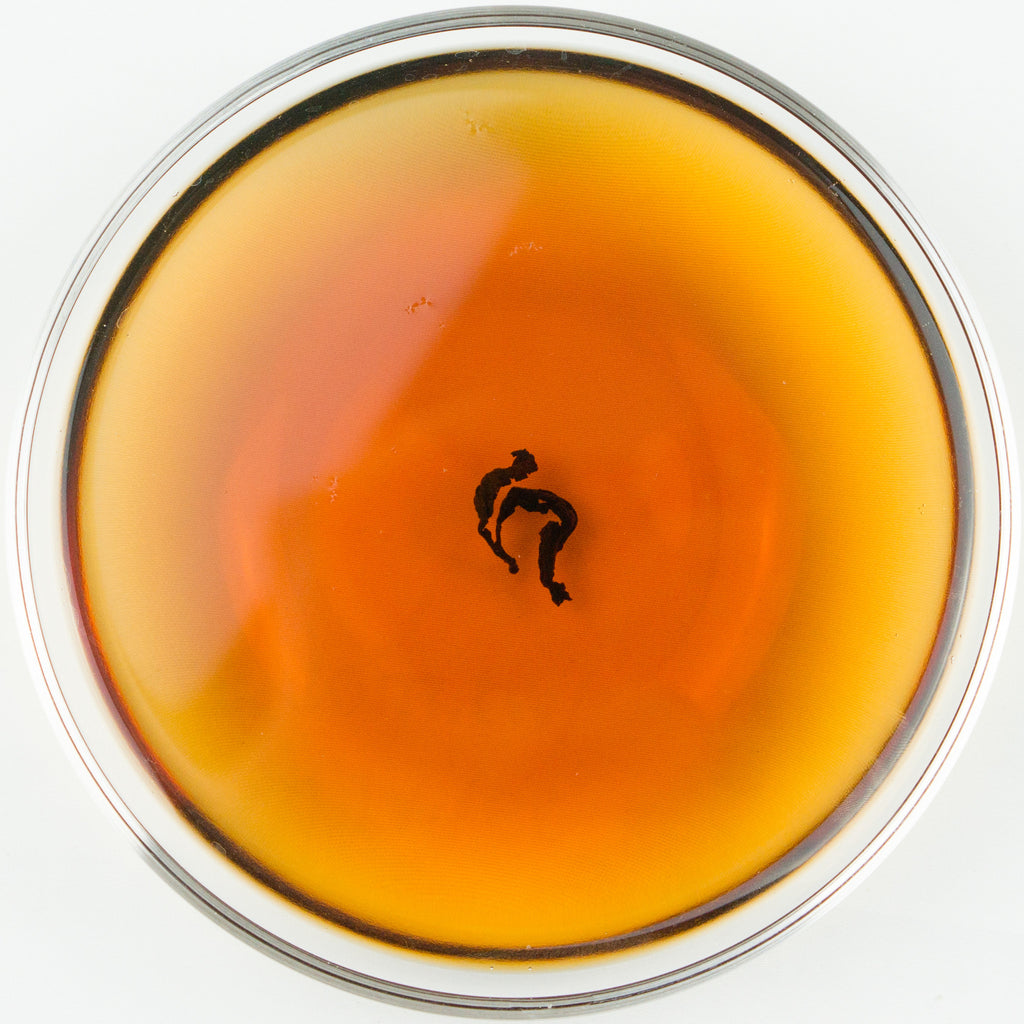 At Taiwan Sourcing, finding teas that could be both affordable and worthwhile has always been our main mission.  To adhere to our mission statement it means we must reject the majority of teas while keeping only the most special teas to offer our customers.  This vintage Gaofeng is special because it is tasty, properly aged, and affordable as well!
After the official advent of "High Mountain Oolong Tea" in the early part of the 1980s, which is just after the collapse of the exporting market for mass produced Taiwanese tea, modern processing technique for oolong tea finally incorporated heavy/tight rolling (much like a Dong Ding Oolong).  As a result, vintage oolong teas under 35 years old are almost universally heavily/tightly rolled, unlike what we observe in our "1976 oolong" (which is not tightly rolled). 
Also, due to the "oxidation" (Different from fermentation) processing practice that began in the 1980s, rolled vintage high mountain oolongs were typically re-roasted in order to get rid of the "sourness" caused by moisture present within the dry tea.  Re-roasting is often a double-edged sword - if roasted too heavily, the tea will transform into an unpleasant burnt-like "fire taste" (火味), which was mistaken by a lot of people as the character of an old oolong.  Whereas re-roasting too heavily is intrinsically not correct.  A proper roast for old oolong should be able to maintain and sustain its original character without the appearance of "fire taste."  On the other hand, if stored long-term without re-roasting the moisture content in the tightly rolled tea will cause further sourness and mustiness (and eventually spoilage).
This vintage "Gaofeng High Mountain Oolong" is the perfect balance of that roast and age.  It should also be a very representative example of a correctly re-roasted aged oolong and and serves as a perfect introduction to the world of vintage tea.  Taiwan Sourcing invites you to not just savor, but also to happily enjoy the wonder of time through this wonderful unique aged oolong! 
In the beginning of 2018, besides from the "Natural Storage" version we have been offering since 2015, a "Vacuum Sealed" version is now available as well! The main difference of this vacuum sealed version, is that it was stored in a vacuum sealed environment like a regular jade oolong in that past 20 plus years to see how jade oolong transformed under two different condition. The result, like the "Natural Storage" version, is very pleasant and new to us, because this is the very first time for us to explore the possibility of how jade oolong can be aged for such a long time. 
Harvest: 1997 / 壹玖玖柒
Varietal: Qing Xin Oolong / 青心烏龍
Elevation: 1700 M / 仟柒佰 公尺
Region:  Gaofeng / 高峰
Oxidation Level:  35% / 分之 參拾伍
Roast Level: 5 / 伍 分
 Wow!  It's incredible to be able taste and experience this aged oolong!  Very little roasted taste... it's been roasted but very recently, so it has an incredibly fruit and cinnamon taste with a silky feel to it.  There is also some slight natural temple incense taste in it.  Very subtle experience.  I have tasted scores of "aged oolongs" and this one is one of the best that there is!  It can be infused so so many times.  Alot of value here!
This is such a deeply aromatic tea. Dry leaf and wet. I sat with it for my afternoon delight (gongfucha). This is the kind of tea I love serving to people because of its unique profile. Most people I come across haven't heard of aging tea at all, let alone aging oolong. The first steep was nice and subtle with hints of flavors to come. As the tea steeped I noticed more potency than I expected, which was very welcome alongside the lovely roasted nuttiness. This is a special tea to share with fellow tea lovers. Definitely take your time and enjoy.
 As an old dog that had numerous aged tea before, this tea could be the "threshold" of all the old tea. Due to its already extraordinary quality thanks to its high mountain environment and management, you are able to tell that this was an very good tea while it is still "fresh." Now thanks to the time and perfect roast that was just enough to get rid of the humidity, this aged tea is rich and clean for every tea lovers' palate. You may find a very tiny bit of sourness in it at the very first steep, but soon it will all transform into a special old tea character that is hard to find on other old tea. An old dog will make this old tea a special collection for himself!