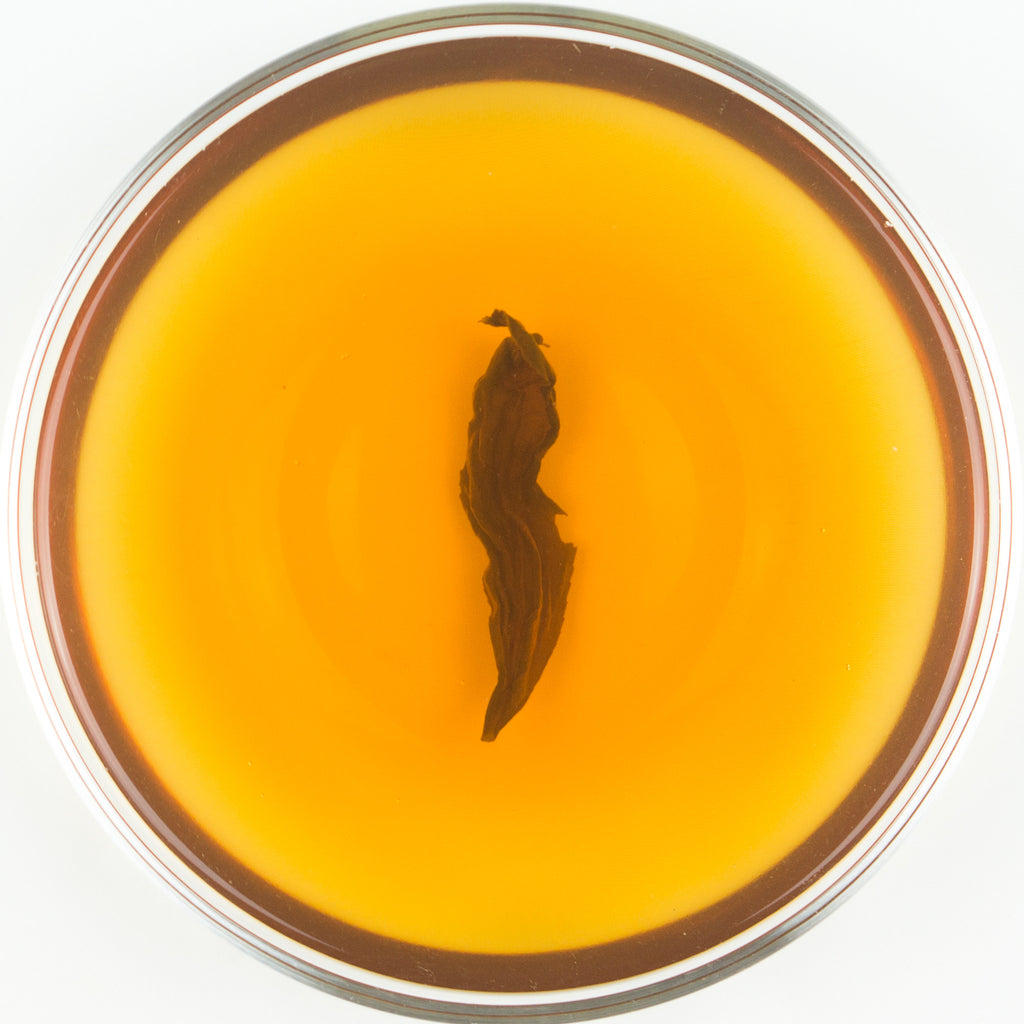 Most of the story, as most people know, will tell you that the history of Muzha Tie Guan Yin began in 1919, the year that Chang, Nai-Miao (張迺妙) brought the Tie Guan Yin varietal from China to Taiwan to cultivate. But the real history of Muzha Tie Guan Yin will be a little bit more complex than that. In fact, Mr. Chang probably did not begin making any type of roasted Tie Guan Yin like we see today until mid 1920s. Before that, Mr. Chang was famous with his technique of making Baozhong Oolong, one of the oldest type of tea in Taiwan, and his extraordinary technique won him a "Golden Award" at the Baozhong Oolong Competition held by the Japanese Empire.  
His victory drew suspicion and jealousy. Farmers that did not win accused him of using the secret material from his back yard - the twelve Tie Guan Yin tea trees, to make his Baozhong so special and victorious. The accusation eventually forced the Japanese government to do an investigation into such accusation, and proved that Mr. Chang did not commit what he was accused for. The award still belonged to Mr. Chang.
Not until 1926 was the Anxi tea tree varietal being massively imported to Muzha region under the effort of two local gentlemen. Approximately a thousand tea trees were being imported, and thus began the era of Muzha Tie Gien Yin. Mr. Chang played as an supervisor of the importation of those tea trees (Since he grows twelve at his backyard for decades, he should know it pretty well). Mr. Chang was also the director of the biggest Wenshan tea company at the time, and the mass production of Muzha Tie Guan Yin finally took off after 1926. 
Classical Tie Guan Yin is made from 100% Hong Xin Wai Wei Tao Varietal (紅心歪尾桃),  and has to be processed in a certain way which involves numerous stages of rolling and delicate roasting that will take approximately 20 hours across 2 days to complete the process. The complex process makes the Muzha Tie Guan Yin has the appearance of "chopstick drum wait" (means its heavily rolled with stem attached) and "froggy skin" (means it has a frost-like skin). The result is a beautiful balance of a strong "Guan Yin Rhythm" and the light fruit acid scent which can only be found in Muzha Tie Guan Yin. 
This tea was processed in 1993, 67 years after the beginning of Muzha Tie Guan Yin history. Until now decades has passed, and this tea was luckily being properly stored and processed during all this time. The aging gives this tea a interesting depth to discover, and you might find it shares some very similar character with the Tie Guan Yin we already have in our collection. This  will be another tea that we are proud of to be listed into our "Vintage Collection."
Harvest:  1993 / 壹玖玖參
Varietal:  Hong Xin Wai Wei Tao (Tie Guan Yin) / 紅心歪尾桃 
Elevation:  550 M / 伍佰伍拾 公尺
Region:  Muzha / 木柵
Oxidation Level:  45% / 分之 肆拾伍
Roast Level:  6 / 陸 分
 This is the most amazing aged oolongs I have ever tasted.  It's not recently roasted, so the obvious aged taste is very present and not confused with roast taste (this is very rare in aged oolongs as most are either faked or recently re-roasted). Silky and smooth with incredibly long-lasting leaves.
I really love aged Muzha tgy. It is something I reserve for special occasions with tea friends. The nose on this tea is quite exquisite with what seems like lemon balm turning into rich complex fruitiness. The thickness is considerable and with lasting flavor and slight numbing effect. I brewed 9 grams for two dear friends on a later summer evening in NorCal. We all remarked how calm and relaxed we felt by round about the 3rd round. It was so enjoyable and satiating. Aged teas have become a bit more coveted it seems. Rightfully so, if an aged tea can deliver experience that in life is hard to find...then its worth the timeto enjoy, effort to brew and resources to procure...
 An old dog was fortunate enough to try the king of Muzha Tie Guan Yin before, so it was very confident to tell you that this vintage one was not just worth the value merely because of its age. This tea was definitely a competition winner in 1993, and an old dog bet it will still be one even at today. For top grade Muzha Tie Guan Yin, one must pay attention to two aroma notes - chocolate and grape. For this vintage version, the chocolate note is still very much the same, but you will mostly notice the "raisin" aroma which was transformed from the grape note. Another important part of this vintage Tie Guan Yin, like our other vintage teas, is that it is not sour at all. proving that it was stored at an perfect environment for its transformation. Overall, this tea is another tea an old dog is very proud to you. If you are looking for an old Tie Guan Yin to savour but don't know where to get one, come enjoy this one with an old dog and be prepared to be transformed into a Guan Yin too!