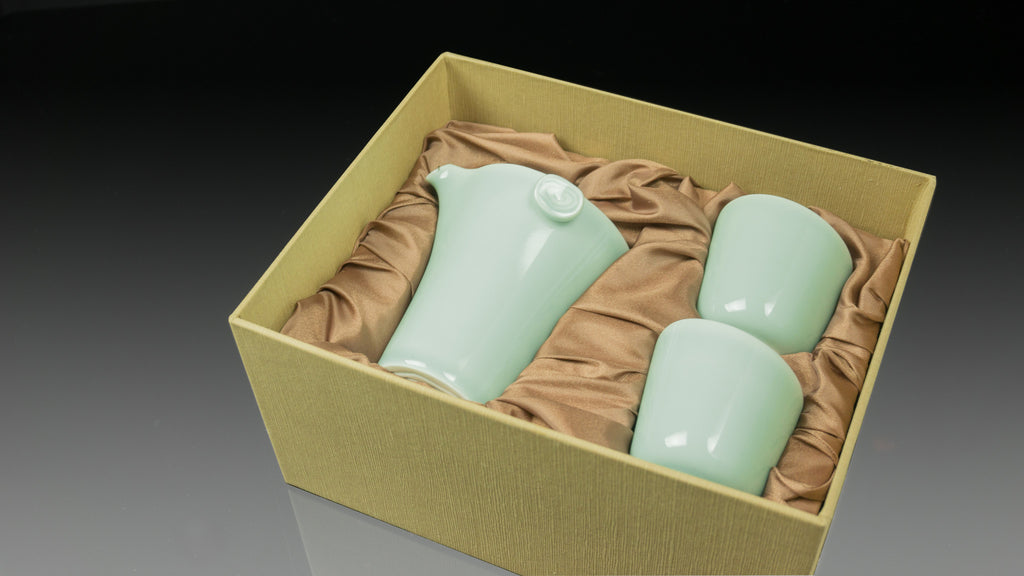 This lovely tea set it both good for loose leaf tea and tea bag. As shown in the picture, the ears on the side of the teapot could hold tea bag elegantly. The design concept was to create a relax feeling as walking in the forest, and therefore the symbols of tree and bark were applied. This is probably the best tea set to use when you are in a busy environment not just with its convenient design, but also with its meaning behind the design.  
Longquan Kiln Celadon technique originated from Zhejiang province around 1200 years ago and the technique was perfected in the Song Dynasty. The flourishing development of such technique was due to the need from the royal family. It is often used as a tribute to the emperor like other famous celadon teaware such as Ru Yao and Guan Yao. The unique technique of Longquan Celadon display a emerald like texture to the eyes and fingers of audience, and offers a clean taste for every sip of your tea.
Founded in 1976, Anta Pottery began their legacy as an OEM supplier in Taiwan.  In the past 30 years, Anta Pottery has developed their offering into a world class brand by continuously perfecting their understanding of formula and design. It was also an official partner with the National Palace Museum in Taipei for creating some lovely traditional art piece. Taiwan Sourcing is proud to be the first to bring their great works to tea lovers all around the world. 
Quantity:  Teapot x 1, Cups x 2
Volume:  Teapot 150ml, Cups 40ml