.Anta Pottery. Emerald "Fortunate Insight" Luxurious Tea Set
Taiwan Sourcing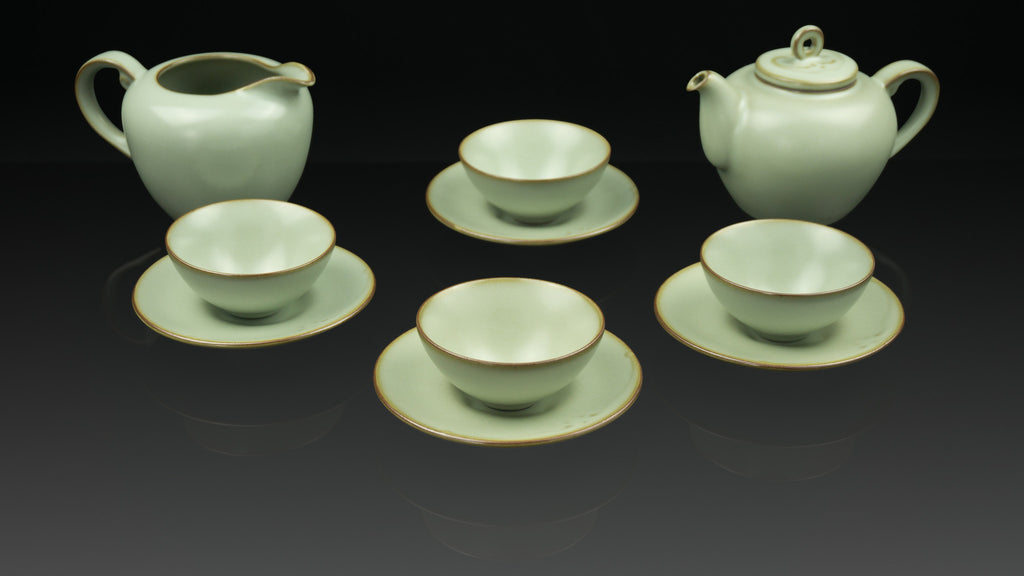 In Mandarin, "fortune" and "bat" share the same pronunciation, and therefore bat is often used as the symbol of "fortune holder" in traditional Chinese culture. Unlike most of the common pieces on the market which simply "install" the picture of the bat into their design, this tea set implicitly infuses the bat symbol into the design from its glaze to its shape.
On the saucer we can observe a very delicate spot that resembles the eyes of a bat. This same design could be further found on the lid of the teapot as well. The designer here is not trying to be too conspicuous about the actual "shape" of what a bat is, but further explore the idea in the the handle of the teapot and the curve line of the tea cups. The result of this mind set create this wonderful tea set which will add both fortune and blessing to your daily life.
Ru Yao Kiln celadon technique originated from Henan province. The technique was perfected in the Song Dynasty. The glaze used is unique and contains some small amounts of iron giving the fired glaze a luminescent look to it. Small veins exist after the firing process and with seasoning the veins will grow more prominent and will take on a golden brown color. Ru Yao wares should be cleaned with tea water or spring water and will develop a luster with repeated use.
Founded in 1976, Anta Pottery began their legacy as an OEM supplier in Taiwan.  In the past 30 years, Anta Pottery has developed their offering into a world class brand by continuously perfecting their understanding of formula and design. It was also an official partner with the National Palace Museum in Taipei for creating some lovely traditional art piece. Taiwan Sourcing is proud to be the first to bring their great works to tea lovers all around the world. 
Quantity: Teapot x 1, Cha Hai x 1, Cups x 4, Bat Saucers x 4
Volume: Teapot 210ml, Cups 30ml