1980s Factory One Japan Exported Level Couple (外銷水平對壺) - Archived
Taiwan Sourcing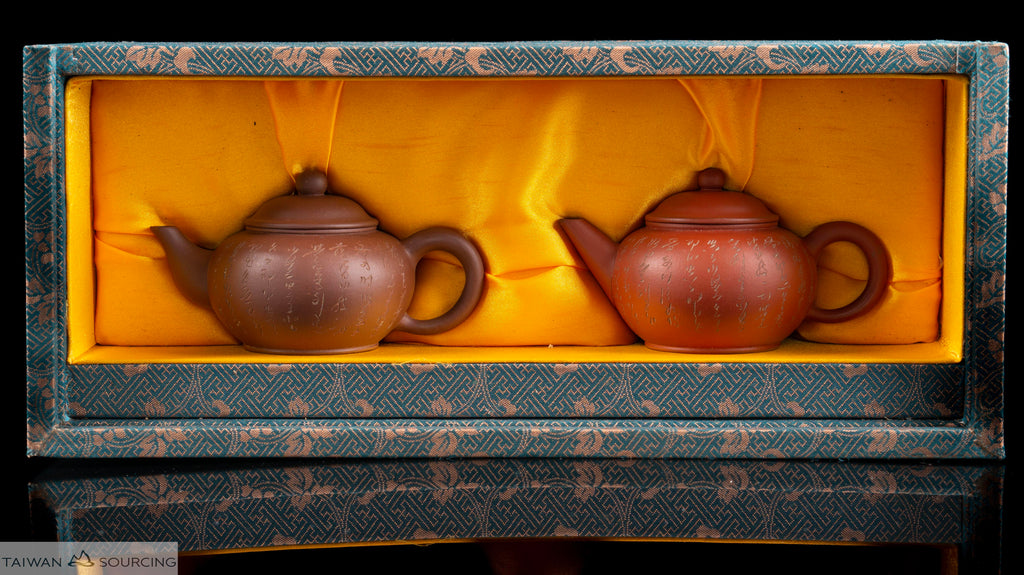 Although often considered as "kitchenware" rather than high cultural pieces at its time, "Factory One" created some extra exquisite pieces for foreign market. Japan was one of the biggest customers of Yixing's "Factory One," which was the official teapot producing factory in Yixing. Before its bankruptcy and disappearance in 1997, "Factory One" was the only place considered "legit" for Yixing teapot since it was the place that gathered the masters of its time under communist rule. Their lineage was inherited by the China Zisha Museum that created our "Chu Fang" teapot.
In order to make profits, Factory One produced and sold lots of their teapots to places such as Hong Kong, Taiwan, Korea, and Japan. Teapots that were made for Japanese market often have higher standard (at least to what we seen so far) of material being used and delicate craftsmanship. A very significant point to pay attention here is the "glaze" being applied to the interior of the red clay piece. This feature was applied exclusively to the Japanese market for their green tea preference. The other purple clay piece was made from high quality Qing Shui Ni (清水泥) without any glaze applied, which was made for roasted tea. 
These are two commonly seen style of the classics, but with the script of the "Heart Sutra" engraved in running hand style on their bodies. Both of the engraving were done rather elegantly than just going through the motions, adding true artistic value to these two seemed common but actually unusual pieces. This was a custom feature specifically made for the demand of the collector at its time, and we acquired sets like this through exclusive connection.
To properly store these two beautiful teapot, a custom designed brocade box was made to commemorate the height of "Factory One" at its time. These two rare pieces will not only be the remarkable teawares for anyone, but also great companions for your tea.
Mineral: Red Clay & Qing Shui Ni / 紅泥 和 拚紫泥
Mineral Location: Huang Long Shan, Yixing County / 黃龍山 宜興
Firing Temperature: 1200 c / 仟貳 攝氏
Shrinkage: 10% / 分之 拾
Bottom Stamp: China Yixing / 中國宜興 
Volume: 120 ml / 佰捌貳拾 毫升