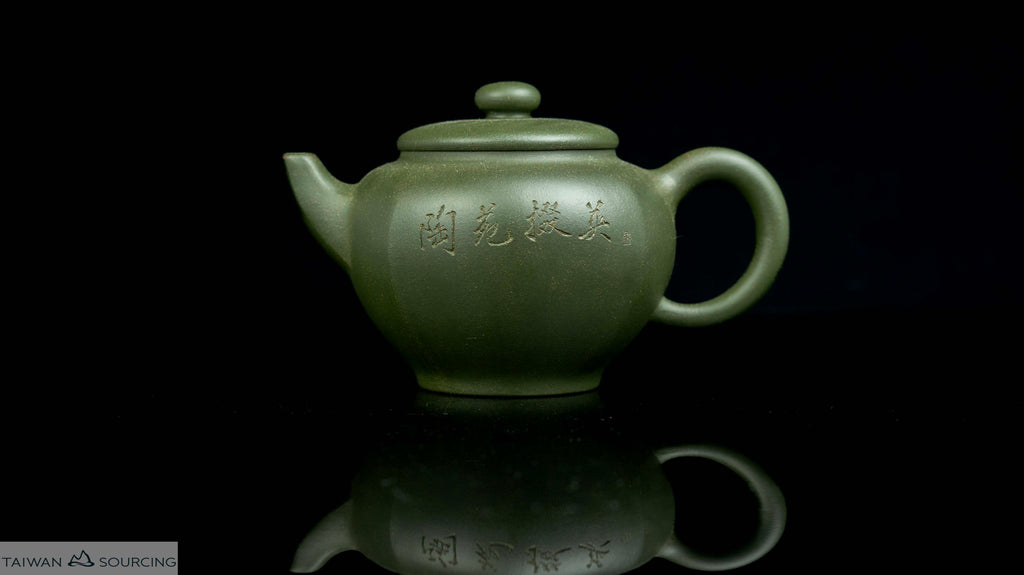 A modern piece of craftsmanship with great tradition behind it, this teapot is a symbol of the traditional Chinese cosmological perspective ─ "Round Sky Square Land" (天圓地方). For a mature design of this cosmological concept, an master has to combine the idea of "Round Sky" (which is the circle) and the idea of "Square Land" (which is the square) harmonically to demonstrate the rule of "Round Sky Square Land".  In other words, this is a teapot that tries express our universe from macrocosm to microcosm. 
Traditionally, a teapot master will express this concept in a much more conspicuous way by crafting the line of "square" and "round circle" directly into the design of teapot. But we can see our artist took a different approach here by dissolving the idea in a more implicit and delicate way. This kind of body is especially difficult to design because it has to keep the balance between round and square at the same time, meanwhile not diminishing the influence of each other. Not to mention that it is also difficult to craft such kind of special shape with pure Zhuni clay.
Moreover, this teapot was made from a special kind of Zhuni clay which transforms into this green-ish color after firing.  It makes tea taste especially sweeter compared to the other clay, and the unique yellow and red ores that are contained within this Experimental Zhuni help making the tea taste even rounder.
This clay and teapot were crafted to commemorate the publication named "陶苑掇英" by China Zisha Museum which has some very special meaning, so it has a very limited quantity available. 


Mineral: Experimental Zhuni / 實驗朱泥 
Mineral Location: Zhao Zhuang Mountain / 趙庄山
Firing Temperature: 1100 c / 仟佰度
Contrast Rate: 25% / 分之 廿五
Bottom Stamp: China Yixing Ceramics Museum, Hong Bo supervised /  中國宜興陶瓷博物館 洪波 監製
Volume: 270 ml / 貳佰柒拾 毫升