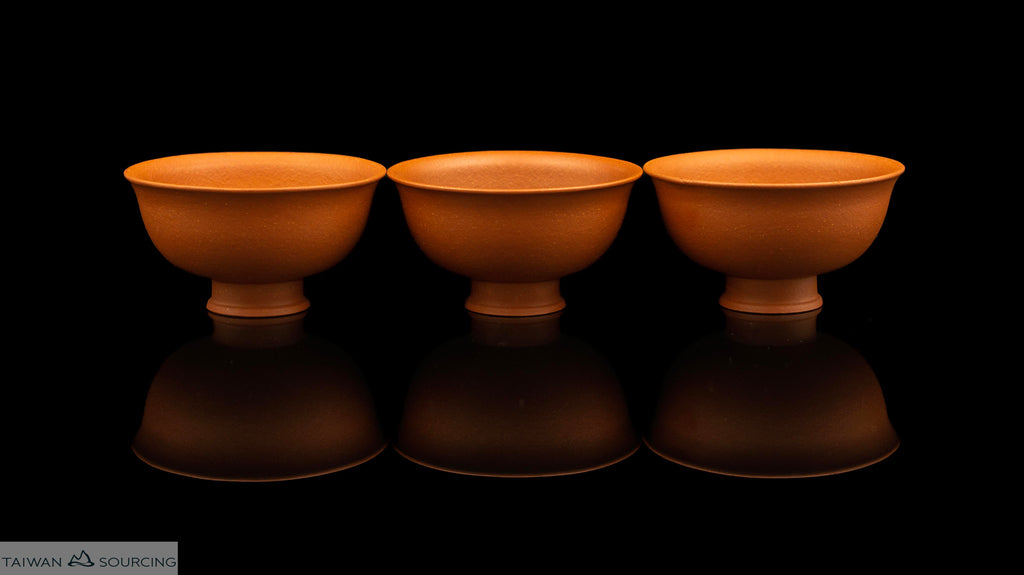 Cups are some of the easily neglected items on tea lover's tea table. It is teapot that is doing the work of showing off most of the time. However, there are some extraordinary cups in this world to be owned, and the cups you are seeing right now are some of these extraordinary items.
Theses three cups were made from rare Zhuni clay "Golden Sand." People with higher education and wealth in ancient China had the habit of bestowing beautiful things from nature an elegant name, and ores from Yixing inevitably got their own name as well - "Purple Jade Golden Sand" (紫玉金砂). The name of this particular clay was certainly inspired from this tradition. Moreover, this name also fits the texture of this clay properly. Zhu Ni ore normally carries a "silky" texture, this clay however is more "sandy" in the look and touch. This why despite it being a Zhuni, the name is quite Zisha like.
The design of this cup was inspired from the "stem bowl" of (高足碗) Yuan empire which began to appear in 14th century. It is a bowl with a tall foot attached at the bottom and has two styles to either serve tea or liquor. The design of this cup however bears a shorter foot and smaller diameter than the classical design for it to be better suited for modern tea ceremony.
Please note: These three beauties each bears some minor flaw on it which will not affect the using and beauty. Descriptions of the flaws could be seen in pictures and options. Only 20 of these cups were ever made and we were fortunate to secure three of them. Each of them has their own unique serial number at the bottom.
Mineral: Golden Sand / 金砂
Mineral Location: Zhao Zhuang Mountain / 趙庄山 (Yixing County, Jiangsu)
Firing Temperature: 1130 c / 壹仟壹佰參拾 度 
Shrinkage: 24% / 分之 廿肆
Artist: Zhou Wei Jun / 周偉君
Volume: 25 ml / 廿伍 毫升