Rhythm 21 Transitional Organic Taiwan Black Tea - Spring 2016
Taiwan Sourcing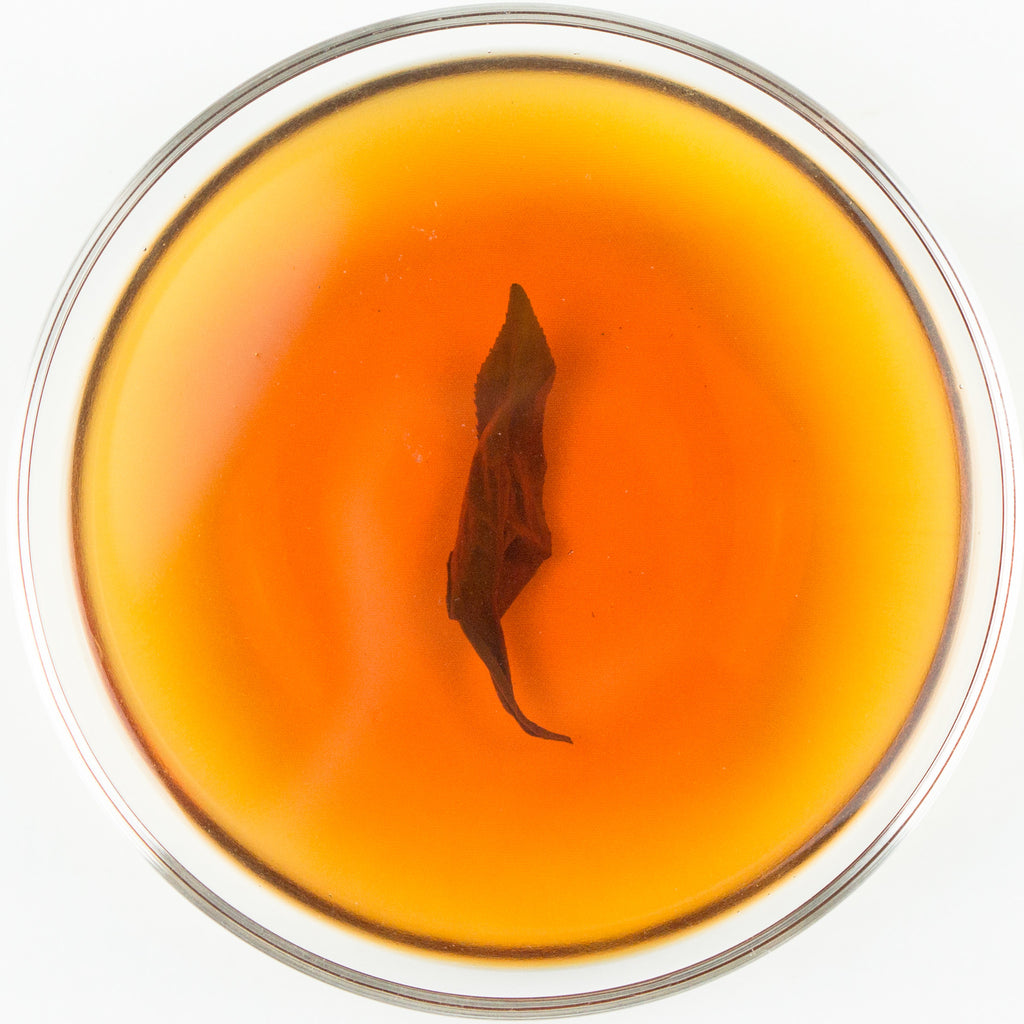 A relatively new varietal in Taiwanese black tea history, Rhythm 21 is the latest innovation from the Tea Research and Extention Station. The purpose of this new varietal is to create a highly aromatic tea for processing into black tea.  We think it's a great success and an overall excellent black tea.
Although this varietal produces excellent tea, it's not without some drawbacks.  The sprouting cycle is typically about 8 days, which is longer than normal.  This means that the labor involved in picking and processing is more intensive, adding to time and cost.  As such, the tea is not very popular among tea growers who prefer tea bushes that sprout in shorter cycles so that the labor of picking and processing can be done in shorter time frame.
Our grower recognizes that good things come with time and has made the commitment to grow and process this tea.  The result of this commitment is a fine finished product.  A rare and delightful tea varietal that produces a rich, sweet and aromatic black tea, unlike none other you have ever sipped!
The aroma of this Rhythm 21 is rich and sweet, with a hint of pear and citrus fruits. If you already tried our Wild Elephant and Ruby 18, you will find this a much desired addition to your Taiwan Black Tea collection!
Harvest: Spring 2016 / 春 貳零壹陸
Varietal: Rhythm 21 /  紅韻 廿壹號
Elevation: 600 M / 陸佰 公尺 
Region: Puli / 埔里
Fermentation Level: 85 % / 分之 捌拾伍
Roast Level: 0 / 無
 Strong tea both in taste and aroma.  There is some aroma and licorice sweetness of a Ruby 18, but also has a camphor and spice aspect to it.  Astringency is there which remind us of it's plant origin.  Cha Qi is very strong for Taiwan tea.  A robust black tea that performs well in every aspect.  If you don't like bitter and astringent use less leaf and/or shorten steeping time to make it less aggressive!
 This tea was so enjoyable! I used 6 grams in a 170ml gaiwan and got 9 solid rounds. It is buttery, rich, and has a vibrant fresh taste. There is a lingering nectar-like quality that is beautiful to experience. The richness isn't heavy and as it steeps it just gives more juiciness. Loved it.
 As an old dog that continuously searching for surprise in Taiwanese black tea (or red tea), this Rhythm 21 is really a new surprise to an old dog. First of all, the varietal is not commonly seen. Secondly, the taste is very delicate and unique. An old dog had this tea at several different time. As time goes on this tea solidifies its potential again and again. The aroma of its dry tea is a mix of flower and fruit, makes it feels like a perfectly blended luxury perfume. After mixing it with hot water, a truly unique character will show up from nowhere - its becomes sort of like milk tea. An wonderful aroma which is blended with fresh milk will dance around in your teapot to perform what it is. It has been a while since an old dog was happily struck by any black tea, and this is the one we all should be brewing!