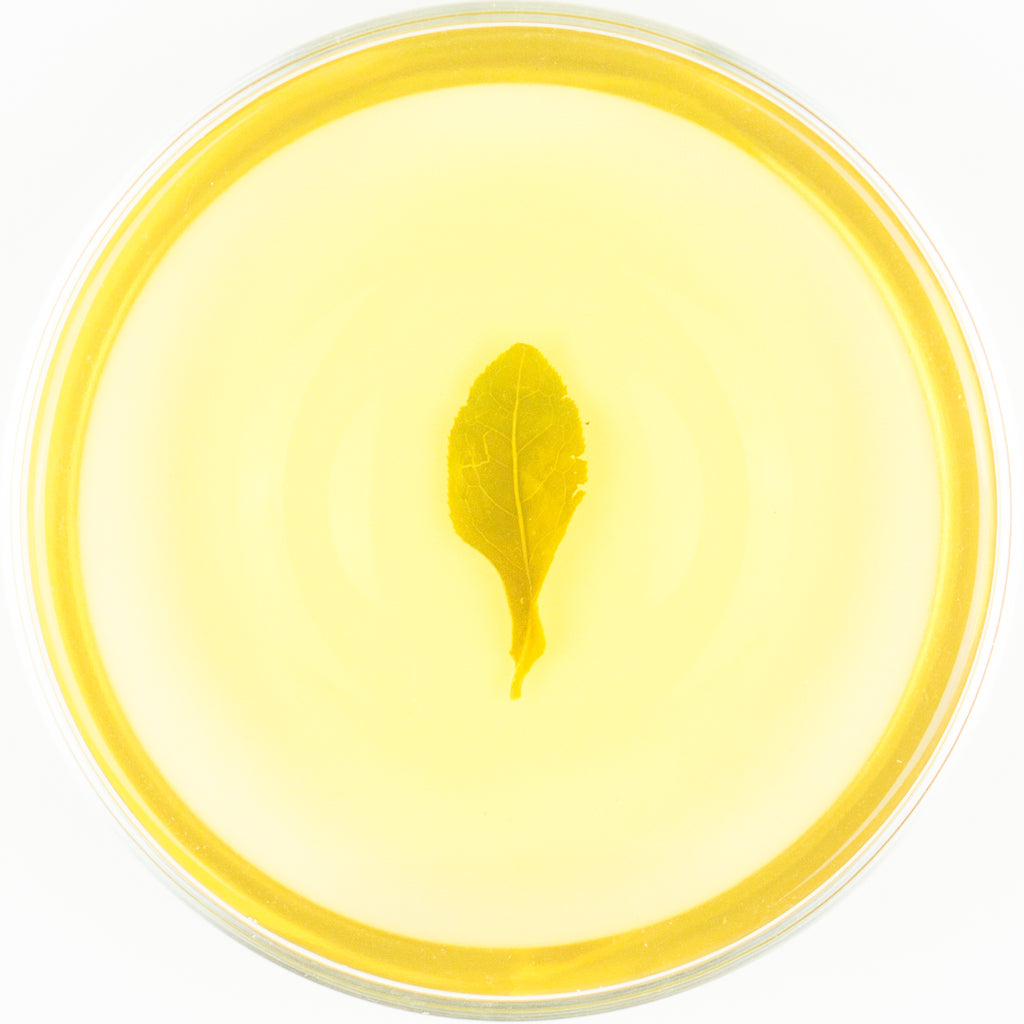 This is a tea that was featured in our Facebook Live Video series for two days, and we are very grateful that it was processed so successfully with the help of friends. An old dog was there to supervise and ensure every single step was done correctly. We applied traditional oolong processing to a high elevation material, and we succeeded again like our "Citrus Noon" from Gaofeng!
This Qing Xin oolong is grown at the location of an alluvial fan in the Jiayang  area. The name of that alluvial fan is called "Devil Isle." This tea plantation was established on this alluvial fan more than 20 years ago! The tree trunks have grown very thick, very quickly (indicating the the root system is incredibly healthy especially compared to conventional growing method where fertilizers must be added to the soil often). In fact, most of the heavily fertilized Lishan don't show such healthy condition! As a result, we think such growing trait was also contributed by the special soil condition it is. After all, this is the only tea we know so far that was planted at an alluvial fan, which carries with it a very unique terroir that you can immediately sense. 
You might also notice the elevation of this tea was quite "low" compared to the regular Lishan tea, that's because the alluvial fan is located "beneath" the regular road which has a steep drop for around 200 meters. The alluvial fan is also surrounded by the water of Deji Reservoir, so making the environment extremely humid and difficult to do tea processing correctly. Such conditions have made accessing this area extremely difficult, but has been well protected from the  pesticide and fertilizer runoff from the higher up Lishan areas where much of the cabbage and tea is grown conventionally.
With great focus in detail and passion to create the second remarkable high mountain tea (the first place was taken by "Citrus Noon" from Gaofeng since it was harvested earlier), the tea went far beyond our expectations! The devil is finally in the detail of the high mountain oolongs again!
We are offering two versions of this tea, the only difference is in the final process of refining. One version is "Run Dry" and the other is "Light Roast".  To learn more about these final processing styles click here!
Harvest: Varied / 不定
Varietal: Qing Xin Oolong /  青心烏龍
Elevation: 1560 M / 壹伍陸零 公尺
Region: Lishan Jiayang / 梨山 佳陽
Fermentation Level: 25% / 分之 廿伍
Roast Level: 0 ~ 2 / 無 ~ 貳分
 Savouring......
  I was particularly looking forward to trying this tea out after seeing how much hardship Simon went through to get it.

Fresh wet leaf smells initially lightly sulfuric and eggy - in a rich and exciting kind of way.

The tea doesn't jump out with extravagant flavor and aroma. It does immediately coat the palate with a thick and full bodied beautiful taste. It brews and drinks complexly, with vegetal and floral notes interplaying. I really enjoyed the thickness and potency of this tea, so cleanly rich! It woke me up in a good way but also made me feel more in my body too. Happy high mountain drinking
The light roast brother to our other tea devil has a really interesting spin on it. It has this light baked quality that bends it into a slightly more warming and comfy place. It has a lot of body still, but it also has a newfound aroma of sweet bread. The sulfuric egginess is mitigated a bit in a good way. Interesting tea.
 Like our "Citrus Noon," this is the best high mountain oolongs you can have in the market right now. If you are not a big fan of the taste of fertilizer, this tea will make you feel like a tea heaven, or a tea angel. It is like our "Citrus Noon" - both are very clean and have a sophisticating structure, but "Alluvial Devil" wants to tell you a completely different story about how special it is. It wants to tell you everything about how special it was grown and how successfully it was made into the current form. An old dog is proud to say that anyone who is drinking it can hear its story with joy and passion without the necessity for being an old dog, because the character of the tea itself is strong enough to let anyone learn its story. This is not a normal tea you can find easily in the market this day, and it will give you everything it has to tell.