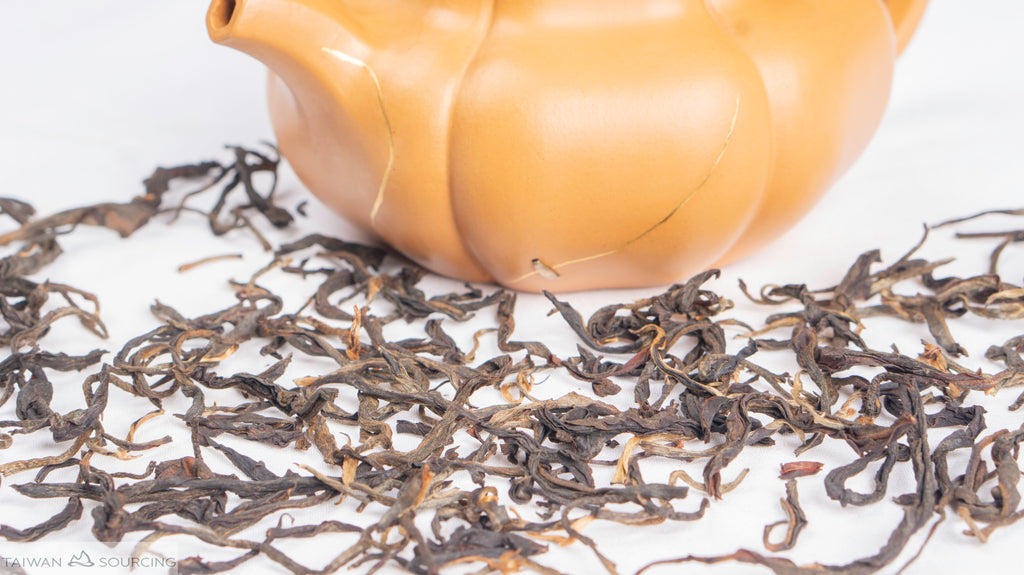 Since the 1930s, the "Shan" varietal has obtained a reputation as a tasty black tea material. It was a varietal imported by a certain Mr. Kuo Shaosan (郭少三) to compete with the Japanese black tea market at the time. This strange name "Shan" came from the place it originated - "Shan State," (禪) a state of Myanmar, and the original tea trees were discovered in the jungle of Shan State.. 
At the end of 1970s, the reputation of Shan began to fade away with the collapse of Taiwanese tea exportation and the rising popularity of high mountain "jade" oolongs. The aroma and taste of Taiwanese black tea gradually disappeared from the world, making the tea trees from this plantation grow wild without intervention for the following few decades.

Under the dedicated care and support of the Kuo family, the plantation was eventually restored in the early 2000s, although the tea trees had been growing vigorously in the field all those years despite the lack of human intervention. Interestingly, this particular varietal brought back by grandpa Kuo was officially categorized into the TTES system of the TRES, making it officially the seventh tea varietal in the TTES, so you may as know it as TTES #7.
Since it was actually a tea from the forests of Myanmar, the tea will be fairly similar to the ancient trees growing in the Yunnan region, making it possibly one of the closest experiences of processing Yunnanese material into a Taiwanese black tea. The overall character of this dramatic black tea is powerful and mature under our dedicated processing. You will enjoy a full body of the ancient genetics inside the tea leaves and be amazed by the clarity that Taiwanese soil is able to cultivate.
Harvest: See Options / 見選項
Varietal: Shan / 象 or TTES #7 / 台茶七號
Elevation: 600 M / 陸佰 公尺
Region: Puli / 埔里
Fermentation Level:  85% / 分之 捌拾伍
Roast Level:  1 / 走乾
 Savouring!
 Savouring!
 We finally made a "Shan"  black tea with our own hand, and we did some really bold attempt while processing this tea. Mr. Kuo was quite worried how we push the withering time this long, and why we kept "waving" the tea. For black normally it does not and should not go through any waving process. Despite his concern, this tea was pushed to a limit that nobody expected could be, and transformed into a unprecedented result even Mr. Kuo was surprised. The tea was not doomed under our "unconventional approach," but turned into a wonderful existence in the tea world. This "Warm Elephant" has a hint of chocolate in it, and with proper aging it will certainly be even tastier than what it is in 2019, so don't forget to store some of this tea for future enjoyment!