Carbonizing Process Phyllostachys Aurea Tea Ladle Set - Archived
Taiwan Sourcing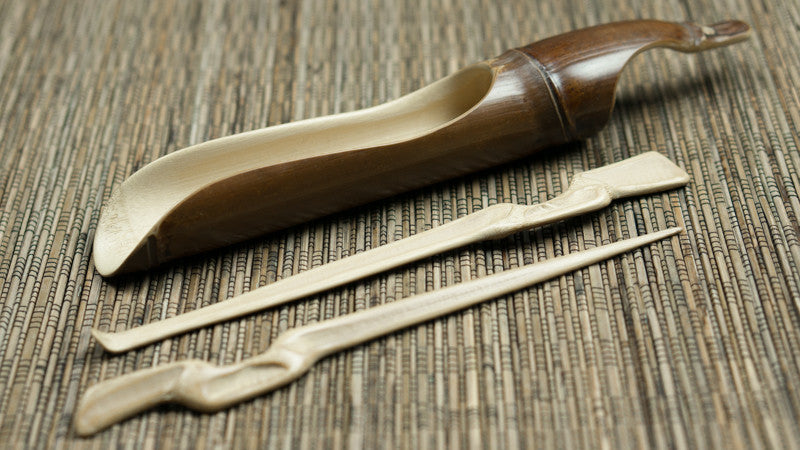 Bamboo has been a significant symbol in Chinese culture and represents the ideology of a "proper gentleman" due to its durability and toughness. Since Taiwan is heavily influenced by Chinese culture, bamboo teaware has became an integral part of the collectors items for tea lovers. The exquisite bamboo teaware crafted by the famous Master Wong is often sold as high as $2500 USD per set!
There are four types of process for bamboo teaware - water boiling, emerald sustaining, smoking, and carbonizing. All four processes requires experience to create the perfect pieces.
The first type - water boiling, is the most common process among bamboo tea ware, which is a process that involves boiling the material with hot water. The timing and the temperature is key to ensure the foundation for the polishing process later on. 
The second type - emerald sustaining, is a technique that requires special chemical elements. It is a mixed process with water boiling technique. With the chemical substance applied, the natural green colour willl stay to the bamboo itself, which will make the final piece look fresh and green.  Once chemicals are applied they become inert and are safe to use.
The third type - smoking, as the word implies, it is a technique that involves using smoke from burning wood to create a "burned" effect. The final product will look darker than the regular one while leaving the interior it's original tone. This process requires careful control of the burning time and the distribution of the smoke.  
The fourth type - carbonizing, unlike smoking process, this process will evenly distribute the darker tone to the skin of the piece from inside out by using a special "baker" to heat the bamboo. This process will stop any possibility for erosion in the future and increases the hardness of the material.
All raw material is carefully selected from 100% Native Taiwanese bamboo plants and crafted by our trusted artist who has been doing the bamboo crafting for over 10 years.  Moreover, the bamboo tea set we are offering here goes through at least 17 steps of polishing before it is presented to your hand. The result is an extremely smooth and beautiful bamboo art piece that is as unique as the tea you are scooping and savoring. 
Every set of the bamboo teaware is unique and only have one set for each kind. So once its gone then its gone. Don't miss your chance to get the most exclusive bamboo teaware for yourself!
Quantity:  Ladle x 1, Tea Needle x 1, Tea Pick x 1