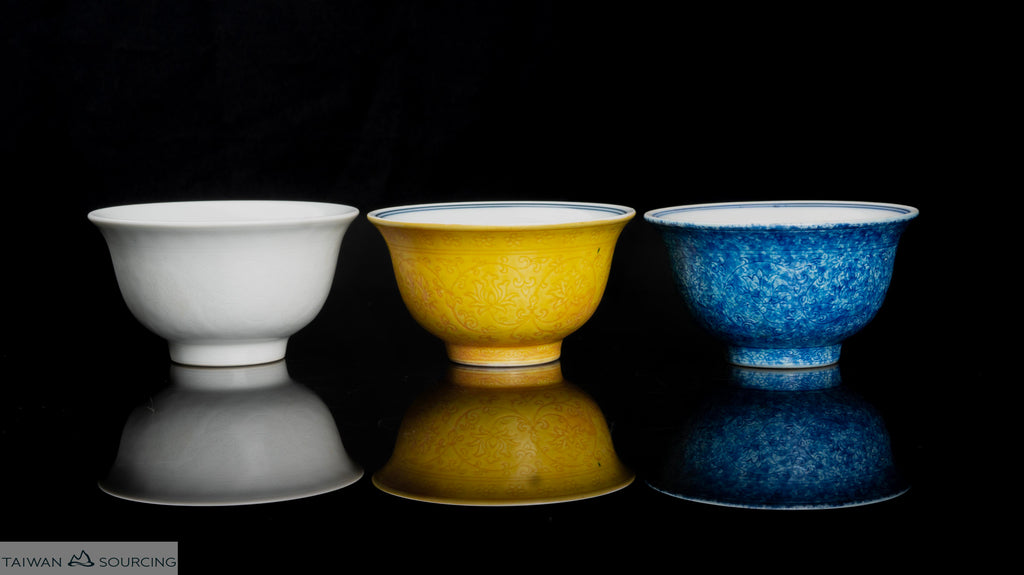 What you see here are three rare examples of what are called "Press-Hand cups." Unlike the relatively modern-looking pieces already listed in our collection which have a Blue and White glaze, these pieces are representative of three extraordinary glaze types in the history of Chinese porcelain. One of these appears to be the officially recorded "Powder-Blue" glaze, also known as "Snowflake Blue."
The history and origin of Press-Hand cups, a significant development in Chinese porcelain, was thoroughly introduced and discussed with regards to our Blue and White cups, so here we will discuss each cup in deeper detail. Mainly we will discuss their glazes, because this is the soul of Chinese aesthetics when it comes to porcelain.
A difference you will immediately notice in the yellow and blue glaze versions is that instead of a "Double Lion"(雙獅) and "Floral Heart"(花心), there is a "Mandarin Ducks" (鴛鴦) pattern painted inside the cups with the "rice-sized characters" inside. While these cups bear a mark of the Yongle period (1402-1424), the bone of the cups and the Mandarin Ducks design are all more suggestive of porcelain created in the later period of the Ming dynasty, the late 16th and early 17th centuries.
Further you will notice the unusual glaze color and form. The glaze application technique you see here is called "blown glaze" (吹釉), a technique developed in the early Ming era by using a pipe and container to blow the glaze onto the porcelain before its final firing. This technique is very different from the painting or dipping we normally see on porcelain. People eventually gave this type of blue glaze a beautiful name, "Snowflake Blue," to describe the elegance of the glaze. It is already unheard of to see Press-Hand cups with a blown glaze, what is even rarer is a yellow blown glaze.
Now let us shift our attention to the white version. The white glazed version still bears the "Floral Heart" pattern, but what makes it truly intriguing is the craftsman decided to carve the pattern instead of painting it on. Pure white glaze with an incised pattern, usually a dragon, was a common technique used on pieces in the Ming era, however such a technique is also unseen on other Press-Hand cups. Besides the incision of a "Floral Heart" inside the interior, the exterior was also incised with the classical passiflora pattern, making these Press-Hand cups a rare treasure to own.
Ming records indicate that only Blue and White Press-Hand cups were kept in the palace collection. Therefore pieces like these would not have been found in the Ming imperial household. All three of these cups have thin finishing at the brim of their mouths, a feature uncommon in Press-Hand cups from later eras. The beautiful glaze shimmers when pouring tea or water in it. You can not only see, but taste the difference of the craftsmanship that went into making these cups. We wish that whoever obtains these treasures will take great care of each of them and enjoy the timeless experience brought by ancient wisdom.
If there are any details you would like to know, please send a message to simon@taiwanoolongs.com; we will be happy to answer your questions.
Note: This item is qualified for a custom-made brocade box option. If you would like to have a collecting box for these rare pieces, please select the custom box option. Normally, it will take a week or two to create. / 本物件符合客製錦盒之條件。若您有客製錦盒之需求,請在選項欄選擇,並與我們聯絡。一般而言錦盒製作期為一至兩周。
Note: Due to their age, these items will have marks of use and degredation that could not be restored. However, such marks will not negativety affect the taste of your tea thanks to the intact glaze structure. / 肇於年份古遠,本批次之壓手杯在釉相上會具有一定的風化年代特徵。這些特徵並不會對茶湯口感產生負面影響,亦不影響賞玩價值。
Item Era: Early 17th Century / 十七世紀 早期
Glaze: Powder-Blue or Powder-Yellow or Pure White / 灑藍釉 或 灑黃釉 或 素白釉
Mouth diameter: 9 cm / 玖 公分
Foot diameter: 3.7 cm / 參點柒 公分
Height: 5 cm / 伍 公分
Weight: 104 grams / 佰零肆 公克
Volume: 80 ml / 捌拾 毫升