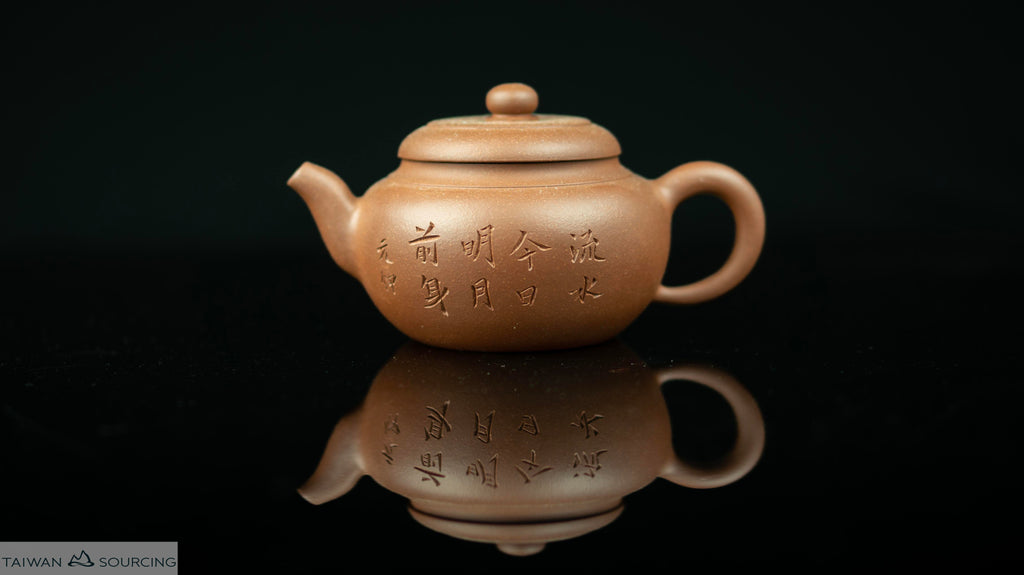 This is a very rare piece from an unknown artist who specialized in crafting "ancient style" teapot, and this is one of his few pieces left from the 1990s. Compared to the modern design, this teapot carries an "ancient feeling" from its curvature to the material used. We can see a clumsy overall feeling from its head to toe, which is a contrary to what we would often see on today's "streamlined" design. This is an intentional creation on the part of the artist, who eschewed laborious perfection in favor of the old adage "function is beauty".
Several Han characters were engraved on the left side of this teapot, which says "Today's Clear Floating Water is because of me as a Shining Lunar from the past" (流水今日 明月前身). This is a poetry excerpt from the Tang era poet Si, Kong-Tu (司空圖 ACE 837 ~ ACE 908). The tradition of engraving Han characters to a teapot has been an obvious way for artist to decorate a teapot since the creation of Yi Xing teapots in order to enhance its artistic value. This work of course was not done by the artist himself, but more often a collaboration between teapot maker and seal cutting artist. 
Since it was meant to carry an "ancient" tone, the overall feeling of this piece feels a bit clumsy to the modern taste. Surprisingly, it is able to sustain an aesthetic style of its own kind. From all of its seemingly imperfection such as the primitive spout design to its clunky handle shape, this teapot is able to maintain a balance of aesthetics style from the old past. If a teapot collector would love to see some of the very ancient forms of a classical teapot, we think this piece of work is one of the best to observe the evolution path of Yi Xing teapot design, especially as a representation of the early 19th century style. As a result, we named it as "Jia Qin Ancient Style." Jia Qin was the Qin emperor who ruled from 1799 to 1820. 
You might also notice that this teapot does not have a seal at the bottom like most of the teapot does. That is because the artist here would like to maintain an integrated character of this piece of work as "ancient." This philosophy of not carrying any seal at the bottom is often a statement from the artist to avoid the secular trend of chasing a "name" instead of the teapot itself.
The clay of this teapot is a 100% pure Huang Long Shan Qin Shui Ni, and it is also the very first time that we are offering a Zi Sha teapot that is made from this common clay in Yi Xing. Qin Shui Ni could be literally translated as "Clear Water Mud" in English. It basically stands for those ore that is not "specially selected or blended," so the colour and feeling of this clay is more primitive as well, which represents the classical character of Yi Xing clay. Unlike our Zhu Ni clay teapot, this clay delivers a more "general" taste to the teas, which makes this teapot a perfect companion for any roasted teas and black teas!
Mineral: Qing Shui Ni / 清水泥 
Mineral Location: Huang Long Mountain / 黃龍山 (Yi Xing County, Jiangsu)
Firing Temperature: 1160 c / 壹仟壹佰陸拾 度
Shrinkage: 12% / 分之 拾貳
Bottom Carving: NA / 無款
Volume: 150 ml / 壹佰伍拾 毫升