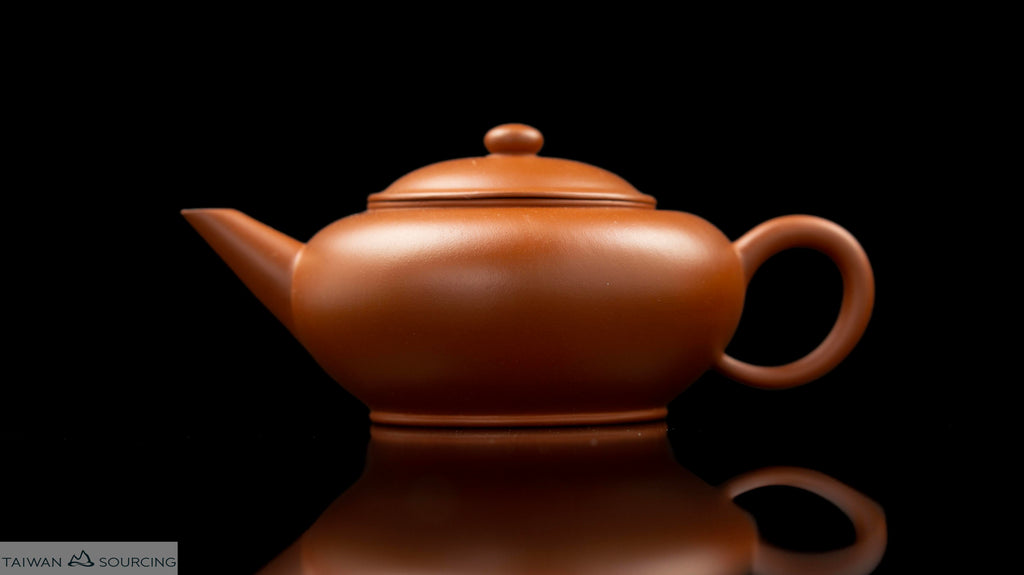 We cannot describe how happy we were when we found this teapot.  This is an early piece that represents the era of "100 %" Zhu Ni making experimentation.  It was fortunate to find this in the hands of another collector who was willing to spare this gem.
Several characters was engraved at the bottom of the teapot not only to show the name of it which is "Zhu Ni Standard Teapot," but also indicates the year it was made.  In traditional Chinese calendar, people use the decimal and the duodecimal cycle to calculate the system.  As a result, the bottom is carved with "Yi Hai Winter Moon" characters (乙亥冬月) to mark the year and season it was made, which was the winter of 1995.
Since it was the very first generation (Or the very early) of pure Zhu Ni teapots, the design of it is relatively conservative.  The designer decided to apply one of the most traditional teapot design which is "Standard Level" (水平 Shui Ping) to the ore that was used on this teapot to ensure that the success rate would still be profitable and the craftsmanship would be appreciable. However, unlike the traditional "Standard Level", which has a smaller body, this designer took a "wider" approach by making this teapot flatter and wider with a thinner wall.  This might be the result of the careful consideration to the characteristics of the ore itself.  As we wrote in our Yi Xing Clay articles, Zhu Ni has a very high contraction rate compare to Zi Sha, so the designer probably was trying to avoid the possible failures that might happen in the kiln. This was not only a wise, but also an experienced decision.
The clay of this teapot is a 100% pure Zhao Zhuang Mountain Red Zhu Ni ore that is one of the classical Zhu Ni clays utilized in the past 30 years.  If you already own a Huang Long Mountain Zhu Ni, this will be another great piece to compare the difference of the two.  If you are still afraid of buying the wrong teapot, this is the teapot that will not disappoint.  The tea brewed comes out smoothly with a soft character.  We strongly recommend it to anyone who wants to have their first Zhu Ni teapot experience without damaging their financial portfolio.  This is also the only one we were able to luckily source, so you may not want to hesitate.
3/20/2019 update: We found two more of these beautiful teapots from the warehouse. One of them  have two tiny flaws as seen on the connection to its lid bottom (蓋紐) and the lower part of the handle. This won't affect how the tea taste and certainly won't affect its exquisite character with its very limited quantity. Another one is perfect without any flaw. For collectors who are looking for authentic Zhu Ni, look no longer, this is what you have been waiting for at a reasonable price.
Mineral: Red Zhu Ni / 紅朱泥 
Mineral Location: Zhao Zhuang Mountain / 趙庄山 (Yi Xing County, Jiangsu)
Firing Temperature: 1100 c / 仟壹 攝氏
Shrinkage: 30% / 分之 參拾
Bottom Carving: Zhu Ni Standard Teapot / 朱泥水平壺 乙亥冬月 
Volume: 185 ml / 佰捌拾伍 毫升