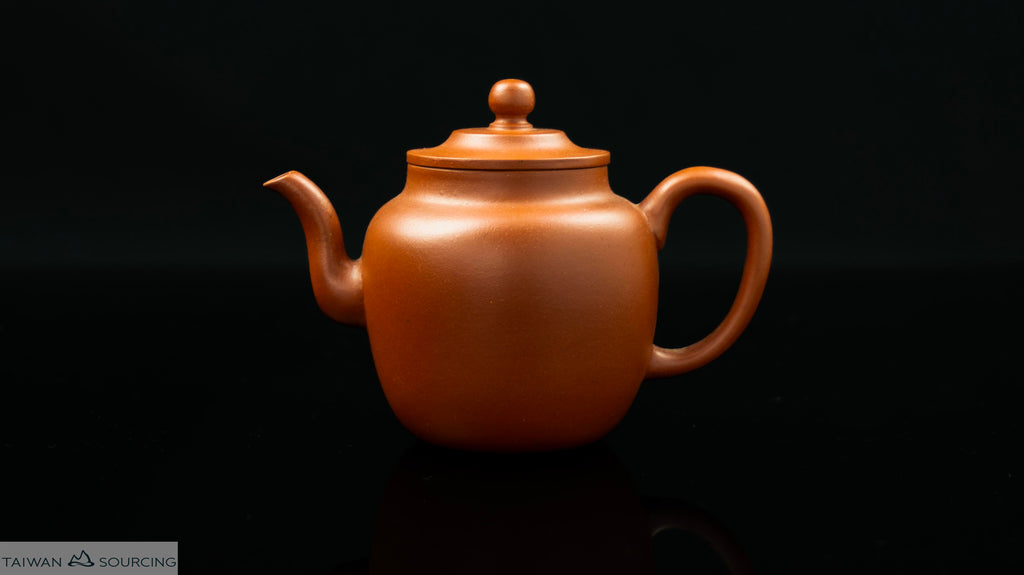 This is truly a piece or art that captures the essence of Qing Dynasty teapot with a wizened balance and spirit.  As indicated in the name, this style of teapot has a "Conical Hat" looking lid on its body with a neck between them to make a smooth transition of the designing curve. The curve further extends itself outward and around both sides of the teapot, which makes the overall atmosphere of this pot more mellow despite its "rougher" top.
The designer has engraved the traditional "Meng Chen" characters on the bottom of the teapot to commemorate the legendary teapot maker "Hui Meng Chen", who was one of the legendary Zhuni teapot makers around four hundreds years ago.  This small sized  Zhuni teapot eventually became the classic of all time due to its refined craftsmanship. The bottom engraving "Meng Chen" does not only serve as a commemoration to the past, but also a sign of its impeccable quality and craftsmanship.
The clay "Xiao Mei Yao Zhuni" is a 100% pure Huang Long Mountain Zhuni ore that has became one of the classical entry Zhuni clay in the past 30 years. Like most of the Zhu Ni, this clay is difficult to fire and has a high failure rate.  As a result it is safer to craft it into a relatively small teapot to ensure the success of its completion as we are seeing here.  The tea brewed in this teapot comes out lively and clean, which is what you would expect from a classical Zhu Ni teapot.  We highly recommend it to anyone who wants to have their first Zhu Ni teapot experience without damaging their financial portfolio.  There is only one we were able to source, so don't hesitate until it is too late!
Mineral: 小煤窯朱泥 / Xiao Mei Yao Zhuni 
Mineral Location: Huang Long Mountain / 黃龍山 (Yi Xing County, Jiangsu)
Firing Temperature: 1080 c / 攝氏 仟零捌拾
Shrinkage: 25% / 分之 廿伍
Bottom Stamp: Meng Chen / 孟臣 
Volume: 125 ml / 佰廿伍 毫升