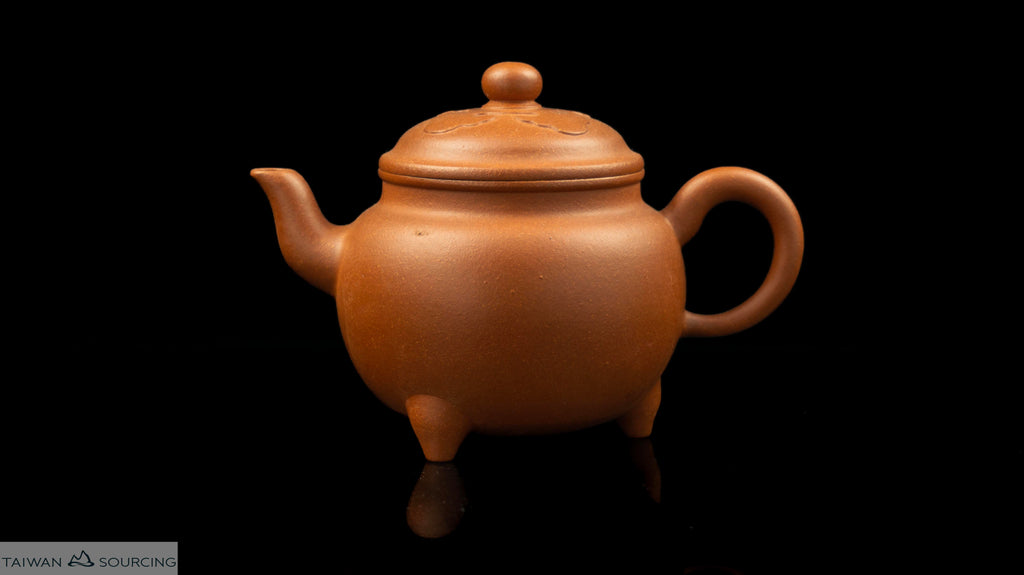 Inspired by the renowned teapot master 時大彬 of the Ming (明) dynasty, this teapot is a salute to that beautiful heritage.  With a very wide body similar to a censer (a container in which incense is burned) that corresponds with its delicate three feet at the bottom, this traditional style creates a heavy and solid motif for tea brewing.  The name Wishful (如意 Ru Yi) comes from its cloud (or mushroom) decoration at the top of the lid.  This decoration style is called "Wishful" because it was designed in the ancient times for scratching one's back, and therefore called Ru Yi "As One Wishes".   
Today this "Ru Yi" symbol has evolved into a cloud shape which represents fortune and joy.  The artisan by placing this symbol on the top of this censer-like teapot body does not only complete its theme as a traditional censer, but also symbolizes the tea which when brewed inside will be transformed into something treasured, or even sacred.
The clay "Pear Skin Malus" is 100% pure 趙庄 (Zhu Ni) ore that was purified more than 10 years ago and has a pear skin like surface thanks to the specially designed "mud-sand ratio".  Normally 100% Zhu Ni will make tea stronger and more "layered" with its powerful conduction of heat and the characteristic of its ore, but "Pear Skin Malus" allows it to make the tea softer than most other Zhu Ni pots can due to its pear-like texture.  This unique teapot will be more friendly to people who are new to Zhu Ni and want to understand why Zhu Ni ore pots are so special.
Please note: This magnificent Three Foot has a apparent "Bao Sha" (爆砂 lit. sand explosion; this happens when the sand in the clay explodes outward during firing) spot on its upper body as seen in the picture, but it won't affect how the tea taste and certainly won't affect its exquisite character.  For collectors who are looking for authentic Zhuni, look no further, this is what you have been waiting for!
Mineral: 梨皮海棠紅 / Pear Skin Malus 
Mineral Location: Zhao Zhuang Mountain / 趙庄山 (Yi Xing County, Jiangsu)
Firing Temperature: 1100 c / 仟佰 攝氏
Shrinkage: 25% / 分之 廿伍
Artist: Ling, Mei Hong / 凌梅紅
Volume: 300 ml / 參佰 毫升