2010s Zi Ni Large Conical Hat Lid Meng Chen (笠蓋孟臣) - Archived
Taiwan Sourcing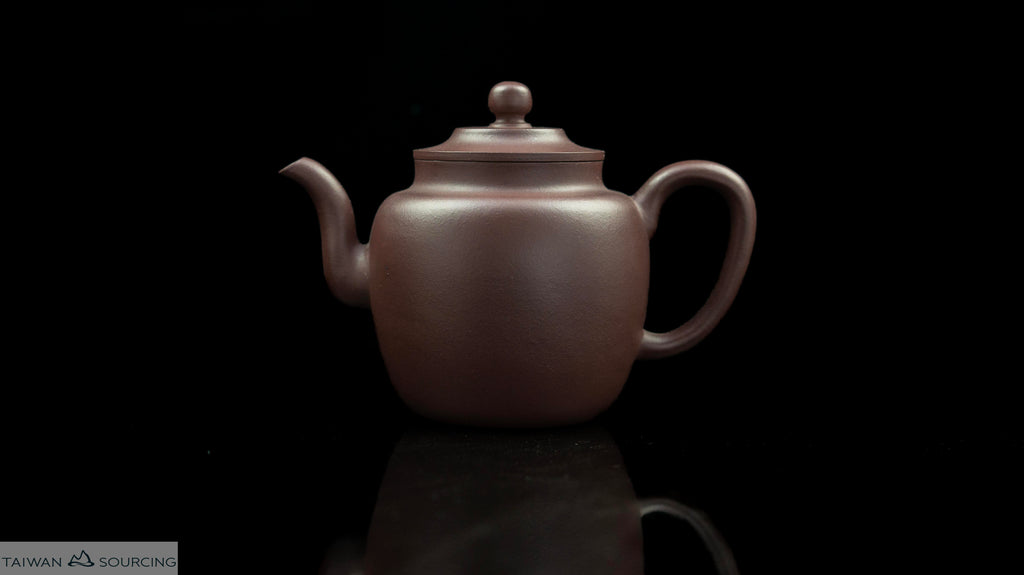 This teapot captures the essence of Qing Dynasty Era teapots with a wizened balance and spirit.  As indicated in the name, this style of teapot has a "Conical Hat" looking lid on its body with a neck between them to make a smooth transition of the designing curve. The curve further extends itself outward and around both sides of the teapot, which makes the overall atmosphere of this pot more mellow despite its "rougher" top.
The designer has hand-carved the "Ren Chen Midsummer Chong Ya Studio Made Meng Chen" characters on the bottom of the teapot not only to commemorate the legendary teapot maker "Hui Meng Chen", who was one of the legendary Zhu Ni teapot makers around four hundreds years ago, but also to bestow this beautiful teapot with two meanings: one for indicating the year it was made (Ren Chen / 壬辰 / 2012), another for making this teapot as a commemoration to the glorious Yi Xing history as well, since "Chong Ya Studio" was one of the ancient studios that sold refined and classical teapots around 200 years ago. In short, the hand-carved character not only "elaborate" this already elegant piece of art, but also successfully "engraved" a much deeper meaning to its existence.
The clay "Huang Long Zi Ni " is a 100% pure Huang Long Mountain Zi Sha (Purple Clay) ore that is the most classical Zi Sha ore in the history of Yi Xing teapot. Despite its higher firing temperature at 1180c compared to Zhu Ni, Zhi Sha basically has a very generous successful rate.  As a result the crafter decided to go for a teapot that has much bigger volume than its Zhu Ni little brother.  The tea style this type of clay perform is often very soft and comforting. It refuses to demonstrate the strong clarity and layers a Zhu Ni clay would deliver, instead providing a more harmonized profile that some might prefer (to Zhu Ni).  With its very reasonable price and size, this teapot is recommended for anyone who wants to enter the magical realm of Yi Xing teapots, and needs a bigger size teapot to share Gong Fu Cha with a small group of tea lovers. 
Mineral: Huang Long Zhi Ni / 黃龍紫泥 
Mineral Location: Huang Long Mountain / 黃龍山 (Yi Xing County, Jiangsu)
Firing Temperature: 1180 c / 壹仟壹佰捌拾 度
Contrast Rate: 10% / 分之 拾
Bottom Stamp: Ren Chen Midsummer Chong Ya Studio Made Meng Chen / 壬辰仲夏 崇雅堂製 孟臣 
Volume: 300 ml / 參佰 毫升