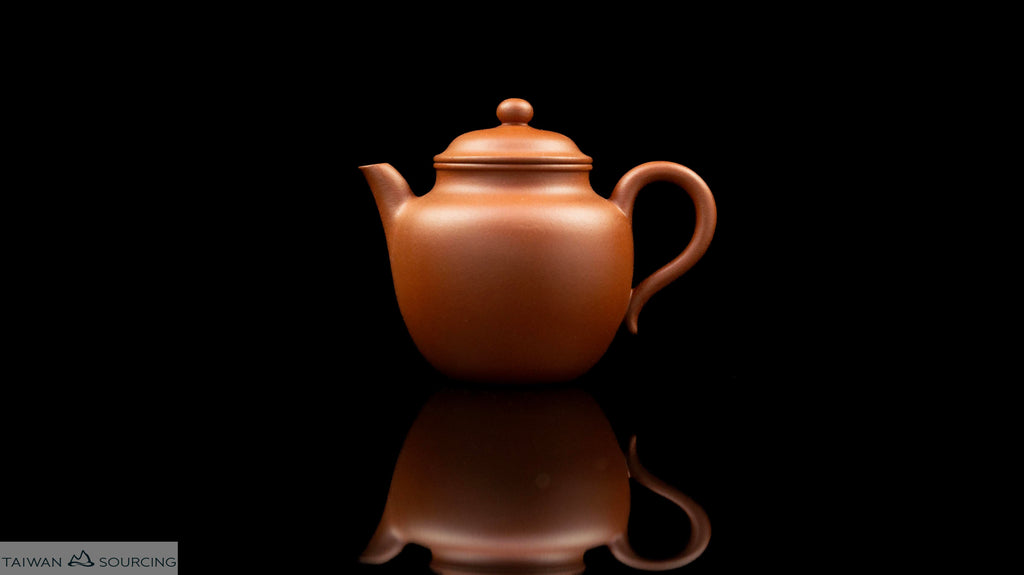 This Autumn Water Zhu Ni teapot is a classical design which could be dated back to the mid 18th century. It was said to be designed by the Ming Era  master "Hui Meng Chen" (惠孟臣) as part of the "level" (水平) collection, although the actual designed was never really confirmed due to the incomplete historical record. The name  "Hui Meng Chen" could belong to an artist, or even a "brand" at that time. This fact has always make teapot that has a classical "Hui Meng Chen" design covered with a chiffon of imagination. 
The origin of the name "Autumn Water" is much disputed, but some people think the name was inspired from its "water-like" handle design. This theory has never been officially confirmed by any information. Moreover, another type of teapot "Lotus Seed" (蓮子) often share the same "water drop" like handle as well. As a result, such claim might be inaccurate to the origin of its name.
To find a more believable story of its origin, we must again take a look at the history. The earliest record of "Autumn Water" was found in a book finished in 1876 written by Japanese collector Gen-Po Oku (奧玄寶, 1836 ~ 1897). Mr. Oku was a successful entrepreneur at the time, and was a connoisseur of Chinese arts. This book has a type of teapot that resembles the shape of our modern "Autumn Water" named "Unfettered Dandy" (逍遙公子). At the bottom of this teapot has seven characters carved as "八月湖水平 孟臣," which literally translated to English means "Autumn Lake Standard Level Men Cheng." As a result, the name "Autumn Water" should originally indicates feeling of the "calm lake in Autumn." As time passed by, the artistic conception of "Autumn Lake" was gradually washed away, and finally got replaced by a more modern and elegant name "Autumn Water" instead.
It is also worth noting that before the appearance of modern "standard level teapot" (標準水平壺), such a teapot like "Autumn Water" was considered as one of the traditional "standard level teapots" universally.
The clay "Zhao Zhuang Little Red Mud" is a 100% pure Zhao Zhuang Mountain Zhu Ni ore that has being often referred as "Little Red Mud" (小紅泥) by the local miner, although this is not a "Red Mud," (紅泥) that belongs to the Zi Sha (紫砂) category at all.  Zhu Ni from Zhao Zhuang mountain is more difficult to craft and fire with its fragile ore, but the "Mud to Sand ratio" (沙漿比 / Shā Jiāng Bǐ) was not specially designed to allow a higher firing success rate, resulting in a smaller size being less likely to break during firing.  The tea that is brewed in this teapot has all the clarity a Zhu Ni should offer, and will bring out the most clarity possible for whichever tea that is brewed in it.
Mineral: 趙庄小紅泥 / Zhao Zhuang Small Red Mud 
Mineral Location: Zhao Zhuang Mountain / 趙庄山 (Yi Xing County, Jiangsu)
Firing Temperature: 1080 c
Contrast Rate: 30%
Crafter:  錢衛國 / Qian, Wei Guo
Volume: 135 ml