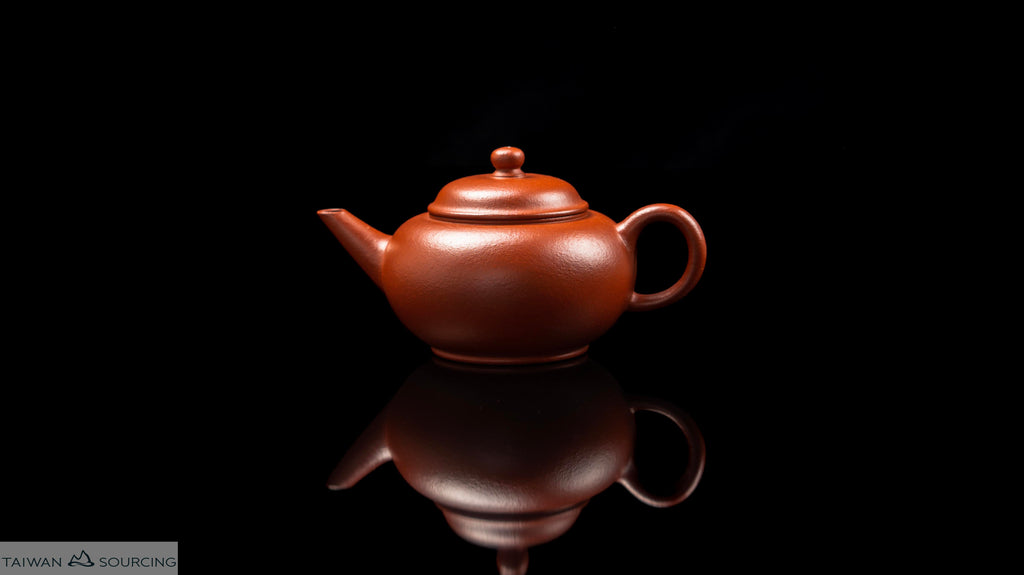 One of the biggest names in the Yixing culture, is definitely the name of Gu, Jingzhou. This is considered as the final master who inherited the true spirit of craftsmanship of Yixing's hundreds years old heritage. Truth to be told, this concept of Gu, Jingzhou as a master of teapot crafting is certianly not far fetched as he is still the inspiring figure to lots of people who are still devoting themselves in the industry. Numerous classical works such as Jingzhou style Duo Zhi (掇只) and Xiao Yin (笑櫻) are still being remade this day, including this style of Jingzhou Level. 
The bottom stamp "Muo Yuan Zai Yi Tan Made" (墨緣齋意堂製) was the stamp mark used by Mr. Gu in the 1930s while he was making teapots at only 18. The name "Muo Yuan Zai" literally translated as "Ink relationship Hall," which was the caligraphy work hung at the school where Mr. Gu was studying at that means a person's knowledge shall be as such. During this stage, Mr. Gu crafted numerous simplistic style level teapots with lots of his own personal touch. The teapots being made at this stage eventually became what we known today as "Muo Yuan Zai Yi Tan Made Jing Mark" (墨緣齋意堂製 景記) in the antique world. What is even worth mentioning is that Mr. Gu learnt teapot crafting directly from his grandma Mrs. Shao, whom was the granddaughter of teapot master Shao, Youlang (邵友蘭) of the early 19th century. This direct connection with master lineage from the past deeply influenced Mr. Gu's understanding and foundation in teapot crafting, making his earlier Yixing works some of the hottest pieces in the teapot market. 
This teapot shown here is definitely not the work of Mr. Gu, but an homage piece with its own touch. The creation of this teapot is more of a tribute to this master rather than a cheap copycat work. As one pay attention to the "communication" between the handle and spout, you will notice how well balanced they are as it meets  up to the lid bottom. To avoid people confusing this as a real piece of Mr. Gu with its homage stamp, the size of this teapot was made relatively smaller when compared to its original piece. 
A tea lover will definitely love how the tea brews inside this lovely thing with the proper Zhu Ni material that was being used. The tea will not only have a clearer representation from the clay, it will also bring out different layers of character one may have never paid attention to before with our teas. 
Mineral: Warehouse Stored Zhu Ni /  庫藏 朱泥 
Mineral Location: Zhao Zhuang Mountain / 趙庄山 (Yi Xing County, Jiangsu)
Firing Temperature: 1080 c / 攝氏 壹仟零捌拾
Contrast Rate: 25% / 百分之 廿伍
Shrinkage: Muo Yuan Zai Yi Tan Made / 墨緣齋意堂製 
Holder Stamp: Jing Mark / 景記
Volume: 100 ml / 佰 毫升