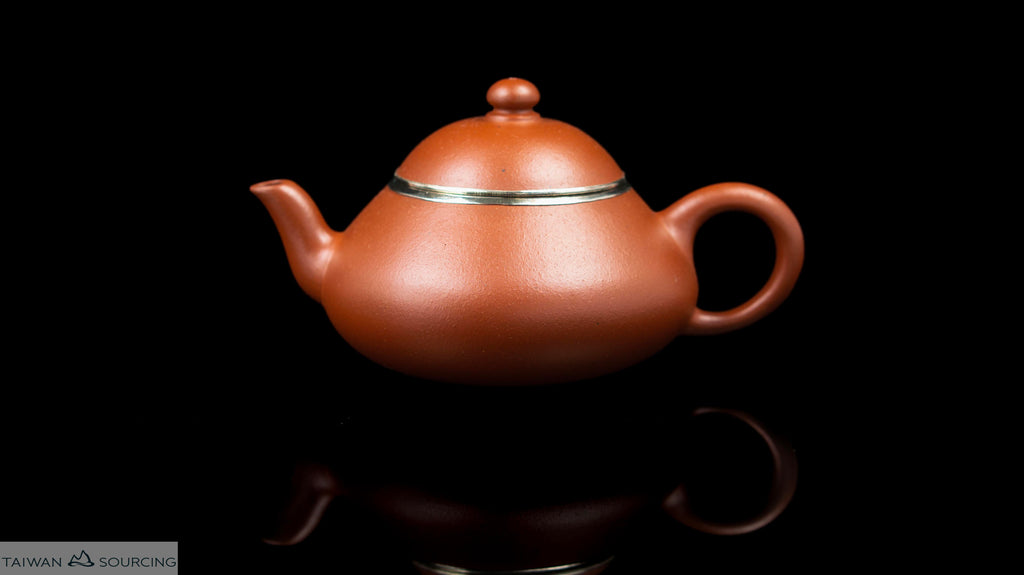 This is a very classical pear shape teapot which the design could be traced back to Qing Era, approximately at the end of 18th century This almost primitive "design" could probably be the very first appearance of "Level Teapot" (水平壺) in the history of Yi Xing, making this teapot a very iconic piece in our collection. This style was also believed to be invented by a ancient teapot master - Chang, Jun-De (張君德).
Jin-Der Chang was one of the most famous teapot makers in history, and most of his work are related to "Zhu Ni Pieces" such as the one we are seeing here. Even though at his time (around the beginning of 18th century) the actual 100% Zhu Ni was nearly impossible to be made into an actual piece.  All the so-called "Zhu Ni" at that time were crafted using "Red Mud" (A type of Zi Sha ore that could be fired into) with the colouring technique of using some Zhu Ni mud mixed in to make the "Zhu Ni teapot", resulting in a more reddish than normal "Red Mud" teapot. Therefore, this piece we are seeing here is not only elegant, but also serves as an example (and reminder) of the glorious past. 
One of the most stand-out features of this teapot, is not how this teapot was designed "back then", but is how this teapot was "actually" designed and how popular it was at its time. We know this because we can compare them to the ancient teapots found on the Desaru Shipweck. The ship went down in 1830 containing lots of commercial Yi Xing teapots aboard. The surviving teapots look a lot like the one we are seeing here, although the craftsmanship and clay quality are much more inferior, since those ancient teapots were designed to be sold as commercial product, like the kitchenware we use today, rather than something for collecting and brewing great teas.
The clay "Xiao Mei Yao Zhu Ni" is a 100% pure Huang Long Mountain Zhu Ni ore that has became one of the classical entry Zhu Ni clay in the past 30 years. Like most of the Zhu Ni, this clay is difficult to fire and has a high failure rate.  As a result it is safer to craft it into a relatively small teapot to ensure the success of its completion as we are seeing here.  The tea brewed in this teapot comes out lively and clean, which is what you would expect from a classical Zhu Ni teapot.  We highly recommend it to anyone who wants to have their first Zhu Ni teapot experience without damaging their financial portfolio.  There is only one we were able to source, so don't hesitate until it is too late! 
The opening of the teapot and the edge of the lid has undergone kintsugi to repair a rough edge.  Pure silver was used, giving this teapot tons of character!
Mineral: 小煤窯朱泥 / Xiao Mei Yao Zhu Ni 
Mineral Location: Huang Long Mountain / 黃龍山 (Yi Xing County, Jiangsu)
Firing Temperature: 1080 c
Contrast Rate: 25%
Bottom Stamp: Meng Chen / 孟臣 
Volume: 125 ml