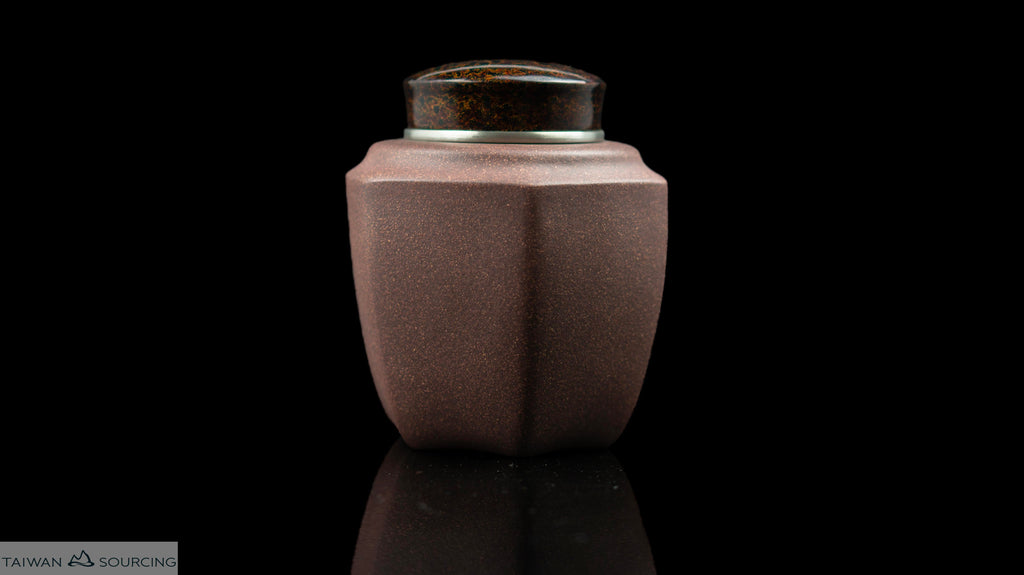 This tea storage canister is one of the most special pieces we have ever sourced!  It's incredibly unique and you won't find such a beautiful piece of art from anywhere else! We wish there were more of this kind of storage in the market, unfortunately, making a teapot yields more profit than making a tea storage unit in Yi Xing, 
Contrary to the traditional round shape, the designer took an interesting approach to this piece of art. There are two ways to create the body of a teapot, one is called "Hit the Body", (打身筒) which is used to form a round structure. Another method is called "Inlay the Body", which is the method used to form the "square" shape we are seeing here. Unlike "Hit the Body" when the shape is formed by one single piece of mud, "Inlay the Body" uses multiple pieces of mud plates, (usually four) to construct the body of a teapot by vertically sticking the mud plates together. The storage unit we see here, is constructed by six pieces of mud plates, and that is reason for its hexagonal appearance.
Some of the most noticeable features, besides its hexagon shape, is its finishing touch at the bottom. Normally a "square piece" (方貨) will take a "round foot' approach to finish the bottom work, but here we can see no such approach. The designer decided to end this work with a neat and almost invisible touch for its bottom part, creating a organic feel to this work despite it being a "square piece." Besides its bottom design, the top part is also another spotlight. The lid of this tea canister is decorated with natural Chinese lacquer and tin seal, making it not only practical for tea storage purpose, but also bestows upon it a timeless artistic value.  
The clay "Huang Long Zi Ni" is a 100% pure Huang Long Mountain Zi Sha (Purple Clay) ore that is the most classical Zi Sha ore in the history of Yi Xing teapots. Despite its higher firing temperature (at 1180c) compared to Zhu Ni, Zhi Sha basically has a very generous successful rate.  As a result the crafter decided to go for a teapot that has much bigger volume than its Zhu Ni little brother.  The tea style this type of clay perform is often very soft and comforting. It refuses to demonstrate the strong clarity and layers a Zhu Ni clay would deliver, instead providing a more harmonized profile that some might prefer (to Zhu Ni).  


Of course there is no way for you to brew tea with this beautiful piece of Zisha artifact (We won't encourage it), but with its extremely fine material and beautiful craftsmanship, this piece of tea storage unit will not only be your loyal companion to serve as a time machine for your beloved tea, but also a fine statement for one's impeccable artistic taste. 
Mineral: Huang Long Zi Ni / 黃龍紫泥 
Mineral Location: Huang Long Mountain / 黃龍山 
Firing Temperature: 1180 c / 仟佰捌拾 攝氏
Contrast Rate: 10% / 分之 拾
Bottom Carving: Year Yi Wei / 乙未年
Size: Diameter 10.5 cm / Height 11.7 cm