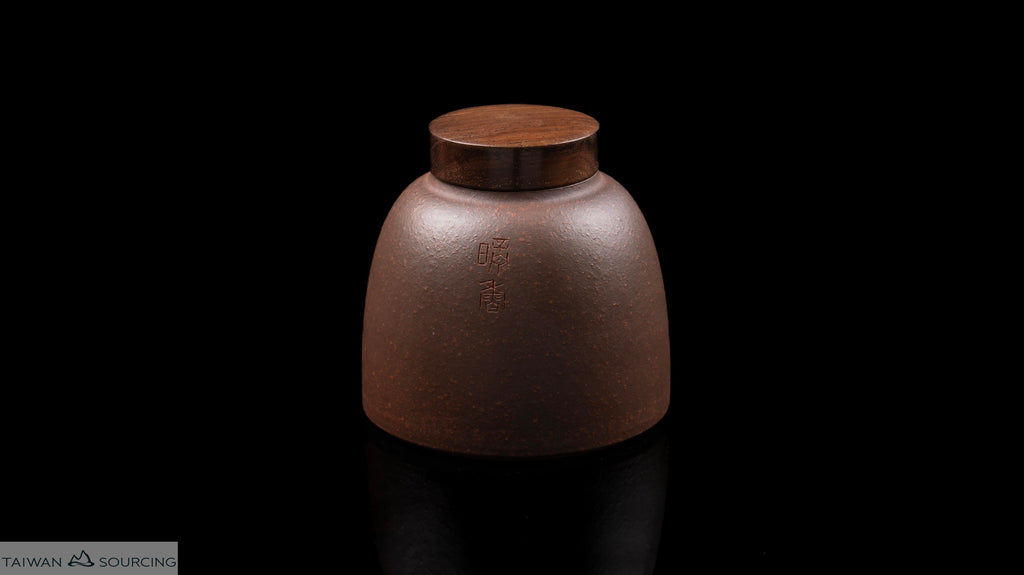 This is another long awaited modern storage unit for tea. We have been testing the storage potential of the oolongs we make since the beginning of 2018. Luckily, an old dog from the Taiwan Sourcing team personally owns several storage units to store tea, so he was able to tell how these teas transformed in a natural environment instead of sealed inside a vacuum pack. Teas such as "Citrus Noon" or the 2017 winter version of "Overlord" have transformed way beyond our expectation, and this result gives us confidence to encourage our fans to store Taiwan Sourcing's teas in the same way. 
The designer of this Zisha tea jar used a minimalistic approach to create an elegant and complete piece of teaware. This piece would provide an outstanding environment for our tea to comfortably transform in. The beautifully crafted lid was made from African blackwood with food grade rubber attached to ensure air flow is limited.
The clay used to make this jar is "Huang Long Zi Ni," a 100% pure Huang Long Mountain Zisha (Purple Clay) ore that is the most classic purple orea in the history of Yi Xing teapots. Despite its higher firing temperature (1180c) compared to Zhu Ni, Zisha has a very high rate of successful firing, and thus serves as the perfect material for a tea storage unit. 
Mineral: Zi Ni  / 紫泥
Mineral Location: Huang Long Mountain / 黃龍山 (Yi Xing County, Jiangsu)
Firing Temperature: 1180 c / 壹仟壹佰捌拾 度
Contrast Rate: 10% / 分之 拾
Bottom Stamp: Harmonic Ware / 合器
Volume: 500 ml, which can contain roughly 150 grams of fully rolled oolong such as Dong Ding or 100 grams of semi-rolled oolong such as Baozhong.