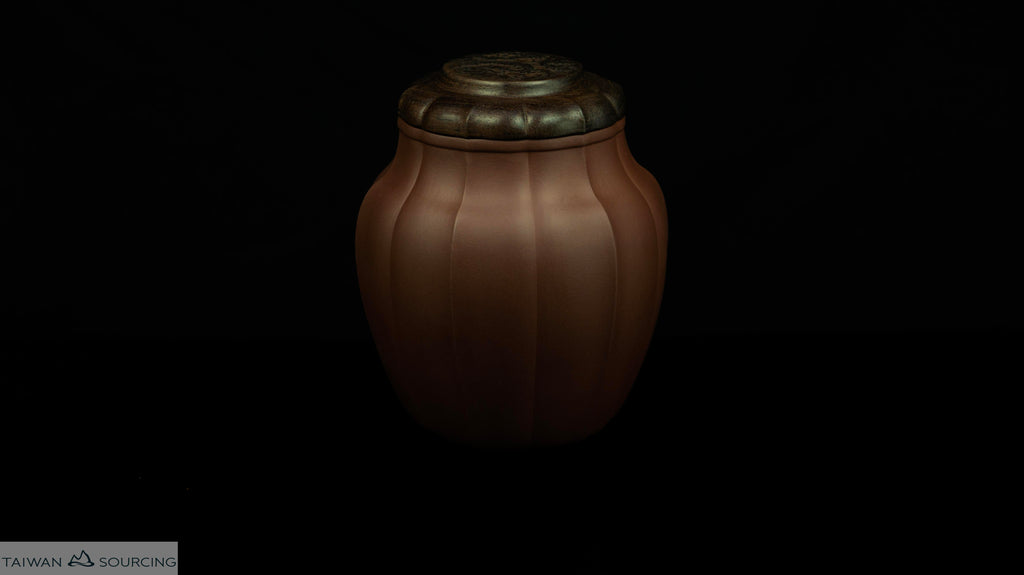 Finally a long waited modern tea storage unit for the tea from Taiwan Sourcing. We have been testing the potential of the oolongs we made since the beginning of 2018. Luckily, an old dog of Taiwan Sourcing team personally owns several storage units to store the tea, so it was able to tell how these teas transformed in a natural environment instead of sealed inside a vacuum pack. The teas such as "Citrus Noon" or the 2017 winter version of "Overlord" has transformed way beyond our expectation, and this result gives us confident to encourage our fan to store Taiwan Sourcing's teas in the same way. 
The clay of this jar is made from 100% pure Huang Long Shan Qing Shui Ni. Qing Shui Ni could be literally translated as "Clear Water Mud" in English, which basically stands for those ore that is not "specially selected or blended," which represents the classical character of Yi Xing clay. The Qing Shui Ni being used for this jar is a very high quality one. We never expect people to use such high quality clay to make a tea storage unit because under current environment it is more "economic" and "reasonable" to make a teapot rather than a jar. A teapot can always be priced way higher than a tea jar when the same amount of material were being used, so we are both surprised and grateful someone is willing to craft a tea jar with high quality material.
The designer used a super simplistic approach to this simple yet complete teaware. The shape of the flower of water chestnut has been widely applied into porcelain design since the beginning of the history of Chinese porcelain. Such classical design language was applied into a practical modern piece with great Qing Shui Ni from Huang Long Mountain which provides outstanding environment for our tea to transform comfortably inside. Moreover, the beautifully crafted lid was made from African blackwood with food grade rubber attached to ensure no extra air can go in.
The bottom stamp "開門即是溪山" literally translated as "Doors open then there is mountain and river." However, the meaning of it goes deeper than the direct translation. The character "Xi(溪)" in this stamp is a indication of Yi Xing's ancient name in Qing era - "Jingxi (荊溪)," so the actual meaning of this stamp is "everywhere you can see Yi Xing's heritage." A meaningful stamp for a tea jar that can deliver the cultural depth of Yi Xing's historic kiln industry and purple sand lineage.  All these care to detail make this tea jar a great piece for your tea and a beautiful art piece on your tea table. 
Mineral: Aged Qing Shui Ni  / 老清水泥
Mineral Location: Huang Long Mountain / 黃龍山 (Yi Xing County, Jiangsu)
Firing Temperature: 1180 c / 壹仟壹佰捌拾 度
Contrast Rate: 10% / 分之 拾
Bottom Stamp: Doors open then there is river and mountain / 開門即是溪山
Volume: 2000ml, which can contain roughly 700 grams of fully rolled oolong such as Dong Ding or 200 grams of semi-rolled oolong such as Baozhong. Silver pack inside is a 300 grams fully rolled oolong. / 貳仟 毫升