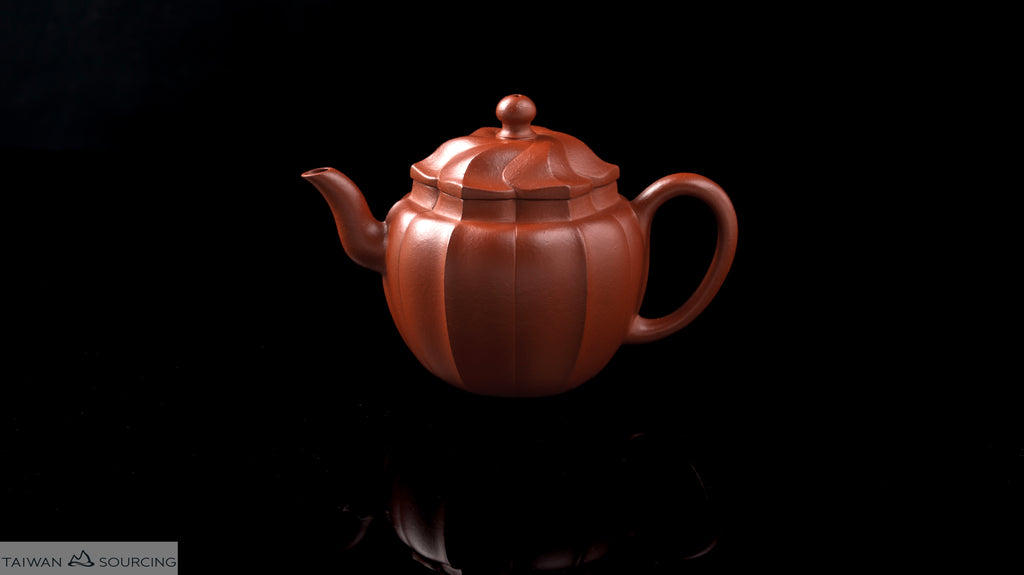 Jiuhan as a company has developed its own unique characteristics in the past decades. Inspired by the past, they have successfully developed style with a touch nobody could have imitated. The theme of rotating blossom has been that icon of the brand, and this is the first time it ever showed up in our collection.
This type of design we inferred was inspired by the classical daisy body from the past. One of the biggest advantage that made Yi Xing's teapot a cultural icon in the tea world is its lineage. Basically all the possible and best design for teapot, whether for the practical side or aesthetic side, were developed at least a hundred years ago. The daisy design could be dated all the way back to Ming era, around 300 years ago, and Jiuhan cleverly turned that design into something totally modern yet classical. This fine interpretation is the representation of Jiuhan's deep contemplation of its position in the modern Yixing world. 
The clay used to make this pot is a 100% pure Zhu Ni ore mined at Zhao Zhuang Mountain considered as a classical entry-level Zhu Ni clays over the past 30 years. Like most Zhu Ni, this clay is difficult to fire and has a high failure rate.  As a result, it is safer to craft the clay into a relatively small teapot to ensure more successful pieces. The tea brewed in this teapot comes out lively with a clean taste, which is what you would expect from any Zhu Ni teapot that is up to snuff.  We would highly recommend this piece to anyone who wants to have a quality Zhu Ni teapot experience and is looking for something unique in their life or their loved one. 
Mineral: 庫藏 朱泥 / Warehouse Stored Zhu Ni 
Mineral Location: Zhao Zhuang Mountain / 趙庄山 (Yi Xing County, Jiangsu)
Firing Temperature: 1080 c / 仟捌拾 度
Shrinkage: 20% / 分之 廿
Bottom Stamp: Year 2020 Yi Ran Imitate Past / 歲次庚子 一讓法古 
Volume: 150 ml / 佰伍拾 毫升
Height: 8.5 cm 
Bottom Diameter: 4 cm