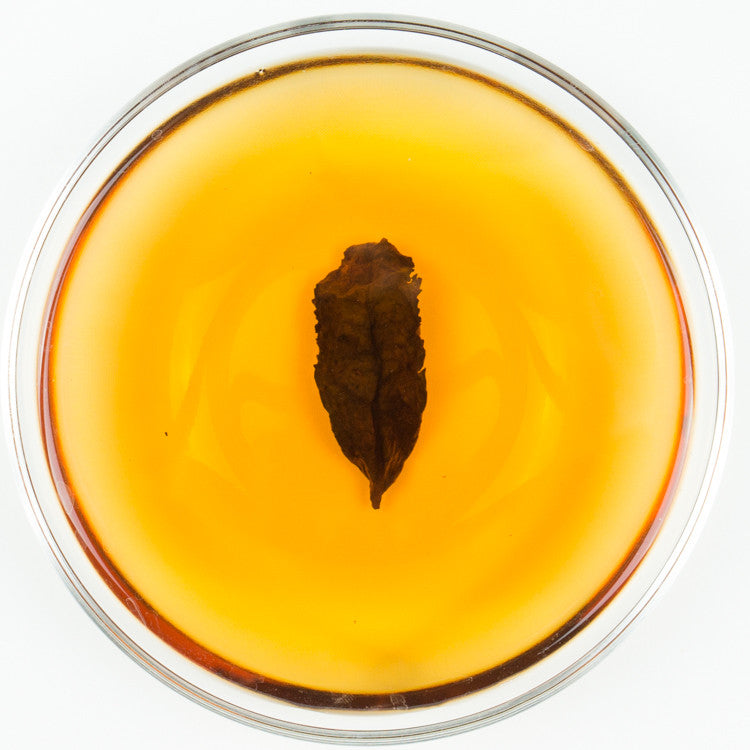 Classical Tie Guan Yin is made from 100% Hong Xin Wai Wei Tao Varietal "紅心歪尾桃"  and has to be processed in a certain way for it to be qualified as such.  The price is rather stiff for most of the tea lovers out there.  Fortunately for us there is this Tie Guan Yin that is a perfect blend of Hong Xin Wai Wei Tao Varietal "紅心歪尾桃" and Jin Xuan (金萱)  that is processed and roasted like the aforementioned classical Tie Guan Yin.  The two varietals are grown in the same garden and then blended together at the beginning of the roasting stage.
It is not only affordable, but also contains the beautiful body of true Taiwanese Tie Guan Yin teas. Recommended for every TGY lover, and also a perfect warming tea on colder days.
Harvest:  Spring 2015 / 春 貳零壹伍
Varietal:  Hong Xin Wai Wei Tao (Tie Guan Yin) & Jin Xuan / 紅心歪尾桃 與 金萱
Elevation:  500 M / 伍佰 公尺
Region:  Muzha / 木柵
Oxidation Level:  35% / 分之 卅五
Roast Level:  6 / 陸 分
 Carefully processed... well roasted but obviously done carefully to preserve the character of this lovely unique tea!  The idea of mixing Jin Xuan and TGY together and roasting like this to achieve something really complex is a great idea!
 I brewed this tea in a more traditional gongfu style using tetsubin boiled water, duanni clay bowl, and a zhuni clay pot.  After 10 steeps I can say that the tea is simply lovely.  The sweet round body is so smooth and comforting.  I drank out of a duan ni clay bowl to mellow the recent roasting potency.  This is the kind of tea that can be enjoyed indefinitely as the years pass.
 As an old dog who think Tie Guan Yin has became too expensive recently, this Bronze Tie Guan Yin has a very good cost-performance ratio for what it is - a perfect blend of Jing Xuan and Red Heart Varietals. Instead of being potent like 100% Red Heart material, this Tie Guan Yin has a more tender finish but still deliver the "Guan" body with a touch of raisin.