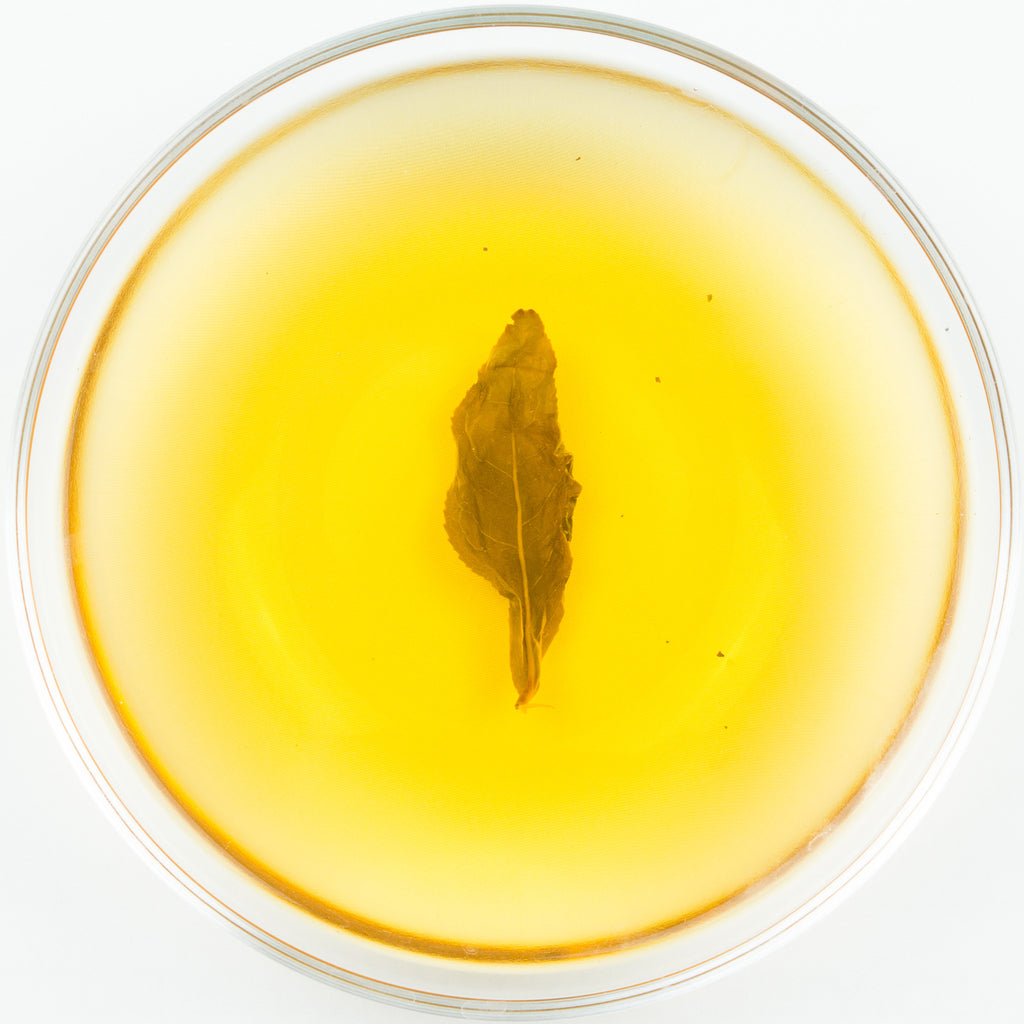 This is a very special Oolong that will be featured in our upcoming blog post, which will explain in detail how we process Oolong in Taiwan.  This tea was processed by a member of Taiwan Sourcing, which makes it a very special and distinctive tea in our offering.  This is also one of the teas that was grown in an "extremely natural" environment, making it probably the "happiest" tea in our tea collection. 
The garden where this tea was grown is filled with all sort of insects and spiders, and the tea trees are as tall as a human being (around 2 meters tall!).  These kind of tall and natural tea trees are very rare in Taiwan where plantations are managed and plants are trimmed to allow for easy access and easy picking.  These tall tea trees were neglected for more than a decade allowing them to grow naturally making them hard to pick.  Much like the old tea trees in Yunnan, these old natural Taiwan tea trees yield a high quality leaf with an almost magical happy energy (qi)
.
Despite being lightly oxidated, this tea has a character that imparts a surprisingly comfortable and tranquil mind/body state for the drinker.  We decided to name this tea "Tall Tree" as an homage to the tall natural trees from which they came!
Harvest:  Winter 2015 / 冬 貳零壹伍
Varietal:  Qin Xing Oolong /  青心烏龍
Elevation:  400 M / 肆佰 公尺
Region:  Zhushan / 竹山 
Oxidation Level:  25% / 分之 貳拾伍
Roast Level:  0 / 無
 Smooth, light, sweet, but with more body than many high elevation oolongs from Winter.   Thick and full in the mouth, and good feeling in the body.  Happy Happy time!  Happy tea from a living forest!
 After hearing the account of this tea from the Old Dog himself I was excited to test it out. The initial steep was hot and fast. It definitely had solid flavor and aroma. After a few steeps I was impressed with the vibrancy and the sweetness of this tea. I recalled my friend's journey as I drank round after round. Tea presents an opportunity to go deeper into the simplest of things. Latent in every cup we drink is the skill and effort (or lack thereof) from people all over the world. The appreciation of skill has become more and more important in my own journey with tea. What a joy that one of our own here at Taiwan Sourcing had a solid hand in making this tea
 As an old dog that was as picky as a "tea snob" and was too familiar with high mountain oolong,  this tea didn't catch the attention of an old dog's picky nose at the beginning. An old dog was not quite impressed until the tea soup was sipped in a few minutes later. This tea is very "comfortable." It has been a while since an old dog had this kind of feeling - simply comfortable. Stressless with the soothing oolong taste and character.......this is not the kind of oolong for extreme "aroma" or "body", it is a treat for mind.