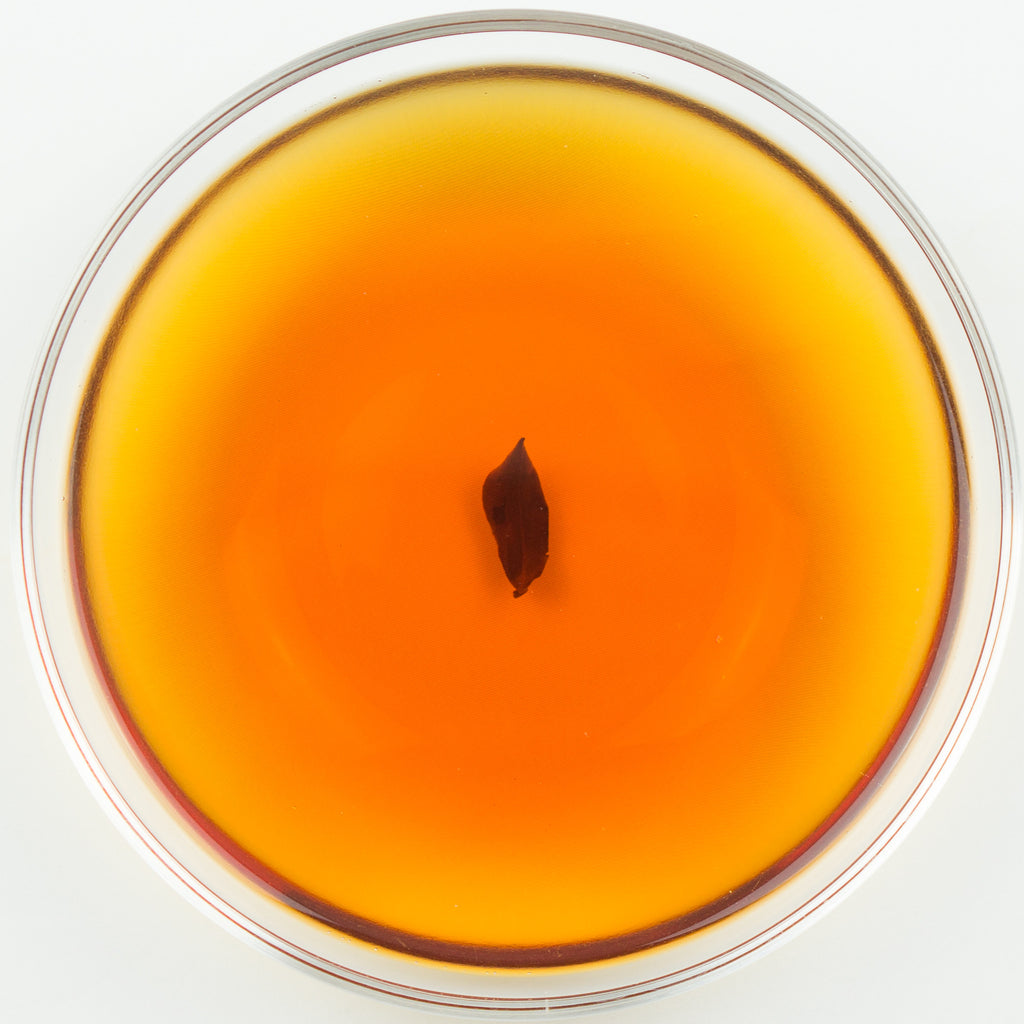 A fortunate surprise find for us this summer, this is a classic-styled Oriental Beauty we obtained in a very limited quantity. This oriental has everything you want from a oriental beauty - conspicuous white feather, distinctive flavour thanks to the bug bitten effect and the master's hand. 
High quality Oriental Beauty has an extremely high price due to limited production, more complicated processing method, and a higher labor cost.  Every single leaf must be picked when it is still a bud so it will be tender enough to be processed as Oriental Beauty.  But it also cannot be picked too early otherwise the "bug bitten" effect will not be as strong. 
In the old days of Taiwan, "Oriental Beauty" was the most refined "Fan Zhuang Wu Long" (番莊烏龍),  a name which came about in the early 20th century literally means  "a tea for selling to uncivilized people", because the foreigners (especially British) consumed and enjoyed this style of tea very much. As a result, a legend says that the name "Oriental Beauty" came from Queen Elizabeth who was a big fan of it. 
Another more persuasive name for "Oriental Beauty" is "Bragging Oolong" (椪風茶), which earned thisname because of the extremely high price it garnished when sold to the British merchants during the colonial era.  As we already know, Oriental Beauty must suffer from the bites of "leaf grasshopper", causing the "after-bitten" tea leaves to look extremely ugly and cheap according to the old time standard which made the tea farmer feel extremely desperate.  But a tea is still a tea, the tea farmer who did not give up on the material decide to process it into heavily oxidized oolong anyway to see if it could be sold. When this tea was desired at such as high price by the British merchant, the farmer who invented this tea immediately shared this news with his friends and neighbors.  Sadly, no one believed him at the beginning, and some people even accused him of bragging, which is how Oriental Beauty got the name "Bragging Tea", a name is still widely used in the southern part of Taiwan. 
This Oriental Beauty from Summer 2015 was grown in the middle part of the island, using the most classical specimen named "Qing Xin Dah Pan".  Under the care of Master Xu, whose name basically represents Oriental Beauty in the region, and the super hot weather in 2015 summer, this is the most classical Oriental Beauty for the price which everyone could be looking for. Again, only a very limited quantity was made for this batch, so don't hesitate or it will all be gone!
Harvest:  Summer 2015 / 夏 貳零壹伍
Varietal:  Qing Xin Dah Pan / 青心大冇
Elevation:  400 M / 肆佰 公尺
Region:  Emei / 峨嵋
Oxidation Level:  79% / 分之 柒拾玖
Roast Level: 0 / 無
 I used 8 grams in a 220ml clay pot and wondered if it would be enough leaf.  12 infusions later my stomach is full of tea and I am comfortably burping a sweet thick tea.  Sweet and honey taste but with an ineffable complexity that makes it a delight to drink even for the most hard-core Oriental Beauty connoisseur! 
 I filled my gaiwan with 8 grams as well.  The nose on the dry leaf is intoxicating.  First few steeps are smooth and hint at what is coming.  Very satisfying and fruity sweet brews.  The thickness lasts as well as the aroma.  Over all this is a very lovely Oriental Beauty.
 As an old dog who has been whining about the miserable market of oriental beauty since day one of the launch, he could finally stop his whining for the season. This is a decent oriental beauty that resembles the meaning of "high end." An old dog has to say "resemble" because it is not exactly the "high end" tea that could be sold for over 500$ or more per Jin in the market, but it shares a lot of similarities with it - the familiar California grape scent from the dry tea, and the grapefruit body with a hint of a traditional Taiwanese treat "Pomelo Cake" (白柚果). These are some of the most conspicuous characters anyone could find on a traditional oriental beauty. Although the bug bitten effect is not as strong as the high end one, this one is probably the most authentic oriental beauty at this price range.