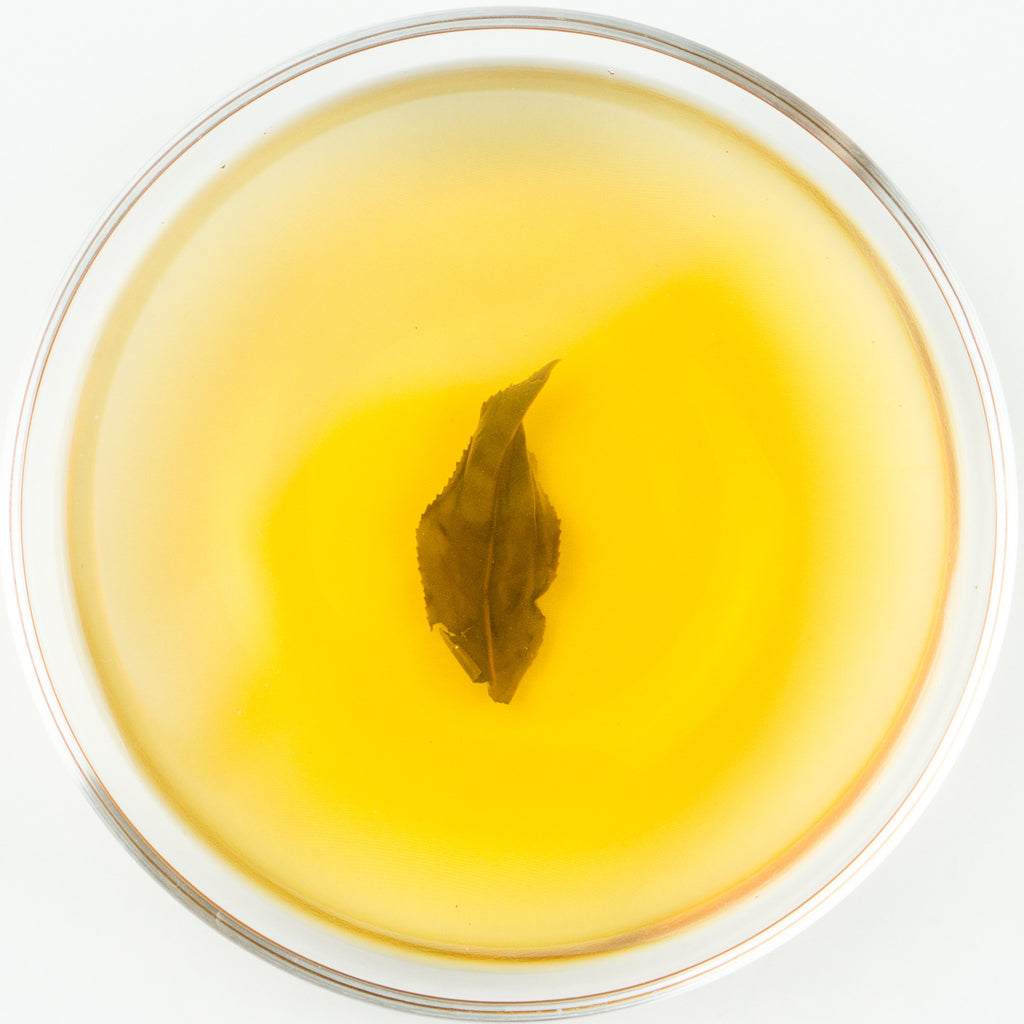 There is an old saying regarding Taiwanese Oolong growing regions - "North Baozhong, South Dong Ding," which indicates the classical representation of Taiwanese Oolong teas from south to north. For classical southern Oolong, it is Dong Ding; but for classical northern Oolong, it will be Baozhong. That is the prominence Baozhong has in the world of oolong. Indeed, the name "Baozhong" is the scientific name for oolong teas. 
Although not as famous as the classical "Wenshan Baozhong," this Baozhong oolong from Shihding took us by surprise.  A typical Baozhong should have a clean and light taste, but this Baozhong is relatively "thick" compared to anything we have encountered before. We are not sure whether it is because of the vibrant plantation it was harvested from, or because of the very rare varietal "the Egret 17" was used to make this Baozhong, that offers a very sweet note with a "honey yam" taste.
This is a Baozhong that re-defines the category of Baozhong oolong, and we think the original name of its varietal "the Egret" is the best name for this Baozhong. We are confident you will find this a refreshing example of Baozhong.
Harvest:  Spring 2016 / 春 貳零壹陸
Varietal:  White Egret #17 / 白鷺十七號
Elevation: 450 M / 肆佰伍拾 公尺
Region:  Shihding / 石碇
Oxidation Level:  8% / 分之 捌
Roast Level:  0 / 無
 I have always felt Baozhong is something special, not a traditional Jade oolong, but definitely not a green tea either.  I love the traditional Bao Zhong we offer, but this Egret is something different and special.  It's very thick, very fruity and sweet and a touch of bitter/astringent.  The feeling in the mouth lasts long after drinking and the aroma from start to finish is very strong and pungent.  Very impressive and unique Bao Zhong that's worth trying and for many will become a beloved companion.
 I enjoyed this fresh Baozhong in a gaiwan and used 6 grams. I like to experiment a little with temperatures and brewed this one at 180°. The potent complex floral vegetal wet leaf aroma stood out to me. I brewed it 5 rounds and tasted a medley of floral and grassy notes that played well together. All in all an interesting baozhong.
 An old dog must say this is the most interesting Bao Zhong it had in the recent years, and an old dog is not exaggerating, but simply being honest with every oolong tea lovers around the world. Unlike the classical Bao Zhong's grassy character, you could actually taste "yam" with this rare varietal. There is a magical "yammy" flavor in this tea. Not an aggressive kind of sweet flavor, but a soft and tender kind, making this Bao Zhong a truly interesting experience to savour with.