Gold Muzha Tie Guan Yin Organic Roasted Oolong Tea - Winter 2015
Taiwan Sourcing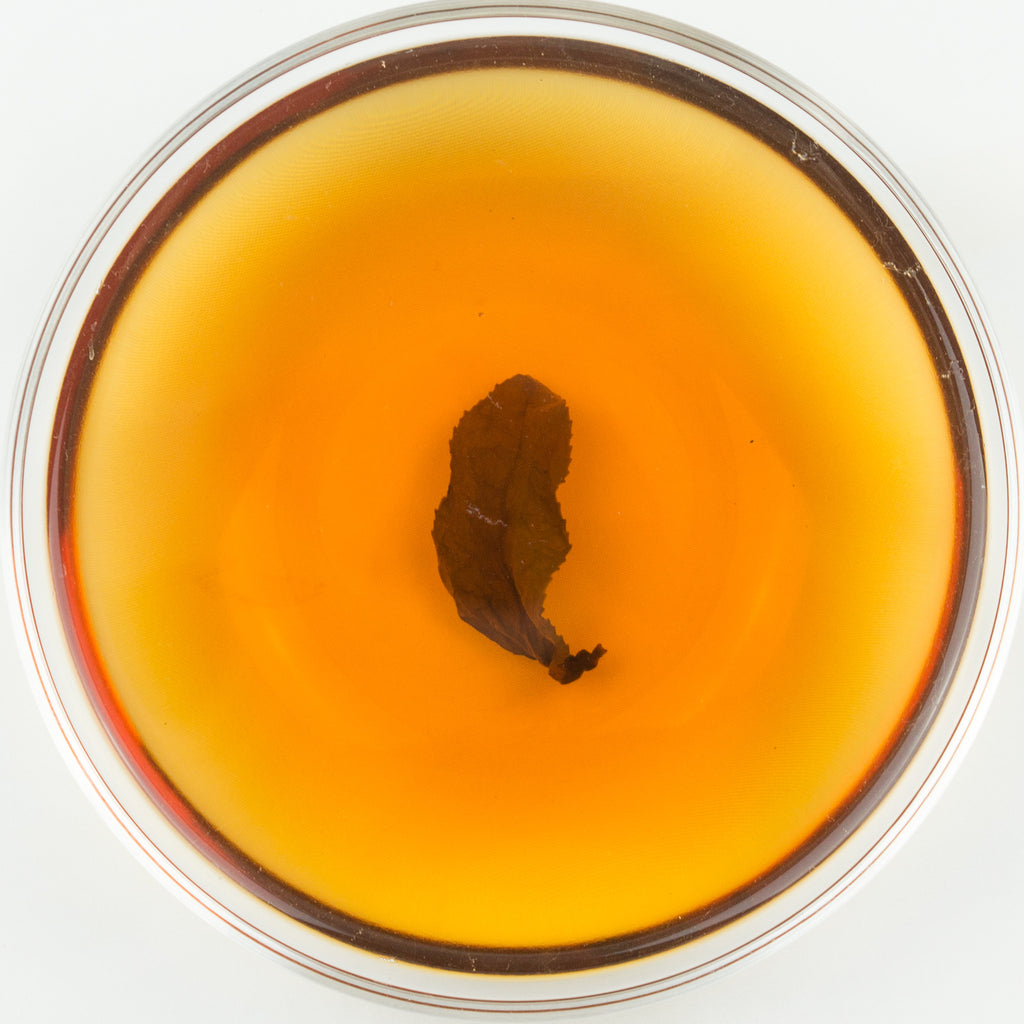 The history of Muzha Tie Guan Yin began in 1919, the year that Chang Family brought the Tie Guan Yin from China varietal to Taiwan to cultivate. In other word, Tie Guan Yin has a relatively long history among Taiwanese teas, and today the offspring of the original Chang Family is still making the most authentic Tie Guan Yin for the pickiest tea drinker.
Classical Tie Guan Yin is made from 100% "Hong Xin Wai Wei Tao Varietal" (紅心歪尾桃)  and has to be processed in a certain way which involves numerous stages of rolling and delicate roasting that will take approximately 20 hours across 2 days to complete the process. The complex process makes the Muzha Tie Guan Yin has the appearance of "chopstick drum wait" (means its heavily rolled with stem attached) and "froggy skin" (means it has a frost-like skin). The result is a beautiful balance of a strong "Guan Yin Rhythm" and the light fruit acid scent which can only be found in Muzha Tie Guan Yin. 
This tea is the result of hard work and 100 years of experience in crafting Muzha TGY. With more times of rolling and delicate roasting, It has a very "refined" and surprisingly "soft" character despite it's exhaustive processing style. For tea lovers this tea is a joyful upgrade from our already delicious "Silver Tie Guan Yin".
Harvest:  Winter 2015 / 冬 貳零壹伍
Varietal:  Hong Xin Wai Wei Tao (Tie Guan Yin) / 紅心歪尾桃 
Elevation:  550 M / 伍佰伍拾 公尺
Region:  Muzha / 木柵
Oxidation Level:  45% / 分之 肆拾伍
Roast Level:  6 / 陸 分
 Very uniform appearance in terms of size.  Roasting is not heavy for Muzha. Drink the first brew!  Don't use as a wash, it's very enjoyable and largely lacks any obvious charcoal roast taste/aroma.  Later infusions the tea opens up and becomes incredibly complex with lots of body.  Notes of fruit, caramelized sweet potatoes and cannabis can be experienced.  Goes 10+ infusions!  Aging will make this better!
 It was a very misty morning in the valley...with last bits of winter rolling through the hills around me. Given the cold and wet environment, I decided to brew the golden Muzha TGY.
The wet leaf aroma quickly permeated my quaint room with its baked fruity goodness. I tend towards quick steeps early on in my gongfucha sessions. This lets me enjoy the breadth of a tea more fully...and yet this one was quite intoxicating on round 2. The flavor brewed with consistency as well, creating rich deep amber hues in my teacup. I loved it.
After many more rounds of morning peace and tea I felt a strong lightness and clarity of mind. I felt like a brisk walk in the mist would be perfect after tea, so off I went.
 As an old dog that has a sensitive nose, this tea "speaks" at the moment of brewing. Surely the silvver grade Tie Guan Yin was a great tea, but an old dog could tell why this tea is classified as "Golden Grade." Not only the aroma is more distinctive that you could almost "smelled" its continuous rolling craftsmanship, but the body is more sturdy as well. This tea will , if you can sense the "Guan Yin" in our Silver Grade Tie Guan Yin by the sense of smell, then this tea will lead you directly to the front of "Guan Yin."