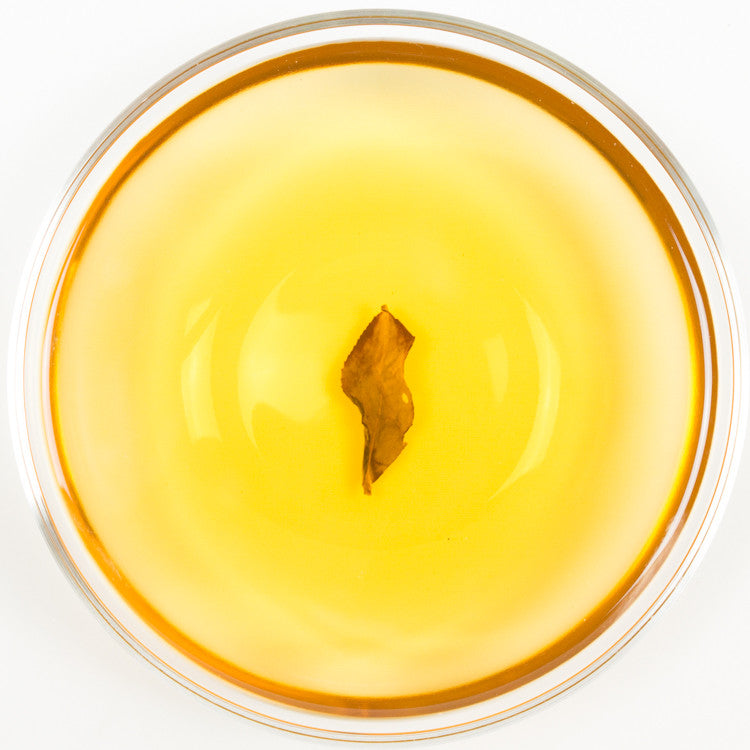 This is a winter harvest tea from the Ming Jian area of Nantou, a region well know for tea production. It is a Four Seasons Spring varietal (Si Ji Chun) that was bitten by an indigenous insect widely known as the "tea green leaf-hopper," and then roasted to perfection. The roasting process is carefully done by a resident master who uses techniques to coax out a sweet and thick nectar-like taste with a honey-spice aroma.
"Hong Shui," is a name invented by a famous tea poet to refer this kind of traditional style of tea processing which features heavier oxidation and roasting. This tea is also  referred to as "Fan Zhuang Wu Long" (番庄烏龍), a name which came about in the early 20th century literally means  "A tea for selling to uncivilized people", because the foreigners (especially British) consumed and enjoyed this style of tea very much.  
This is a perfect tea for those who are seeking a tea to sooth and comfort, but desire enough complexity to keep their tea session vibrant and textured!
Harvest:  Winter 2014 / 冬 貳零壹肆
Varietal:  Four Seasons Spring / 四季春
Elevation:  450 M / 肆佰伍拾 公尺
Region:  Mingjian / 名間
Fermentation Level:  35% / 分之 卅伍
Roast Level: 5 / 伍 分
 A kind of mix between oolong and black tea.  Some leaves (most) are green and mostly un-oxidized, whereas the remainder of the leaves are brownish-red like black tea.  The taste is at once thick and sweet, has a vegetal buttery edge to it but has an extra layer of honey taste that is not present in Jade Oolong.  This tea really showcases what is possible when a Master Processor, and perfect weather intersect in a harmonious confluence.
 So crisp and fruity sweet.  Don't be afraid of pushing the steeps.  Light to medium body that is not very thick yet so flavorful.  Price to quality value is incredible.   
 As an old dog who loves oriental beauty, this tea feels almost like a oriental beauty. This is probably the most affordable and tasty Hong Shui from this elevation thanks to the bitten of leaf-hopper and the passion of the tea master. It is surprisingly satisfying. Strong nectar and dry plum scent with the perfume like body will be a good afternoon tea.