King of Qing Xin "The Potion" Jade Oolong Tea - Spring 2016
Taiwan Sourcing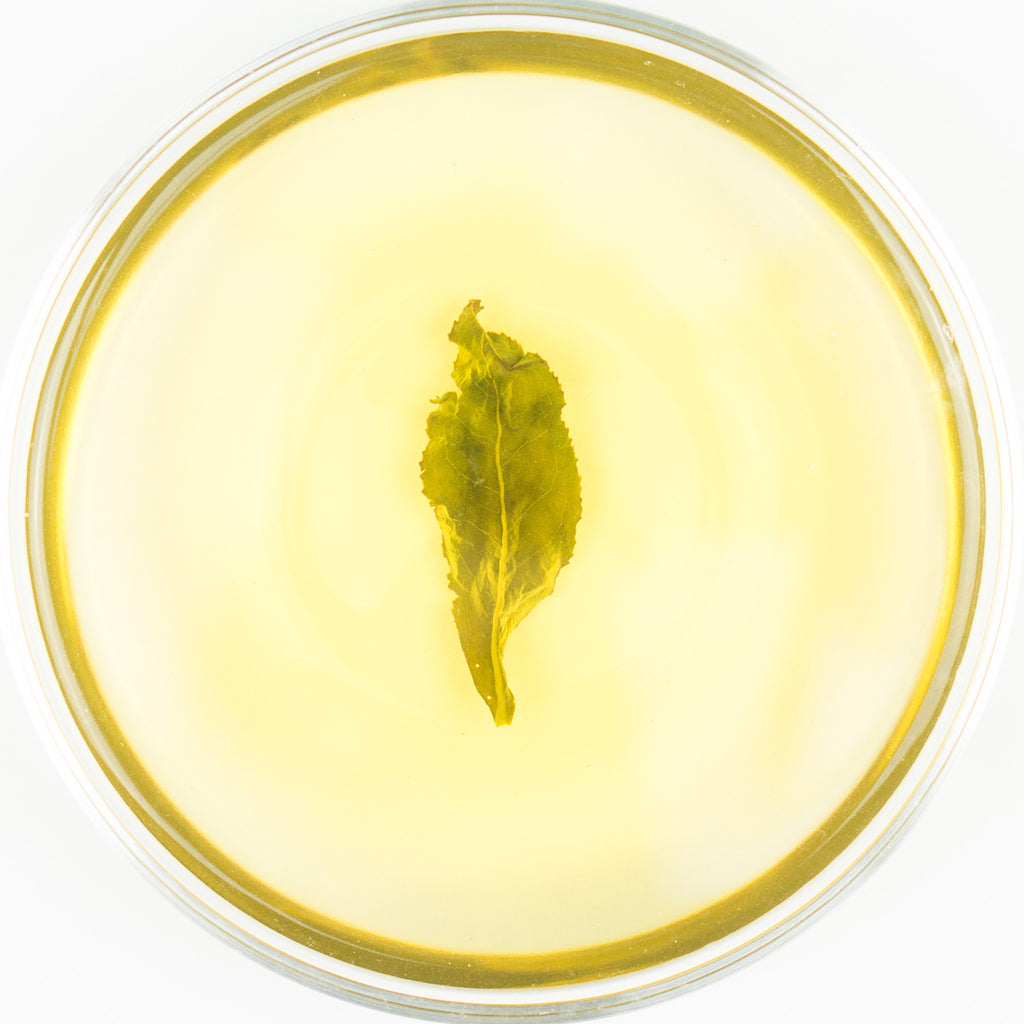 As you might noticed already, our collection for this spring has not have any jade oolong that came from above 2000 meters, and there is a reason for that - all of them are were disappointing compared to last Spring.  After experiencing this incredible tea, we were finally confident that there is at least one tea from above 2000 meters elevation that could achieve our standard set for high elevation Jade Oolongs.  And yes, this is the only jade oolong from above 2000 meters we are carrying for this spring.
This tea, we have called "The Potion" because (like a potion) it's the most magical elixir we found this season, and one of the most memorable jade oolongs Taiwan Sourcing has ever carried.  It has the sweetest aroma we have ever encountered, and also one of the softest body (Not weak though) we have ever tasted. It is so tasty that it earned the name "Potion" for its magically addictive character.  We do not recommend this tea, we implore you to take action now so you don't miss your opportunity to experience a very magical tea!
Harvest:  Spring 2016 / 春 貳零壹陸
Varietal:  Qing Xin Oolong / 青心烏龍
Elevation:  2550 M / 貳仟貳佰伍拾 公尺
Region:  Fu Shou Shan / 福壽山
Oxidation Level:  25% / 分之 貳拾伍
Roast Level:  0 / 無
  From start to finish an incredibly complex tea.  Two sessions with this tea and I am still finding new tastes, aromas and feelings.  Very potent cha qi as well.   If you like the Da Yu Ling or Li Shan Tie Guan Yin from Spring 2015, then you'll definitely enjoy this worthy tea!
The dry leaf aroma in the preheated gaiwan is deep and reminds me of Xmas. The initial wet leaf aroma is profound as it has the ability to rent your mind. It then gets complex and evocative with bouquets of fruit and flowers. The first few rounds are delightful and inviting. By the third after short steeps having used 7 grams it gets full bodied and so satisfying! There is an almost rose-like taste that also leaves a trail of joy down the throat steep after steep.
 An old dog has had numerous jade oolong in his happy dog life, this jade oolong is "crazy." No, you did not read that wrong. This tea is crazily mesmerizing. It has an aroma that smells like the combination of multiple kinds of citrus, and an old dog is certain that this is the first time ever it had this kind of experience. Very unique and indeed additive like how opium should be, even though an old dog does not have an chance to have any opium experience. Too much word for this tea, drink it is what should be done!