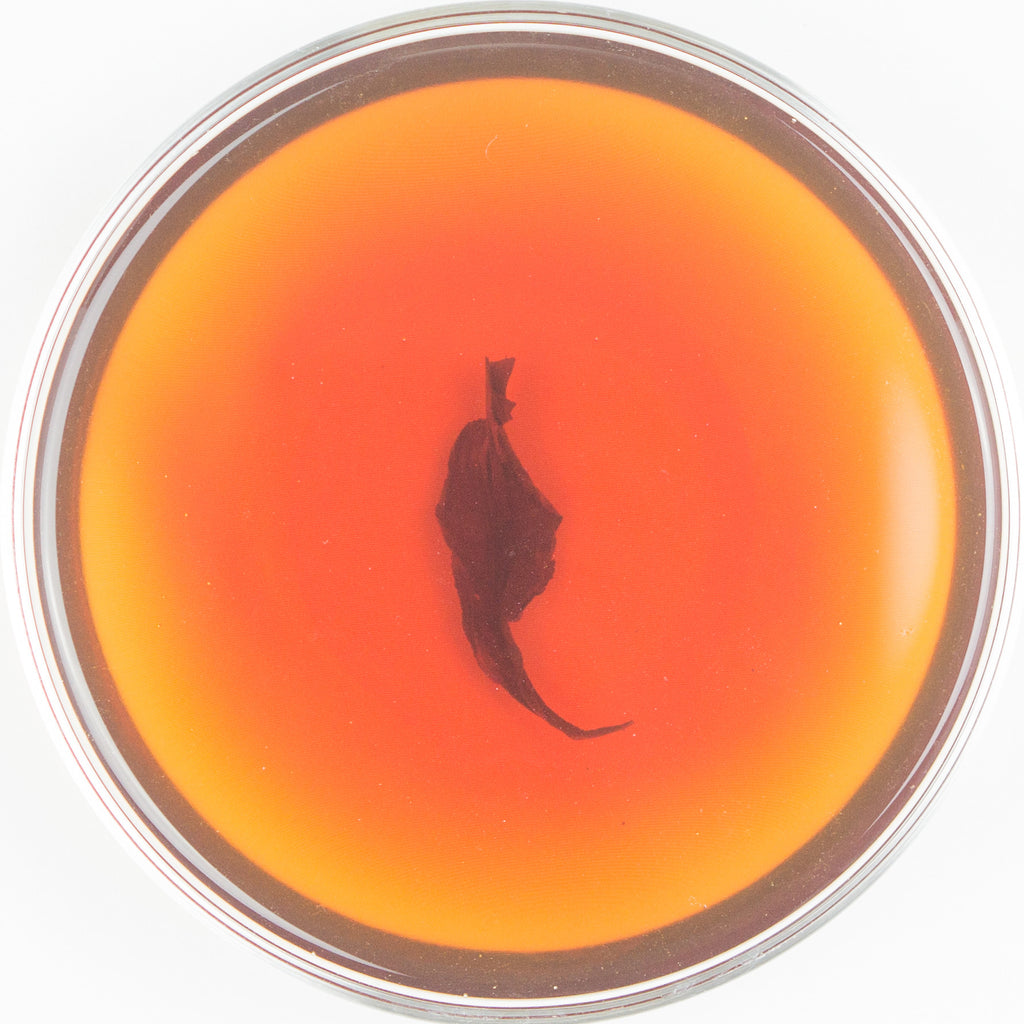 Developed in 1984, Ruby 18 was the result of many years research made by TRES (Tea Research & Extension Station).  Thanks to its parents ─ Taiwanese Original Wild Tea and Burma Assamica, Ruby 18 creates a very unique and special experience for black tea lovers.
The material of this "King of Ruby" was plucked at Yu Chi, which is the most famous place for cultivating the varietal of Ruby 18, the freshly plucked leaves were quickly transported to the home of a Oriental Beauty Oolong master who was mastering the art of black tea crafting but with his own unique style.  This "King of Ruby" is the result of his creative dedication to black tea crafting.  Since the master was a specialist of making Oriental Beauty Oolong, he decided to subtly combine his refined skill into black tea processing, making this Ruby 18 an absolutely unique creature for any type of tea lover!
Harvest: Winter 2016 / 冬 貳零壹陸
Varietal: #18 Ruby /  紅玉 拾捌號
Elevation: 500 M / 伍佰 公尺
Region: Yuchi / 魚池
Oxidation Level: 85 % / 分之 捌拾伍
Roast Level: 0 / 無
 This is a tea that really surprised me.  I have had several Ruby 18's in my 10+ years of drinking Taiwan teas, but nothing prepared for the the level of fruit, licorice and perfume that this Ruby 18 has.  It's really impressive and incredibly please and full-bodied as well.  It balances everything together in a very thick and satisfying brew that will impress even the most experienced tea drinkers!
There is a lovely rich fruity dry leaf aroma in the heated vessel. First two steeps were short, sweet, and inviting. The wet leaf aroma really reminds me of licorice. I love licorice. By the third round there is the notable potency of the tea in terms of effect and taste. The licorice is now a flavor layered with citrus. I keep the temperature around 190 to really accentuate the sweetness of the tea. This is definitely your morning cuppa. Rich and satisfying with a nice kick but also delicate, with complex flavors
 An old dog is very proud to have such an honor to present this tea to the supporter of Taiwan Sourcing, because the taste of this black tea is simply epic. The "black sugar" quality of this tea is an absolute hit for any type of tea drinker. An old dog is also confident to say that the overall performance of this tea is equivalent to the competition tea you will find from Yu Chi, but with way lesser price and probably even better taste since an old dog had the fortune to compare them side by side. This tea will definitely surprise anyone who thinks they already had the best black tea experience.