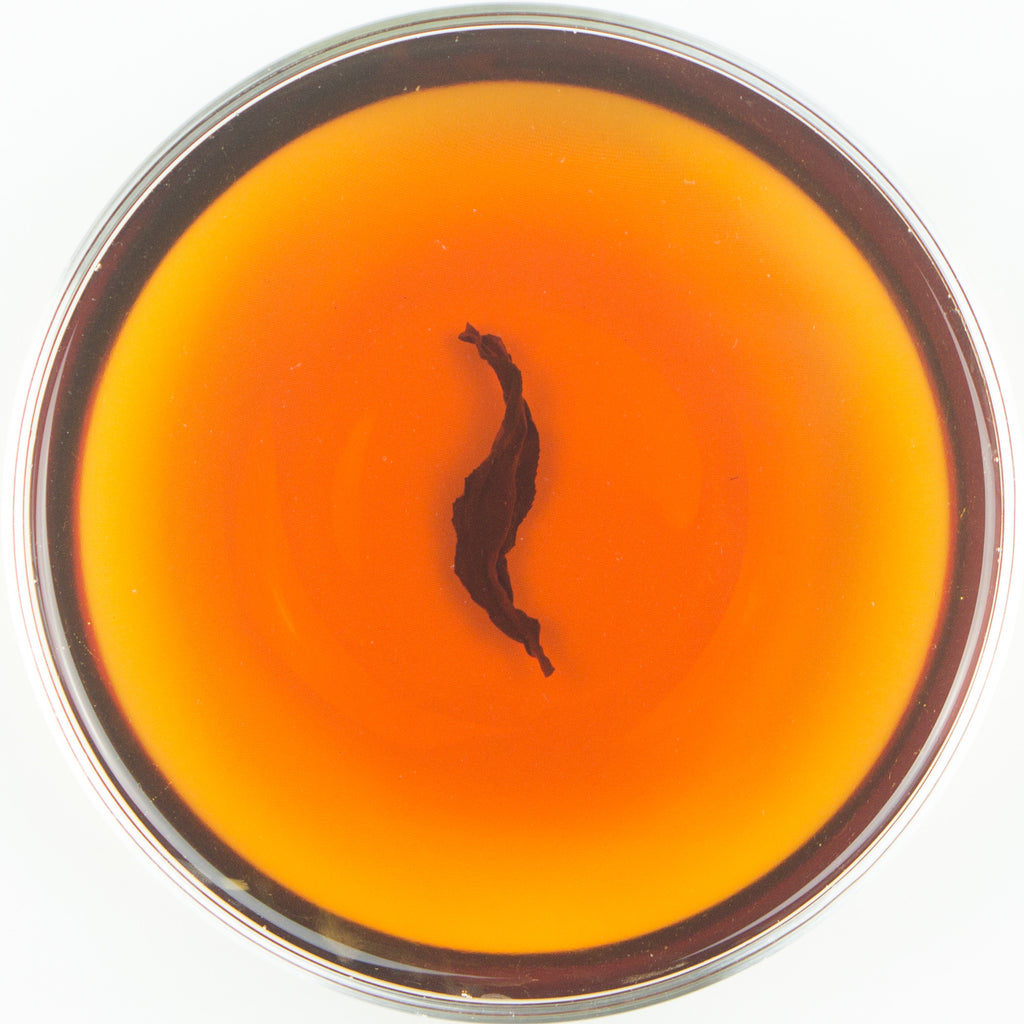 This is a very new type of tea, also very special to the world of oolong tea.  At first glance, it looks like oriental beauty in a heavy rolled form.  Don't be fooled, this is not an oriental beauty, nor a black tea, but 100% an oolong tea. 
The term "red" as applied to tea is difficult to understand in the context of English culture, so we must explain this "redness" in the cultural context of Mandarin culture.  In Mandarin, black tea is actually named "red tea" (紅茶) for its color, and shouldn't be confused with the actual "black tea" (黑茶).  Red tea was referred to as "black tea" because the dry leaf itself is typically black in color (See here).  To this day the vast majority of westerners still don't know what a "Red Tea" actually is! 
In Taiwan the art of tea experimental tea processing is thriving and tea growers and processors alike are searching for new techniques to bring out new flavors and aromas!  Our "Red Oolong" came about as an experimental marriage of oolong tea and black tea processing.  After the process of "waving" the tea will be "heavy rolled" like a black tea immediately and oxidated heavily like black tea, but meanwhile has the traditional oolong processing final steps of "kill-green" and a special types of "heavy roasting".  The result is a unique longan fruit aroma and a silky body that is nectar-like.
After two seasons of absence, our extremely popular "Red Oolong" is back again with us this season! This time the tea does not only carry that signature "longan" aroma, but also something else due to extremely patient processing, selecting, and roasting. We are confident that this will be the best red oolong you will ever had so far, so please enjoy! 
Harvest:  Spring 2017 / 春 貳零壹柒
Varietal:  Qin Xing Oolong / 青心烏龍
Elevation:  100 M / 壹佰 公尺
Region:  Luye / 鹿野
Fermentation Level:  80% / 分之 捌拾
Roast Level:  5 / 伍 分
 Wow!  This tea is silky, creamy, sweet, fruity and floral.  I could drink this all day long.  It just explodes in the mouth and throat filling you up with a wonderful feeling! 
The tea in the heated gaiwan smells very sweet and honeyed. The initial wet leaf has a thicker sweet and rich berry compote aroma. It tastes like it smells with some added layers of baked grain and nuttiness. It steeps really well with a satisfying medium body and mellow potency. This tea feels quite nourishing which I enjoy. I will come back to brew this one again as autumn takes hold.
 Lots of red oolongs were being cupped this season, and this is the one that made to our sacred hall of TW collection. With an absolutely stunning aroma, this tea caught an old dog's sensitive nose immediately. An old dog is also very certain that, this tea was better than the one from previous spring (sold out!). The overall quality is also superb and durable, with a pleasant fruit acids like aftertaste. An old dog is very grateful for the farmer who cultivated and roasted this tea with this much love and patient, and you should give it a try if you haven't tried any red oolong in your life!