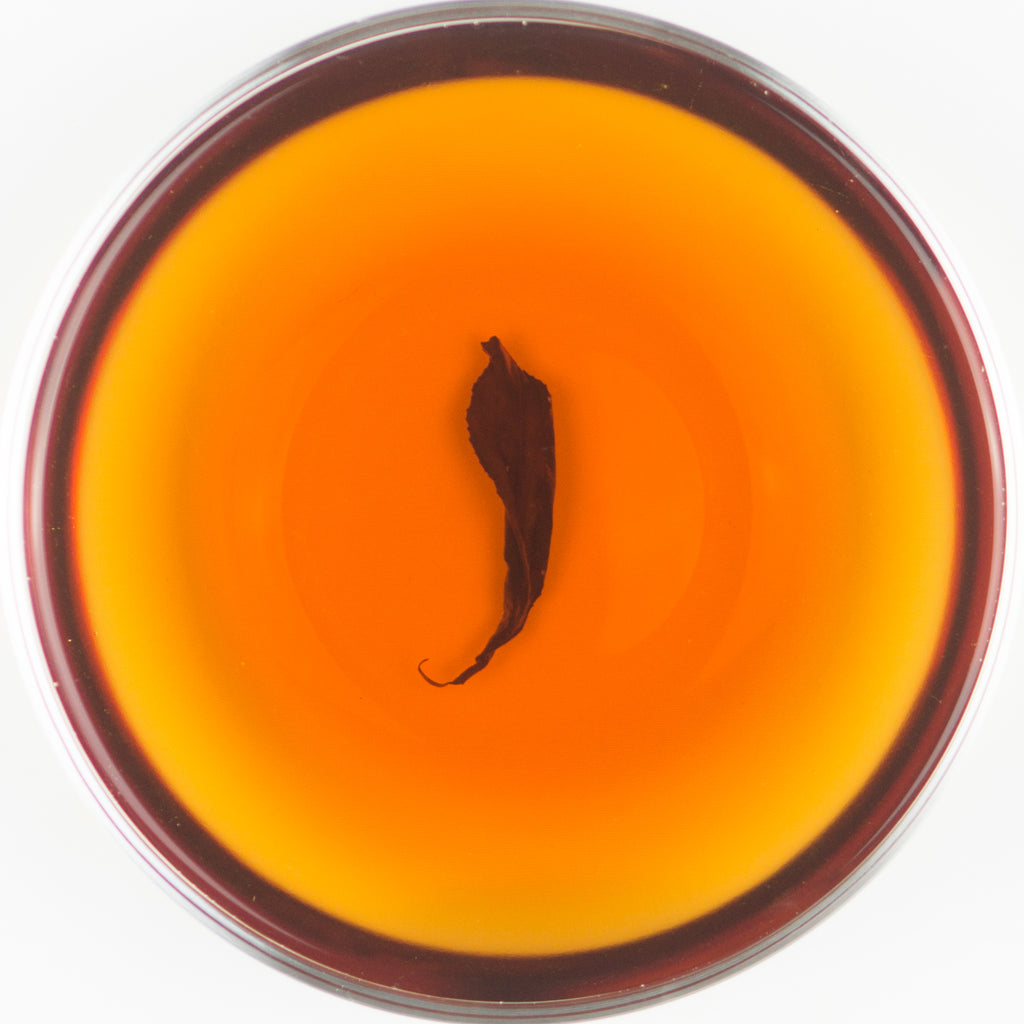 This is the first winter red oolong we are offering to you. If you are still new to this tea, please read the following paragraph; if you have some basic knowledge about this tea already, please skip to the final paragraph.
Red oolong is a very new type of tea, and also very special to the world of oolong tea.  At first glance, it looks like oriental beauty in a heavy rolled form.  Don't be fooled, this is not an oriental beauty, nor a black tea, but 100% an oolong tea. 
The term "red" as applied to tea is difficult to understand in the context of English culture, so we must explain this "redness" in the cultural context of Mandarin culture.  In Mandarin, black tea is actually named "red tea" (紅茶) for its color, and shouldn't be confused with the actual "black tea", which is also called "Hei Cha" (黑茶).  Red tea was referred to as "black tea" because the dry leaf itself is typically black in color (See here).  To this day the vast majority of westerners still don't know what a "Red Tea" actually is! 
In Taiwan the art of tea experimental tea processing is thriving and tea growers and processors alike are searching for new techniques to bring out new flavors and aromas!  Our "Red Oolong" came about as an experimental marriage of oolong tea and black tea processing.  After the process of "waving" the tea will be "heavy rolled" like a black tea immediately and fermented heavily like black tea, but meanwhile has the traditional oolong processing final steps of "kill-green" and a special types of "heavy roasting".  The result is a unique longan fruit aroma and a silky body that is nectar-like.
Due to the demand from tea lovers around the world, we decided to offer a winter version of the already popular red oolong from the same source. The tea again carries that signature "longan" aroma, but also the elegant character of how winter tea should be, making this a great companion in your teapot for this cold winter. Enjoy!
Harvest:  Varied / 不定
Varietal:  Qing Xin Oolong / 青心烏龍
Elevation:  100 M / 壹佰 公尺
Region:  Luye / 鹿野
Fermentation Level:  80% / 分之 捌拾
Roast Level:  5 / 伍 分
  Smooth, complex and full-bodied tea. Fruity and sweet, like a divine nectar.  This is a nurturing tea that enlivens the palette and soothes the nerves.  After drinking this tea I kind of felt like it was my "desert island" oolong tea.
  There was a really fun first impression of Hawaiian waterfalls and rich fruity aroma in the preheated zini pot. There is a lovely rich sweetness in the body of the tea. I used 6 grams and temp around 195 to brew in my purple clay pot. It has a strong and lasting fruity finish. It's potency is mellow and warmed me up quite well on this winter evening. A treat!
  Very elegant oolong tea is the goal of creating a red oolong, and we are fortunate to have close relation with Mr. Zhuang to create the best of the best. Under his care for plantation and patiently processing, this red oolong is beyond soothing can describe. An old dog is also proud to announce that, begin from Spring of 2018, our signature red oolong will all be charcoal roasted, which make the already tasty tea even better!