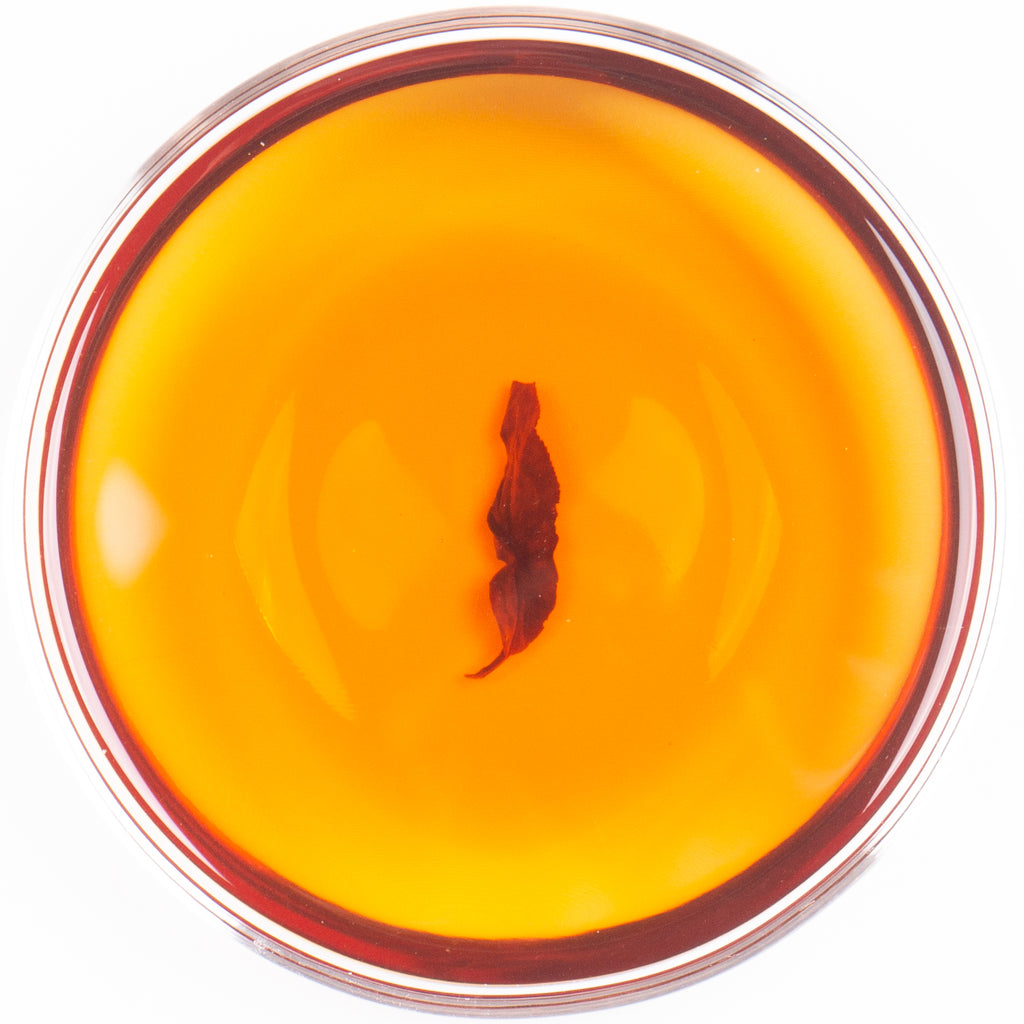 This is a catastrophic year for wild arbor tea, and if you have been following the news very carefully, you will know that was because of the severe drought Taiwan experienced earlier in 2021, making the southern mountain region such as Liugui and Maolin area looked very "yellowish" when we visited. The worst part of all, is that we almost got no material to work with. 
We were very certain there was no material for us anymore, then Mr. Chen, the man who got his way to all sorts of abandoned plantation, found us material like a tea messiah. We could not believe our eyes. It was too unbelievable that we even spectated he got deceived by the people who sold him the material. But after we checked again and again what was presented on the trays, we knew we were too wrong and he was just too amazing. Mr. Chen managed his way to get this fantastic material from Maolin area under such difficult circumstance, and this is why this "Assamica Obsidian" is here on the shelf. 
Another great news for this year's "Assamica series" was that we finally got a big waving machine to help with the big waving stage! We did not have to big wave the whole batch like what we did with "Assamica Orient." However, we were too confident with what the environment could provide. We did have a big waving machine, but one that was out of order because of a failed electric part, so the only function it was able to perform was "rolling the material" while applying our hands and arms to perform its original function. The scene may seemed funny, but at least we got the work done properly.
This "Assamica Obsidian" is one of our wild arbor offerings this year. It has a brother tea from another region. The reason we call it "Obsidian" is because of its darker profile than its brother, and judging by how "steady it feels" in general. We are again grateful for Mr. Chen's magical work for getting us this material during this rough time. We were just too fortunate to have him with us. 
Harvest:  Spring 2021 / 春 貳零貳壹
Varietal: Wild Arbor Tea / 野生喬木種
Elevation:  Approximate 1400 M / 約莫 壹仟肆佰 公尺
Region: Maolin Area  / 茂林區
Fermentation Level:  65% / 分之 陸拾伍
Roast Level:  1 / 走乾
 Still savouring......
 Assamica Obsidian Inviting towards the depths, a slow surrender. This tea is worth taking time, we are so fortunate that it is possible to buy and brew. It tastes like it smells, a bit beguiling in character. Rich and smooth, then highlights of flavors. It takes you into those depths and somehow maintains the gaze upwards like looking up under the ocean at the sun. At first it had some black tea characteristics, then just evolved into its own - a tea more for just being with a bit and feeling.
 Another round of Assamica series that made an old dog felt very very calm while indulging in it. It is almost like you were floating with the cloud above while sitting there and nothing can stop you from smiling. This is the magic of wild arbor material from Taiwan. It is something truly special to this tea world when made into a oolong tea like this.