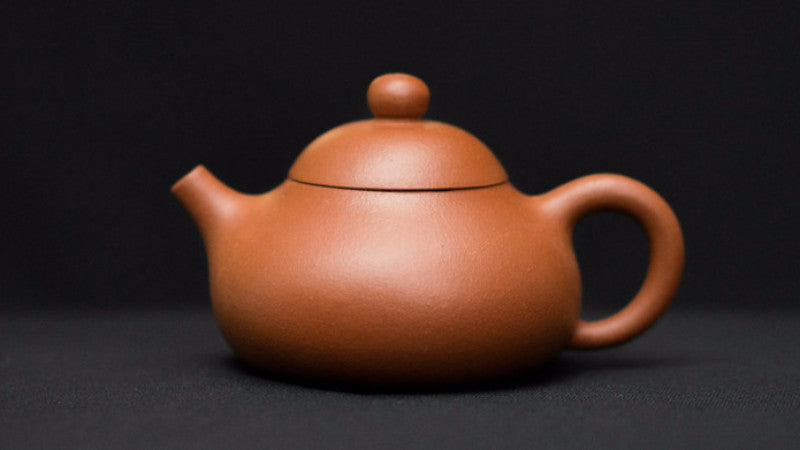 This delicate little Pear Beauty is a proper combination of Pear style and "Beauty" (西施 / Xi Shi) style.  It also resembles another popular style named 容天 (Rong Tian), however if you look carefully you will notice they bear some differences.  First of all, it does not have a "rounded neck" whereas a Rong Tian styled pot will have to connect the lid and the body.  Instead, this little pearl connects the neck part seamlessly to complete the pearl shape.  Second, it has a flatter overall design than Rong Tian which makes it closely resemble a pear, but also resembles a Beauty (Xi Shi) pot as well. 
The clay "Pear Skin Malus" is 100% pure Zhuni ore that was purified more than 10 years ago and has a pear skin like surface thanks to the specially designed "mud-sand ratio." Normally 100% Zhuni will make tea stronger and more "layered" with its powerful conduction of heat and the characteristic of its ore, but "Pear Skin Malus" allows it to make the tea softer than most other Zhu Ni pots can due to its pear-like texture.  This unique teapot will be more friendly to people who are new to Zhuni and want to understand why Zhuni ore pots are so special.
Please note:  This little beauty does have a tiny flaw as seen on the top of its neck, but it won't affect how the tea taste and certainly won't affect its exquisite character with its very limited quantity. For collectors who are looking for authentic Zhuni, look no longer, this is what you have been waiting for!
Mineral: 梨皮海棠紅 / Pear Skin Malus 
Mineral Location: Zhao Zhuang Mountain / 趙庄山 (Yi Xing County, Jiangsu)
Firing Temperature: 1100 c
Shrinkage: 25% / 分之 廿伍
Artist: Ling Mei Hong / 凌梅紅
Volume: 120 ml / 佰廿 毫升