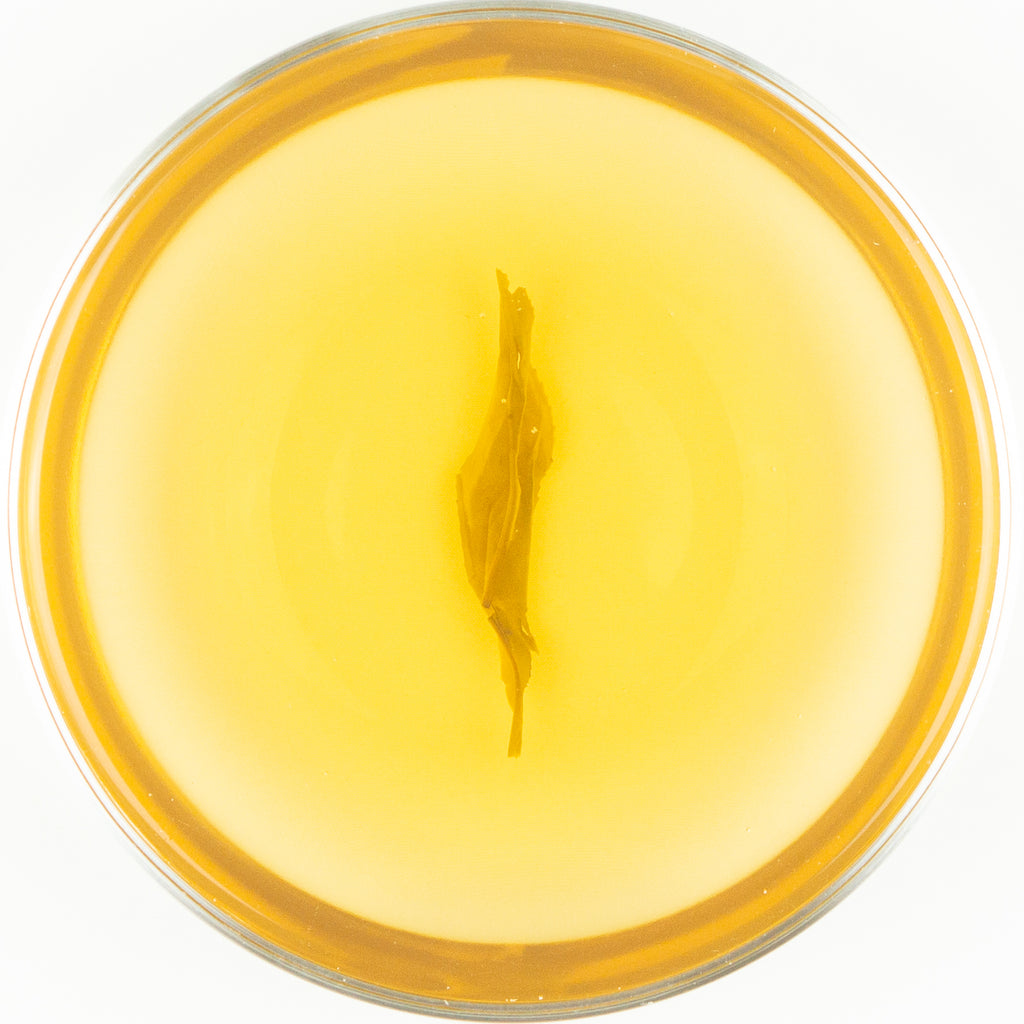 We will shamelessly call this tea the "guardian" of the tea tree not just because we like it, but more because of its powerful quality. This "Assamica Guardian" is something we had never experienced  before, and this was not only observed on its taste and feel after drinking it, but also for how "difficulty" this tea was to process to our ideal state.  
If one is familiar with Taiwanese "Mountain Tea" (山茶), you will notice the tea is either processed into a cake like Yunnan raw Pu-erh tea, or just black tea. Some people also use this type of special material to create loose leaf white tea. However, no one ever created a traditionally processed "oolong" tea with this material. According to commonly known theory, "large leaf varietal" can only and mostly be processed into black or white tea. But that is just "according to theory," because we guessed there was more potential inside this mysterious and fantastic material. 
The result proved our presumption was correct, this tea material is able to transform into a oolong tea after so many hours of work. The only problem is the difficulty. This is so far the most difficult tea to be processed into oolong tea under our watch. The withering-wavin process took us more than usual effort to complete, and the fermentation stage took us the longest time to activate. At one moment we were so worried that something went wrong in our observation and experience, luckily it went just as expected. In short, processing this "Assamica Guardian" is like taming a wild horse. 
So ladies and gentlemen, this is it! This "Assamica Guardian" will be the greatest tea of this year ( since there will be no harvest in winter). The first note you will immediately notice is how similar this tea is to some raw Pu-erh teas thanks to its arbor character,. After that similarity you will realize there is something totally new to explored with! However, despite such success, the future of this tea still remains uncertain due to the limitation of facility and communication with the workshop. We truly wish we will be able to process this tea next year, but for now let's cherish this outstanding result which is super difficult to come by.  
Harvest:  Spring 2019 / 春 貳零壹玖
Varietal: Wild Arbor Tea / 野生喬木種
Elevation:  Approximate 2100 M / 約莫 貳仟壹佰 公尺
Region: Sandimen  / 三地門
Fermentation Level:  20% / 分之 貳拾
Roast Level:  0 / 走乾
 This tea is completely different from every other tea offered on Taiwan Sourcing!  When I saw the dry leaf (and because of the assamica mention) I was thinking it might be some kind of pu-erh-like taste.  It's literally the most sweet oolong tea I have ever tasted.  Along with the thick sweetness there is a kind of fruit and champagne character to the taste as well.  Went many many steeps and gracefully gave it's self up.  Never astringent or drying.  This tea completely blew my mind!  Just get it!
 Still savouring......
 An old dog has a secret stash of this tea with him. If you ever visited him in Taiwan, you may shamelessly ask him to brew this no-much-left tea for you, since he is a great old dog.